Come all ye faithful
Read more below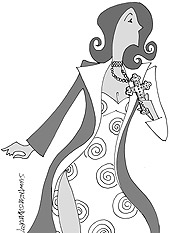 ---
Published 09.05.04, 12:00 AM
|
---
Mel Gibson's The Passion Of The Christ is a violent, gory film on the last 12 hours in the life of Jesus Christ. One of the film's most horrific scenes, possibly the bloodiest scene in Hollywood cinematic history, is the scourging of Christ. Roman soldiers brutally beat him till he collapses, as he falls he meets the eyes of Mary (his mother, played by the actress Maia Morgenstern). Christ (played by Jim Caviezel) then struggles up again in a show of strength — only to be lashed senseless for some 10 minutes. His appearance at the end of this scene has been, quite accurately, likened to a "bloodied piece of meat in a butcher's shop."
This movie — released in India on May 7 — has become the first film in more than seven years to reclaim the top spot at the American box office one month after dropping from the position. During the Easter weekend alone, The Passion brought in an estimated $17.1 million in the US — up 61 per cent from the weekend before that. Since its release in the US on Ash Wednesday (February 25) — mired in anti-Semitic controversy — the film shot entirely in the ancient language of Aramaic has earned its makers over $330 million.
The film has also become the best-known face of a rapidly growing trend that has placed the Church, and more specifically Jesus Christ, in the forefront of mainstream American culture. Another face of this trend is Dan Brown's The Da Vinci Code, a book best described as an alternative history of Christianity with its titillating theme couched in thriller format of the "suppressed true story" of Jesus and Mary Magdalene, a prostitute who became one of Christ's most devoted followers.
The Da Vinci Code, on the New York Times bestseller list for a year now, has sold over six million copies and generated hours of heated debate over the Christ-Mary Magdalene relationship.
Add to this the many more hours of air time given to Christianity-related programmes on major American news channels including ABC, NBC and CNN over recent weeks; a People magazine and Newsweek cover; and the Cartier crucifixes prominently displayed by Hollywood stars as they walked the red carpet this past Oscar night, and you've got yourself the season's hottest, fastest-selling flavour — Christianity.
Interestingly — though sadly for conspiracy theorists, totally unrelated — Gibson's The Passion Of The Christ came at a time when the Christian Church (across all its denominations) was collectively passing through a bad time, reeling under child sex abuse investigations; the divide over the appointment of same-sex clergy; talk about the replacement of an ailing Pope; and dwindling numbers of followers in the United States and Europe.
Then came The Passion with its messy scenes of the humiliation of Christ by Jewish leaders and Roman centurions, and its anti-Semitic overtones (Gibson belongs to a radical splinter Catholic group that continues to charge the Jews with deicide) controversial enough to warrant a flood of media attention.
Even before The Passion Of The Christ opened at theatres, sufficient argument had been generated to transform the movie into a potent evangelical tool by church groups across the US. In its opening week, church and Bible study groups bought up large blocks of tickets at theatres and held special screenings for select audiences.
So what exactly is it that's working to make Jesus a superstar at a time and in a place where there is supposedly little room for organised religion? Christian academics trace it to a post-9/11 America and continuing global uncertainty. Recent polls show that 75 to 83 per cent of Americans consider themselves Christian at a time when most of the world loves to hate America. In days like these, Jesus Christ — at the centre of Christian theology — serves as powerful inspiration for a nation that largely sees itself as being the victim.
As a professor of religion in a midwestern college says: "Jesus was certainly confrontational at times, but never violent. At this point in time, we need a non-violent kind of response to world violence that seems out of control."
Another US academic suggests Jesus' inherent "Americanness" has helped him become a popular icon. "He probably fits well into American culture "because he was really an individualist." She adds, "Americans really admire those who stand up and take a risk, say what they mean." Clearly people very unlike the country's current Republican leadership.
Other observers say the present surge in Jesus' ratings has a lot to do with a search for meaning, or an anchor. James Donahue, president of the Graduate Theological Union in Berkeley said at a recent discussion: "Americans are hungry for meaning. They're hungry for a framework that gives their life some meaning." At the same time evangelical Christianity with its comforting message of eternal salvation for all true followers is a reassuring thought to carry one through insecure days. The renewed spiritual interest among the public has also led to celebrities from George Bush to Tom Cruise and U2's Bono discussing their faith openly.
However, all the attention has not significantly improved Church attendance figures that slipped over the last decade in the US. The increase in figures immediately after September 11, declined some six months later according to a Pew Research Center study. Though there has been a recent rise in Bible readings and numbers in spiritual meetings across the country.
Commenting on the trend in general, American academics and religious scholars have sounded a warning note. A sincere hope that the religious resurgence doesn't lead to believers going overboard with religious speculation and Biblical prophecy. "Where all this leads really depends on everyone," the dean of the Theological Union was quoted as saying.
An interesting random poll conducted by Beliefnet, a spiritual website, asks the question: "Which major religion has the greatest capacity to turn evil?" Forty-three per cent of the respondents voted "all religions have the same capacity to turn evil." Twenty-eight per cent chose Islam and 19 per cent chose Christianity. Other religions listed were Buddhism (0 per cent), Hinduism (1 per cent) and Judaism (2 per cent). Significantly, only seven per cent felt that no major world religion can truly turn "evil."
Far from "evil", in the United States, the Church could simply be turning Midas.