Being bold on the Dhaka ramp
Mr. Ajay Kumar's flamboyant designs impress the city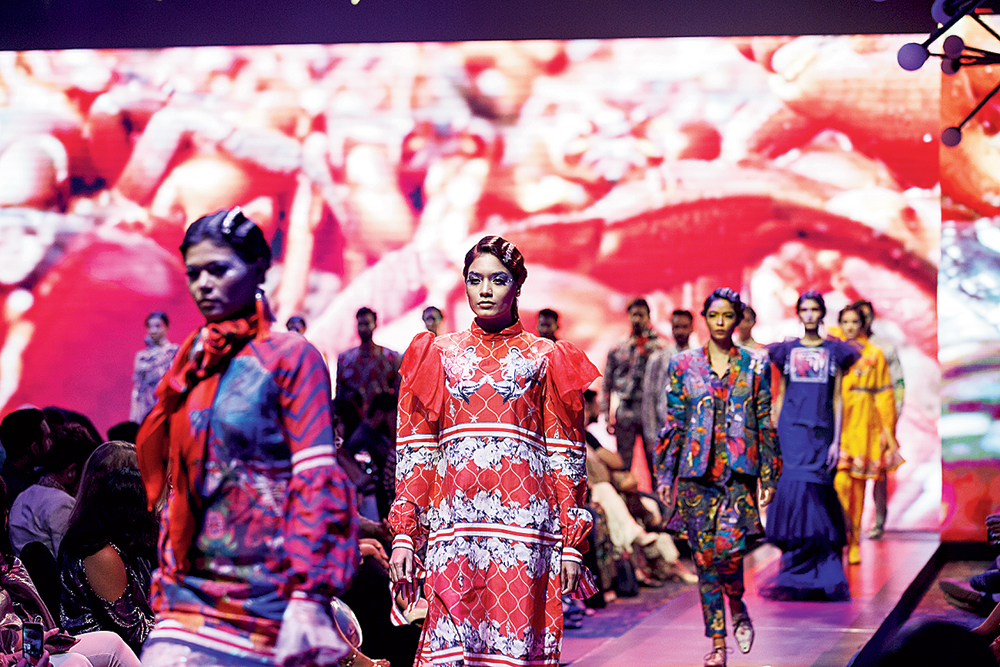 ---
---
Prints, colours, layering, stripes… all signatures of Mr. Ajay Kumar were a part of The Lustrous Runway, powered by BMW, and held at Radisson Blu Dhaka Water Garden on November 22. Back in Calcutta, where Ajay Kumar moved in with wife Lavanya and son Siddhant six months ago, from Bangalore, the designer shared his experience with The Telegraph.
What did you showcase in Bangladesh?
As a brand, we want to present Indianness and the flamboyant culture of India to a global audience. We are a brand forged on a strong foundation of Indian culture and modernity. We feel proud to be invited to Bangladesh to showcase our collection and we are extremely thankful to our hosts. Culturally, we are very similar and our aim was to create a fashion extravaganza filled with bold, eye-catching patterns, vibrant colours, stories of our past and our shared commonalties. We are humbled that people are liking our visual language globally and Mr. Ajay Kumar is slowly being recognised as a global face of modern Indian luxury.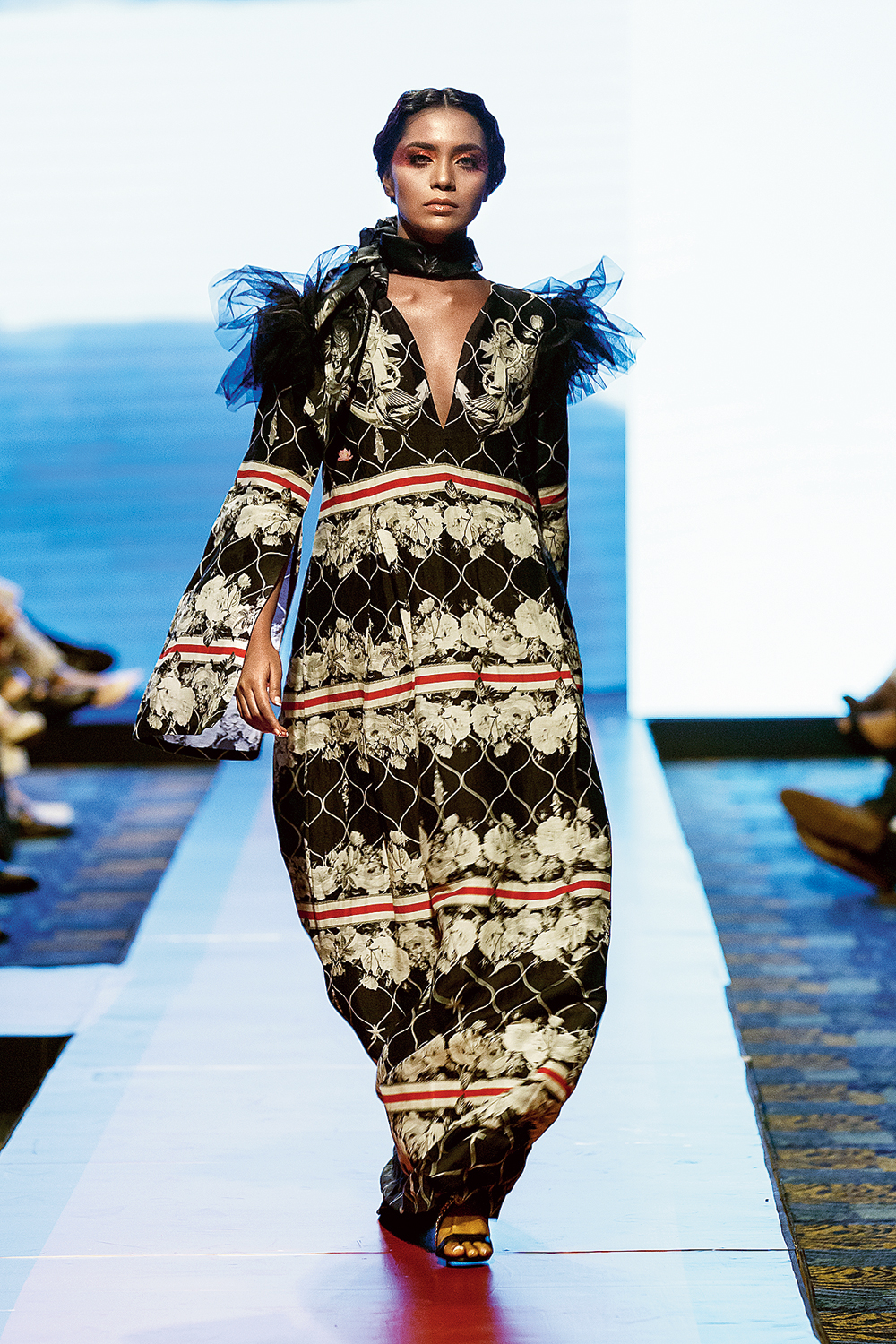 Every season we pick a theme that's reflective of what's going on in and around us. This season, our Aquesthetic collection explores the aesthetics of the aquatic body through narrative prints and channels a puritive, positive blue energy in our minds. Water is scarce everywhere and we need to save water but rather than depicting the negative side of any story, we wish to show the positivity in each story to inspire people. Aquesthetic aims to nurture that positive feeling of saving our seed of genesis — water and the aquatic life that it nurtures. The collection has been digital printed, which in effect consumes less water and energy, thus truly bringing out the beauty of this collection.
The runway showcased the best of Aquesthetic and Bhu:Svah, our last season's collection, to bring to the audience visually immersive masterpieces with an underlying philosophy of 'waste less, save more for tomorrow'.
The objective of the show was not to sell clothes to the creme de la creme of Dhaka but to give the audience an experience to remember. The audience is always the centre of the show and it is crucial that they get an experiential show, filled with fashion, flamboyance and theatrics. We are creative folks and we think through every aspect of the show, whether it is clothes, accessories, footwear, hair and make-up, music, background visuals — every touchpoint has to be experiential for the audience. The music was a fusion of Mahamrityunjaya Mantra and 100 saints chanting.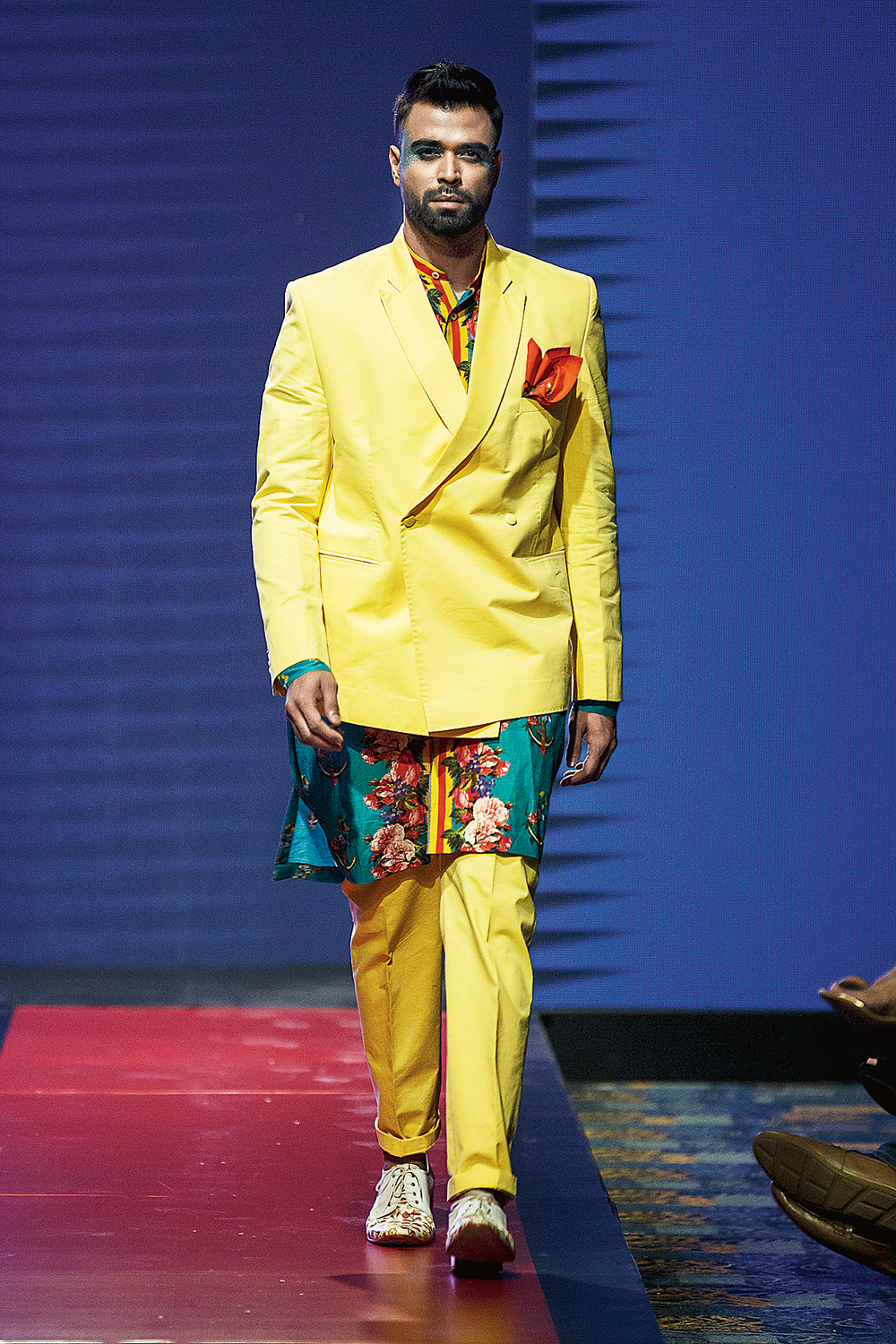 The show in every way had to be Instagramable. As a new-age designer and marketer, you have to think beyond the 400 people seated in the room. With Instagram, we reached more people in Dhaka and India than intended. At the end of the day, you want to inspire them to buy into your lifestyle.
How to dress colourful for the season?
We are Indians and we very well know how to mix bold colours and look good. Wear prints. Don't be shy to experiment and try something new. Men are becoming quite bold in wearing head-to-toe print-on-print look. You can combine prints with solids and contrast colours too. People are also becoming conscious about fashion and expressing themselves through fashion. Invest in long-lasting pieces — a simple funda we believe we can follow to be sustainable and responsible.
What are your top party-dressing tips?
Wear printed shirts with Indian-style silhouettes like cowl-styled shirts, breeches, angarkha shirts, long stylised cut shirts, signature kilt pants. Wear bright colours. We have a range of signature printed shirts for men and printed dresses with ruffles for women. Opt for these to pump up your party wardrobe. Printed trench coats are in, so enjoy the cold weather in Calcutta with a bit of flamboyant layering. Prints also go nice with bling. So jazz up your look with a sequinned skirt or clutch.