Behind every man...
Read more below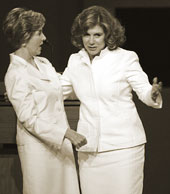 ---
---
WIVES AT WAR: Laura Bush (left) with Teresa Heinz Kerry Photo: AP/ PTI
In an election where even a candidate?s hair is an issue, the sparkle of Teresa Heinz Kerry against the stolid charm of Laura Bush are competing visions of a First Lady subtly being projected to mine every last benefit for the candidate. It was no accident that President George Bush declared full-throated to the faithful at the Republican Convention: ?And we love our First Lady.? He was building on Laura?s earthy speech delivered in a thick Texas drawl to introduce him as the man in America?s hour of need. She had adroitly created a portrait of her husband as a resolute man for these dangerous times.
Teresa?s introduction of John Kerry was a meandering, self-referential delivery about her childhood in Africa, a verbal journey of an educated immigrant who couldn?t see American ideals being tarnished with another Republican run. She greeted the audience with a string of sentences in five different languages, perhaps losing some of middle America with too much sophistication. There was little about husband Kerry, a portrait she was supposed to fill with loving details, and create some warm and fuzzy feelings around the human tree.
Smashingly fresh at 65 years, Teresa is ?saucy,? even sexy in her Chanel suits and feminine curls to Laura?s staid, conservative, relentlessly sunny persona. She is definitely metro to Laura?s retro, slightly flirtatious to Laura?s always safe demeanour. If Laura is the epitome of down-home Texas style, Teresa is the urbane art-collector, who enjoys late nights but also wants to save the environment.
Social Washington is abuzz with the prospect of a First Lady who will light up a town starved of celebrity-filled state dinners at the White House. The Bushes have had only four in four years, a miserly comment on American hospitality. They retire early; wake up at dawn to read the Bible. The idea of Teresa as a multilingual, wine-drinking, opinionated First Lady is enough to revitalise the mansion and shake up a staff gone lazy. She is described as a cross between Gina Lollobrigida and Sophia Loren by fans but as ?bonkers? by critics. She doesn?t like being ?bossed around,? is known to favour Botox, homeopathic remedies and green tea. She comes from a vastly different aura from Laura who has determinedly created no waves, voiced no controversial opinion and was recently described by Harper?s Bazaar as ?Marian the Librarian?.
But campaign managers much rather have Laura, the ?rock? behind Bush who has consistently grabbed 80 per cent approval ratings compared to Teresa?s anaemic 30 per cent. Lip-biting Democrats constantly worry about Teresa, the unscripted star, one who can take off on an issue but not always land safely. Often derided as a ?loose cannon,? she tends to ramble on and go off message. Radio host Don Imus, a Democrat and Kerry supporter, has asked if Teresa is ?too crazy to be First Lady?? Some of her famous words include ?shove it? (to a reporter of a right-wing paper hounding her for years), ?scumbags? (to those who criticise her) and ?an idiot? (to anyone who doesn?t understand the value of her husband?s health care plan).
If Kerry wins, Teresa would be the first foreign-born presidential wife since the days of John Quincy Adams. She would be the very first billionairess who already owns five homes and reigns over a ketchup empire inherited from her late husband Senator John Heinz. She met John Kerry as a delegate to the Kyoto conference in Rio and the two connected in French. Their coming together in some ways is more typical of today?s America ? it was a second marriage for both producing a ?blended family? of five children.
But Teresa?s abandon with words can be a political liability in a campaign where everything can end up as a hand grenade for the other side. She recently detonated the ultimate landmine ? she dissed Laura. Ever expansive, Teresa wondered to a reporter if Laura had ever held a ?real job?. Not only was she factually incorrect because Laura was a school teacher before she married Bush but she had managed to insult millions of stay-at-home moms who do very a ?real? job of bringing up children. The news travelled fast and within hours Teresa offered her apology. Her breezy putdowns can alienate voters already weary of John Kerry?s aloof, patrician manner. But many women warm to her instantly because she speaks from the heart.
The job of a First Lady can be brutally constricting. In the pre-feminist days, it was limited to hosting tea parties, but today it?s simply impossible. The 21st-century First Lady must be smart but not slick, accessible but not intimate, engaged but not ambitious, and motivated but never political. Laura Bush has seemingly resolved this conundrum by filling the contradictory expectations. She is variously said to be a quiet intellectual, a career woman, a stay-at-home mom, a teacher, an empowered woman, or a society wife. She was committed to her career as a teacher and felt no pressure to marry; but after a three-month courtship marry she did and left the classroom with nary a second glance.
Laura is said to be a voracious reader but has not voiced a complex thought in public. Reputed to be passionate about education, she offers no opinions that contradict her husband?s controversial policies. ?She is the Play-Doh first lady: Mould her into whatever shape you want, then stamp her back down into a pile of putty for her next audience. Is it a pleasant existence? Probably not. It?s certainly not an honest one. But for a public figure absurdly caught between society?s conflicting notions of what women should be, it?s a way to survive,? the New Republic surmised.
Some argue that Laura Bush has more than survived and become a definite asset. She raised $5.5 million for her husband?s campaign, travelling to 33 states since June and making countless TV appearances. She has cleverly tried to soften her husband?s strongly anti-abortion position and opposition to gay marriages. She is romping though key battleground states doing ?W Stands for Women? rallies, using her husband?s middle initial for the cause. The same initial has been used by Kerry against Bush for highlighting the ?Wrong war, Wrong place, Wrong time.?
Laura Bush gets rave reviews, even from Dems. According to a Gallup poll last year, she ranked third among women Americans admire most, after Democratic Sen. Hillary Rodham Clinton from New York, and Oprah Winfrey. But her critics say she is as bland as American coffee, rarely espousing a real opinion and leaving others to read the tea leaves. She recently hosted a seminar on education, sat through nine hours of discussion without ever raising a question, objection, or comment.
Verbosity, meanwhile, comes naturally to Teresa Kerry who manages a $1.2-billion philanthropic empire, engaging with NGOs, assessing projects and granting money. She is definitely pro-choice and supports rights for gays. She has donated $8 million over the past decade to foundations which fund gay and lesbian community centres. Despite her private Gulf Stream jet and Jimmy Choo shoes, she seems accessible, often sharing startling details of her life with college students ? like how she wanted to have 12 kids and would have had five but lost two to miscarriages. Whatever she says seems to come naturally, however odd. She recently advised a gathering in Nevada on the merits of curing arthritis with gin-soaked raisins.
Is America ready for this European-style First Lady?