Ayush Kejriwal on his love for all things Bengali
'As arrogant and narcissistic that sounds, who doesn't like that feeling when everyone is looking at you for the right reasons or when you demand or command attention?'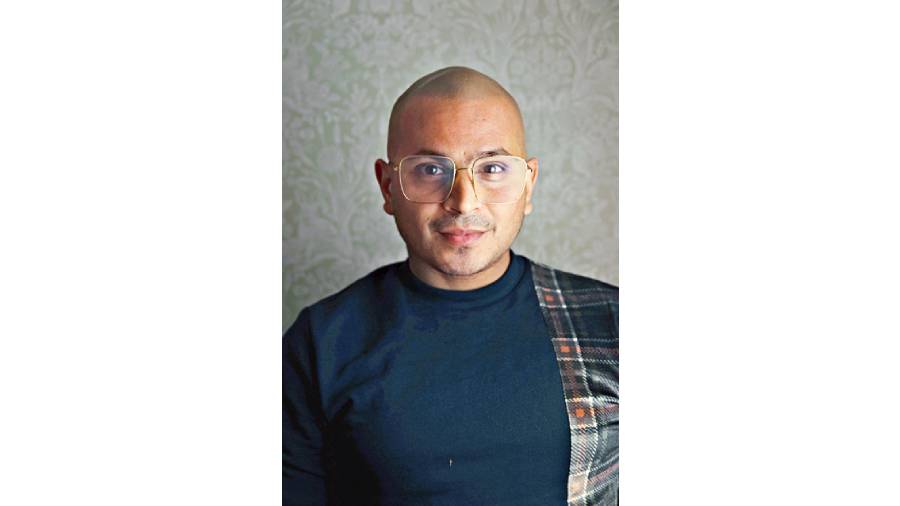 Ayush Kejriwal
Sourced by the correspondent
---
Published 18.03.21, 12:38 AM
|
---
This chat with designer Ayush Kejriwal starts off with his sleeping patterns, meanders through his design aesthetics, dwells quite a lot on his love for all things Bengali and Calcutta, and finally winds up with Satyajit Ray's Mahanagar, a tale of dreams and desires. Ayush too dreams of an inclusive world where one can rise above discrimination and he is constantly trying to steer his creative dialogue in that direction.
He has lived in Hatibagan as a kid and has "vivid memories of Bengali heritage". And though it has been long since he left Calcutta in 2003 to do his Masters in Glasgow, which has become his " adopted home" and has given him "the strength and courage to follow" his dreams, in his soul, he remains a Bengali who loves Calcutta phuchkas, Park Street egg rolls and begun bhaja. His mother and sister still live in Salt Lake and Ayush met them every three or six months — pre-Covid-19 that is.
He still has a marketing job in Glasgow where he has lived "on and off" for 18 years. Though his journey started in 2013, Ayush feels "it is turning into a brand now". "All I did was use 300 pounds to create four saris and make my sister dress up in them and I just posted some pictures on Instagram," he says. He still makes limited pieces and doesn't mind chatting about them and his logo even at 6.30am (UK time)!
Are you a morning person?
I hardly sleep! (Laughs) I am always awake. So, waking up in the morning is not a problem for me.
Lovely logo! You are actually a poet! How long has this logo been on your mind?
As far as the logo is concerned, I always knew that my brand needed an identity. I just didn't know how to put everything I wanted together. 2020 gave us time to reflect and I thought quite a lot. That's when I thought that I am probably at that stage in my career when I might be able to justify giving my name to a brand and finally bringing it to life. We started thinking about a website too. So, I realised that I cannot not have a logo any more.
The logo had to be personal to me. I don't care if it breaks all the rules of logo design. I don't care if people say it's too complicated.... That logo is my extension. It had to honour my life and everything that made my brand come to life. It had to be respectful of where I belong.
The base of the logo is a coat of arms. I thought would it mean overemphasising or over-validating what I do. But then I thought it doesn't matter how insignificant people think I may be, in my eyes my work is more than anything else. That's why I thought I won't shy away from doing something I love in a way I feel is appropriate. If it breaks all the rules, it bloody well may. I worked with a designer called Pritam Roy, from Calcutta on the logo. What does the logo comprise?
The city of Glasgow has a special place because I came here and did my education here and I love the city. The logo includes the symbol which represents the life and legend of Saint Mungo. There is a bird, a tree and a bell and the saying goes that the bird never flew, the bell never rang and the fish never swam.
Then I wanted to represent Calcutta because that's where I was born and I am heavily influenced by Calcutta. It shows in my design aesthetic. I remembered that after school I used to a take a hand-pulled rickshaw to go to my tuition classes. It would be my time to go into a dream world.
There is also the number 27 in the logo. When I finally found the courage to pursue my dreams, I was staying in Glasgow in a property called 27 Huntly Gardens and when I had first put my pictures on Instagram, I had called it number 27. That stayed with me. It had quite a bit of meaning behind it. It is an angel number and when they appear in your life, it means angels are calling you. Now, when I look at it, it was all meant to happen.
There is also the mein sign in the logo. I do what I do because I like to do it to please myself. The core of who I am has always been in the centre of what I do and that is no different for my brand. Then Michelangelo's The Creation of Adam that represents that God reflects in me, and what I do is a reflection of the Almighty. Then you see two peacocks and a wreath of flowers. I have always felt that the soil never discriminates which colour flower will grow (on it). Then why cannot human beings be like that? Why is the fashion fraternity so discriminatory? The peacock has so many beautiful colours, and it is the national bird of India and I am always going to be an Indian. That represents the Indianness in me unapologetically.
Ekla cholo re had to be there because initially I had knocked a lot of doors and I was politely refused at times and rudely too. I thought of doing it myself. A lot of things have happened. I have tried to carve a door for myself. Ekla cholo re sums it up beautifully. We all have to cross hurdles in life and it is an inclusive story which pays homage to Calcutta.
Below number 27 is a flower motif which is a sign of eternal beauty and I have always felt that beautiful things always remain beautiful. Beauty has no age and my brand is about inclusivity, positivity and tolerance. It's been in my head for over seven years and we got it done in three days! How are you managing a day job with your design career?
I don't sleep much! So, I am able to do both. When you love something, you don't consider it as work. I am organised, set myself tasks and manage my time accordingly. I do my marketing job during the day and all the things I need to do for my brand in the afternoon and over weekends.
What kind of an impression did Calcutta have in your creativity?
Calcutta is one city that has wonderful culture and modern life and it balances it beautifully. The women are full of grace and intelligence and supremely independent and confident. Calcutta as a city is poetic. Even while talking about it one feels so nostalgic. That comes through in my work. What I miss about Calcutta is narrated through my clothes... (but), I always feel the world is my oyster.
You have wanted to do mostly saris?
Because I am based in the UK, saris are the easiest to do. And saris are so forgiving. I also feel my job is to make people feel good about themselves and saris as garments do not discriminate. I am doing a collection of one-size-fits-all dresses. I wanted to do clothing that will not be about making people feel bad. I feel this industry is ruthless. They make people feel that they are lacking in something so that they purchase their products. Can you not accept me with my pimples?
Your pieces have a timeless quality, almost as if you are watching a vintage film. Was that the idea from the beginning?
I don't understand this 'in' and 'out' business. We talk about a world where we have to reduce footprint. Then why are we not trying to work towards that? Keeping that in mind, I have created pieces, which, for me, can be worn by anyone and at any time.
You love colours...
Colours are the essence of life. We are fortunate to experience that. My mother can't see and I have seen her struggle....
How did jewellery designing happen?
Jewellery came because I was sick of not being able to find the kind of jewellery I like in India. It's mostly silver. I like things which have a bohemian, eclectic approach to it. I take 10-12 pieces, break them, polish them and put them together to create something unique. As arrogant and narcissistic that sounds, who doesn't like that feeling when everyone is looking at you for the right reasons or when you demand or command attention?
The poems on your Instagram feed are by you?
(Laughs) I am quite a romantic, emotional and sensitive person. I am open about my feelings and I get criticised for that. Social media is a platform where we can make a difference. How we feel connects us to other people.
Have you ever wanted to make a film?
I would absolutely love it. In fact, I am working on a few projects which haven't come to life yet, a collection of short films, highlighting social issues. Stories, songs, music, words and people have a connection. I just finished a book by Elizabeth Gilbert called Big Magic. It talks about how we should never be afraid of ideas. I love travelling and watch a film or something every day. I want to grow as an individual....
So, what's your favourite Bengali film?
Mahanagar by Satyajit Ray.