Ashdeen Z. Lilaowala's Parsi gara comes to Calcutta
A sneak peek of what to expect from the divinely romantic collection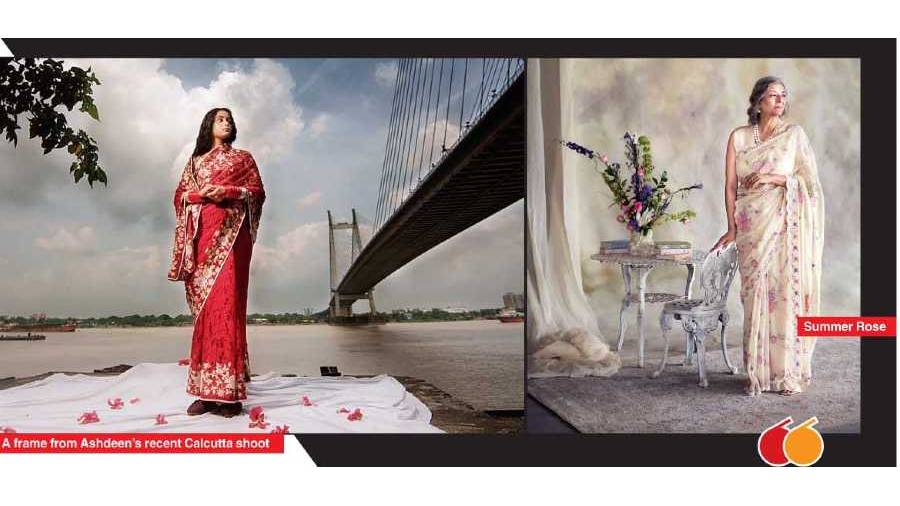 ---
Published 09.08.21, 04:10 AM
|
---
Delhi-based designer Ashdeen Z. Lilaowala has been infusing the age-old Parsi gara embroidery with a contemporary core close to a decade, an art that is all about the finer things of life. The pandemic too has been all about embracing just that... the finer things of life. Ashdeen tells us from Delhi, the city he has been calling home for the last 16 years, how he has bonded with family and friends and made "conscious choices" in times of Covid. We were chatting with him ahead of his showing at 85 Lansdowne.
The name 'Summer Rose' sounds like poetry. Tell us about your love for rose, integral to so many of your collections…
Floral motifs are integral to the Parsi gara embroidery tradition. It is representative of the Zoroastrian reverence for nature. The rose among them, like you've noticed, is a particular favourite — the queen of flowers, so romantic, classically beautiful, delicate and mysterious.
Sari and rose are such a timeless combination. What can we expect?
For this collection we've been inspired by the whimsical, ageless, light side of the rose. This inspiration has been realised in a pastel dreamscape of saris, dupattas, scarves, jackets, accessories and more in marshmallow colours. A sense of playfulness and light-heartedness is the spirit of this collection.
You have also shot in Calcutta…
We shot with a full Calcutta team including the model and photographer recently to juxtapose our classic garas against the backdrop of some of the city's most iconic monuments from the James Prinsep Ghat to the Victoria Memorial.
Breakfast Club looks gorgeous too. The name is interesting, you look back at your childhood. So, you got nostalgic...
Kind of. At this point during Covid, people were connecting back to things which give you comfort and joy. The '80s for me and your childhood always gives you that comfort zone. I have grown up in the '80s... the music, the references. I think that was the idea. We wanted to create that look and feel and shot it in a Parsi cafe in Delhi to set a mood.
What are your predominant memories of your growing up years and what gives you comfort?
I grew up in Bombay in a protected Parsi environment. What was comforting was that our lives were simpler. Now you have thousands of options and distractions yet people are confused. At this point, things of beauty, with a resonance to your culture, give you a lot of solace.
How much time does it take to do this kind of an exquisite piece?
We do only hand embroidery. All our karigars are from Bengal. We take about four weeks for a simpler sari to eight weeks for a more elaborate piece.
The styling is contemporary with a vintage feel. What of the '80s have come into play?
We have concentrated on colour. They are more pop and not very traditional. They are the '80s colours... the pinks and then we have this beautiful green. We have made sure that it is Parsi gara but with the touch of the contemporary so that it is fun. So we have played with proportions. We have one or two borders which are not traditional three inches or four inches. These are 12-inch borders. Everything was exaggerated in the '80s. Puffy sleeves. So, we have gone for that. We added a lot of jewellery. There were bags and sunglasses. I think all elements make it fun.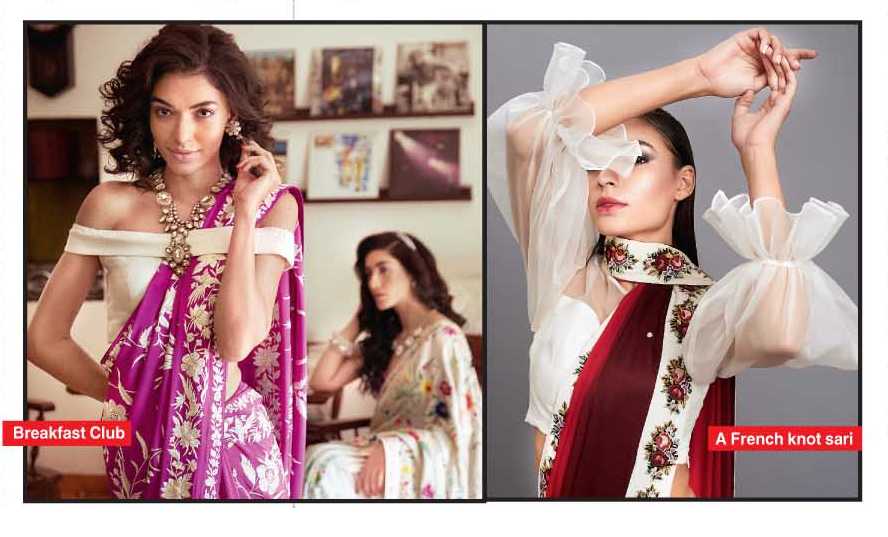 You are also getting separate sari collections...
We have done this elaborate French knot saris. Those are even more painstakingly done... petit point and French knots. Those are extremely detailed saris where we have worked with our karigars. Those saris take about three-four months and there are few karigars who are doing it in Bengal and Delhi. We are also getting these lace saris. We worked with Chantilly lace and did embroidery on that.
There will also be lehngas, kurta sets, jackets and accessories.
Your art is all about appreciating the finer things of life. Now more than ever do you think is the time to invest in mindful consumption?
Absolutely and I think we had been heading in that direction for some time. We had to be aware slowly that it cannot be just crazy amounts of buying. Today I think everyone is buying a little more consciously and are aware of where they are going to wear it, how they are going to wear it. It is about getting one piece which will be part of the collection which will add value to the wardrobe. Invest in one good gara, Kanjeevaram, Benarasi.... People putting out the little information had made the consumer aware of what they are buying. They want to see images of who is doing it and how it was done.... All this has led to a generation which is consuming cleverly and in a focused way.
Is '80s your favourite decade?
I would say it is the transition of the '80s and the early '90s.... The supermodels. The big shoulders, programmes like Dynasty and The Bold and the Beautiful, heavy make-up, that big, crazy hair, Oprah (Winfrey) who was new, people wore colours.... Though it wasn't like I was living it, as a child, it was wow. Then we went into a sober palette. The early 2000s were quite boring compared to the '80s.
Who were the stars for you?
I think from the late '80s and early '90s, it was Naomi Campbell. And, she hasn't aged.
At a glance
What: Ashdeen at 85 Lansdowne
Where: 85B Sarat Bose Road
When: August 10 and 11; 11am-7.30pm