Almost 30 glorious years of fashion later, on an overcast afternoon with the waning daylight filtering in through the high glass windows in a beautiful brick-faced building in Gurugram, Tarun Tahiliani holds to attention a room full of scribes in his inimitable 'TT' style. The building in question begs to be designated as an atelier because words such as 'workshop' and 'factory' are too passe for what is the sanctum sanctorum of one of India's original fashion luminaries. And it is this atelier — a stunning architectural affair inspired by the arches of the famous Delhi monuments and designed by Stephane Paumier — that Tahiliani decides to throw open in order to commemorate the silver anniversary of his eponymous label.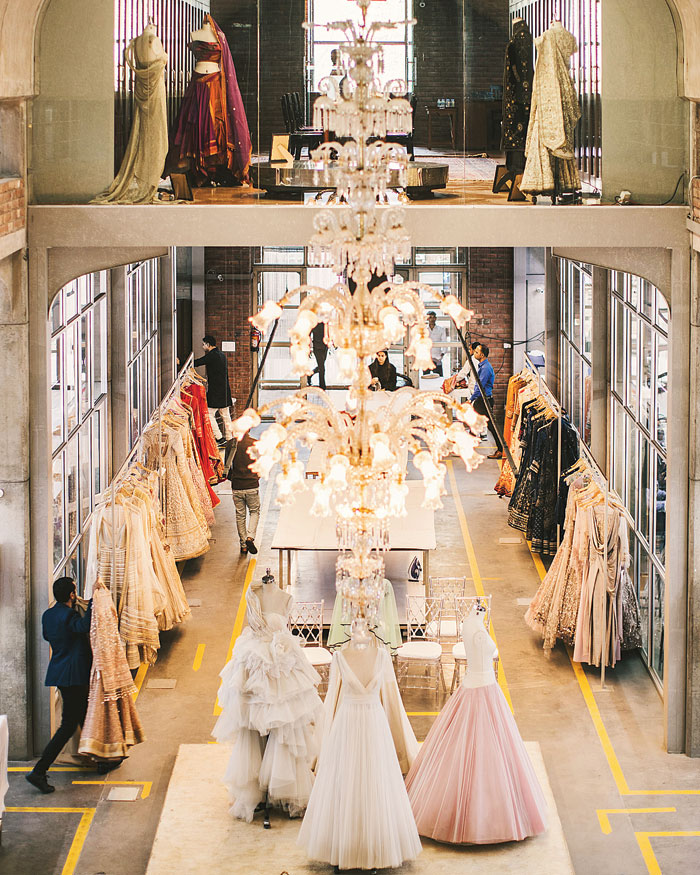 Glimpses from Tarun Tahiliani's stunning atelier in Gurugram, which is a manifestation of the designer's ethos of 'India Modern'. Pictures courtesy: Tarun Tahiliani
Apart from his initial flair for all things sartorial, Tahiliani also attributes the beginning of his label to the festival of France in India in 1989 when due to the "usual Indian politics", he missed out on going to France, despite getting shortlisted. "The French said FO… I was so disappointed because it's okay if I didn't get it but was no Indian designer good enough to make it? That's when Sal (Sailaja, his wife) told me to go get off my a** and study and that's how I ended up at FIT (Fashion Institute of Technology, New York)," says Tahiliani, recounting his journey.
What began then as the organic second step after his multi-designer store Ensemble, has now led to the creation of the famous 'India Modern' aesthetic that has become synonymous with the label and the man. In fact, in everything that he does — be it his concept saris or the bare brick-faced walls of his atelier, embellished only by mannequins decked out in his designs, or even the simple choice between fresh fruit juice and tender coconut water awaiting us at his atelier — the TT way of living permeates the air. And from the moment Tahiliani promptly stood atop the refreshment counter at his atelier to hold court, the TT extravaganza had begun.
As we followed Tahiliani's lead, meandering through his design space, neatly comparmentalised into sections, including one for R&D and archives, the articulate designer kept us informed of the details. Having been a 90s kid, circa MTV and the peak of 'Page Three', I had keenly devoured copious amounts of the happenings of the glitzy fashion world, of which Tahiliani and Sal have been key figures and therefore I was only too happy to witness first-hand, the iterations of years bygone. The thing with Tahiliani, I realised, is that beneath his grandiose and larger-than-life presence is a man keen on conserving his bequests through what he begets as can be perceived in admissions (no matter how tongue-in-cheek) such as these: "I am thankful to everyone who has taught me anything, including embroidery — embroidery is the only thing we could not learn from abroad. We learnt it from these master craftsmen who, sadly, for most part, are still treated like karigars because unfortunately in India, due to the social divide, if you don't speak English, you're a karigar. I have always stopped people from speaking English in the factory because most speak horrible English but they think that's how you get ahead. And I say, 'Rather than screwing my English, why don't you improve my Hindi instead because I am from South Bombay!'"
He's a man abreast of the happenings of the world around him, evident from the ease with which he has attended anti-CAA protests in Delhi and then cites a #MeToo case against an Indian artist while seated next to me during lunch, following our tour of his design den. Therefore his take on style, steeped in heritage, is also a very practical one, taking into account occurrences such as an Indian bride's humiliation when the zipper of her lehnga came undone due to its sheer weight. "Style is what you do with things like the way you have worn your kajal in a very Indian way with your very western clothes and boots," Tahiliani manages to notice and tell me. Therefore it is no surprise that when, on his insistence, his latest collection of brocades is felt, the lightness of the ensemble, and the 'India Modern' take on even his jamdani creations are what stand out. If style is what one does with things, Tahiliani does beautiful things, albeit with a dose of practicality.
A subsequent visit to his flagship store in Mehrauli, which is an elegant gilded affair bearing testimony of his design journey over the years, followed by a tour of the Qutub Minar by night with models dressed up in his designs keeping us company at the centuries-old minaret, were also part of the celebrations of the label's 25th anniversary, carefully curated to not only mark the momentous occasion but to also throw light on the road ahead. Tahiliani later threw his beautiful house open for a private soiree hosted by Sal and him, where his sons Jahan and Anand also played warm hosts.
But for Tahiliani, this is just, perhaps, the first of many more laps of a style marathon as he is eager to keep striving forward. "As we come to our 25th year, again I had to be pushed by my PR and a few other people because on my own, I would just go on to 26…. The thing about working is that you're learning every day and that is what keeps me going. We are here celebrating the 25th, and more importantly, what has to be our role moving forward!" he signed off.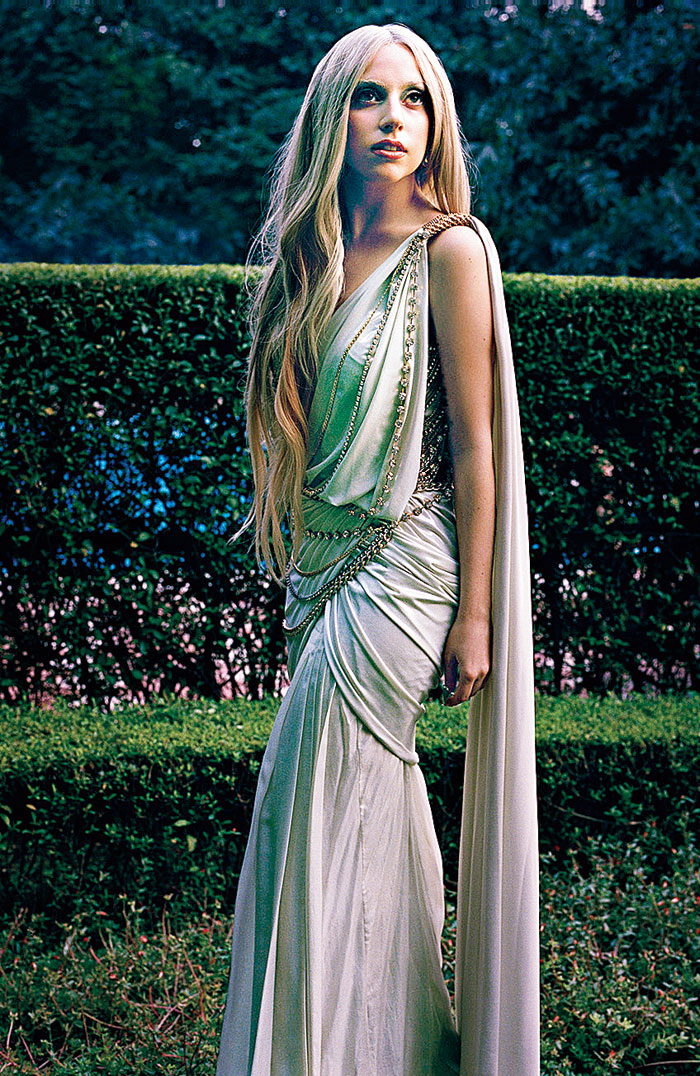 Lady Gaga in a Tarun Tahiliani concept sari while performing at the official after-party of the first Formula 1 Grand Prix in Delhi in 2011. Pictures courtesy: Tarun Tahiliani
In 1987, Sailaja (Sal) and Tarun Tahiliani open their multi-designer store Ensemble at Lion Gate, Mumbai. It is the first Indian fashion store to stock multiple designers, bringing the likes of Rohit Khosla, Neil Bieff, Amaya, Abu Jani and Sandeep Khosla, and Tarun Tahiliani together under one roof. At the time, Tahiliani's designs were being retailed under the label Ahilian.
The first Ensemble multi-designer show takes place at the ballroom of the Taj Mahal Hotel, Mumbai in 1988. This gradually becomes a regular annual fixture for the unveiling of the Fall-Festive collections through this big spectacle.
In 1989, the festival of France in India proposes to take back a designer, model and a photographer from India through a contest held at a national level. Because of local politics, an extra model is taken to Paris instead of a designer. As a finalist, this moment marks a shift in Tahiliani's perspective and makes him want to rely on the route of education to achieve this exposure.
In 1991, Tarun Tahiliani moves to New York to do an intensive course in fashion at the Fashion Institute of Technology.
In 1994, he has his first solo show (a fundraiser for AIDS) at the The Dorchester, London, where he shows four collections. Titled Rubaiyat, after a selection of Sufi poems on love and righteousness, the Autumn/Winter 1994 collection embodies the guiding spirit of the house, dangling the promise of delving into the dual realities of the past and the present. Models walk in flared kalidar kurtas, in designs that concealed more than they revealed in delicate chiffon and organza, topped with structured jackets. Each piece is hand-drawn, every detail hand-rendered and tailored at a time when there is not even a computer in Tahiliani's Mumbai studio. Jimmy Choo, himself, collaborates for the footwear and it is here that Isabella Blow (famed English fashion editor) first meets Tahiliani.
1995 marks the move of the studio to New Delhi and the label Tarun Tahiliani is officially launched. The Fields of India collection is unveiled, featuring a variety of experimental textures.
Jemima Goldsmith commissions Tahiliani to design her outfit for her wedding with Pakistani cricketer Imran Khan in 1995.
1996 marks the unveiling of the Byzantium and VAIN (Velvet Applique in Net) collections. Byzantium is inspired by the Byzantium period in Turkey, while VAIN introduces a new technique that becomes a Tarun Tahiliani design staple. Honor Fraser (former model and now art dealer) comes down to walk the show and shoot the collection.
The Fashion Design Council of India (FDCI) is founded in 1998 and Tahiliani is a founding member. "Setting it up came from a sense of creating a belonging and it was the need of the hour. It came from an interest of the designers to create a marketplace for fashion in India. The whole is always greater than the sum and we wanted to create a platform that represents Indian fashion and celebrates innovation and design," Tahiliani tells t2oS.
India's first ever fashion week, called the Lakme India Fashion Week at the time, is held at the Taj Palace, New Delhi in 2000. Tahiliani is a participating designer and he showcases in the first finale with Wendell Rodricks and Raghavendra Rathore.
Tahiliani begins his early collaborations with Swarovski in the early 2000s. "My journey with Swarovski has been a very interesting and engaging one in the past two decades. I was first introduced to them by my great friend Isabella Blow who was consulting with them and we collaborated as far back as 1995. At that time, Swarovski's crystal components were not available in India and were usually bought in dodgy markets or were carried by hand. But more than that, it lends a certain delicacy and finesse because of the quality and consistency of the product. Mixed with our Indian traditional embroideries and our other forms of threadwork and embroideries, there's a very particular niche that Swarovski crystal components has always had for me in the fashion line," explains Tahiliani. By this time, he has also done one more Lakme finale.
In 2002, Tarun Tahiliani shows at the Milan Fashion Week held at the Palazzo della Permanente and becomes the first Indian designer to be showcased there. His collection comprises contemporary western silhouettes, jewel trompe l'oeil T-shirts with medieval Mughal miniatures and contemporary tone-on-tone chikan separates, amongst a few saris and three bridal lehngas. And thus is born the signature 'India Modern' Tarun Tahiliani design aesthetic.
Between 2005 and 2006, the very first iterations of the pre-draped concept sari appear on the ramp in Tahiliani's fashion show. "I wanted to create something that would keep the essence of a sari, preserve its versatile and sensual elements but give it a practical outlook through contemporary construction. It is for the modern Indian woman who is aware of traditions but wants to maintain and evolve her individual style. The idea is to evoke our past with contemporary construction and controlled movement. The need for the concept sari came from a more functional and utilitarian purpose," says Tahiliani.
In 2009, Tahiliani hosts the first Tarun Tahiliani Couture Exposition — a misc en scene conceptualised to look like a grand Indian wedding, within which he shows his couture collection. The exposition is the first of its kind and becomes a vehicle through which the couture end of the design house can be showcased.
Tahiliani is the grand finale designer at the Wills India Fashion Week, where he shows his Spring/Summer 2010 collection.
Tahiliani designs Shilpa Shetty Kundra's bridal outfit and wedding trousseau in 2009.
In 2010, he shows his New Democrazy collection, inspired by draping and textiles from across the country. Here the focus is on textured handloom and daytime silhouettes. Rules are rewritten with ensembles that has gilets thrown over Kutchi kediyas, saris and dresses. Latticing on tunics leads to mother-of-pearl on sheer net to bandhini applique and chikankari. Simple naada was woven into web and block-printing is given surface relief.
Lady Gaga appears in a TT concept sari while performing at the official after-party of the first Formula 1 Grand Prix in Delhi in 2011. Tarun becomes the first Indian designer to collaborate on a watch collection with the Timex group around the same time.
Tahiliani's Autumn/Winter 2013 collection, titled Kumbhback, is inspired by the sadhus he saw on his trip to the Kumbh Mela. Inspired by the variety of ways in which the sadhus draped their robes and clothes, the collection features a variety of modern, structured drapes in hues of red, orange, saffron and maroon in a variety of fabrics, including cashmere.
Karlie Kloss wears a TT pre-draped gold sari-dress at the Cannes Film Festival in 2013. Aishwarya Rai Bachchan wears a gold sari made by Tarun Tahiliani at the amFAR gala during Cannes 2013.
In 2015, Tahiliani starts collaborating with the World Gold Council for Azwa's line of gold jewellery.
In 2016, Tahiliani forays into interiors and designs under their Homes division. These are located principally in Goa, and some of the finer homes are in New Delhi.
In 2018, the studio expands its standalone retail presence to Mumbai, Delhi, Calcutta and Hyderabad and operates from multi-brand stores across the country.
In 2019, the studio introduces The Drape Series collection, which stems from Tahiliani's love for "all things drape" — "a language that we are trying to preserve as a visual identity. This is always a critical part of the ready-to-wear fashion collection," he says.
Around this time, he introduces three pieces representing the Kashida collection. "After years of seeing women struggle in clothes that they could not move in, I was dying to go back to something that had the lightness and finesse of clothes that I saw when I was growing up and out of this was born Kashida, using our love for colour, multicolour, single tar aari and very fine additions in the use of beads and braids. We did a few pieces for the couture show that have been the top sellers and so we felt it is time to do an easier collection using all these elements, even more appropriately for Spring/Summer and the next round of weddings. So we have an offering of 15 styles that one can order to their taste, mix and match dupattas with and, the collection has lovely colours that have never been seen on wonderful fabrics from silk, georgette, Chanderi to dupion and other sheer silks that wrap you in a cocoon-like coolness. Each separate is either woven, hand-painted or is finely detailed with intricate embroidery," explains Tahiliani.