Arpita Mehta showed her first full-fledged bridal line at the recently concluded FDCI X Lakme Fashion Week. Pastels, floral motifs, yellows, pinks and a line of reds, and statement accessories made it a beautiful collection. "That was the mood, the bride and the bridesmaid, going from day into evening, going from Mehndis into weddings. That was the mood of the bride and her tribe. The idea was to not keep it very long and extensive. I wanted to keep it short and sweet so that everyone just gets a feel of what the bridals are like and they can always look for more," Arpita told t2.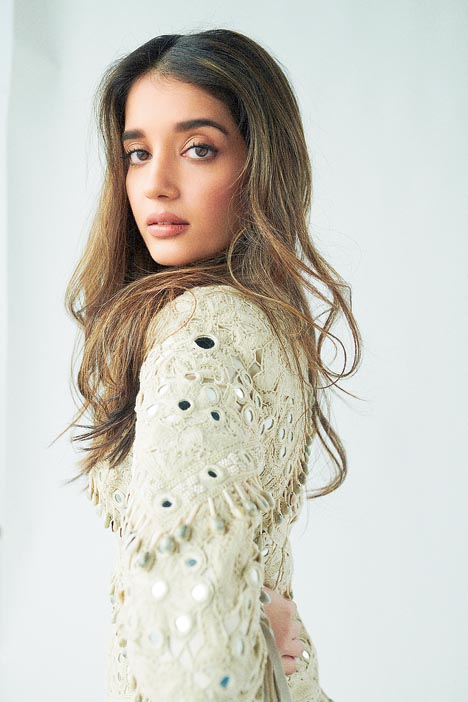 Arpita Mehta
This is the first time you showed a full bridal line...
As a brand we have always catered to brides for their Mehndi and Sangeet and they have mainly been custom outfits. Yes, we've had lehngas in the past in our collections, but the ranges have also included saris and jackets, fusion ensembles... the things that we always do. This is the first time we have done only lehngas, full-on bridal, and that too in a very understated way. That's what the brand aesthetic is. It's not extremely over the top. It's a little younger, modern and it's a mix of tradition and contemporary. We've also added chainmail tops for the bridesmaids, we have done headscarves, embroidered gloves... so, basically making it a fun line. It's for the brides and the bridesmaids.
We cater to all age groups, but the majority of brides in our country are younger girls. They are always looking for something new.
Tell us about how excited you were to do your first full-on bridal line...
I was thoroughly excited. My mind was going in 10,000 places (laughs). There is so much we have done in the past and so much we want to do that it was very tough to restrict it to these many garments. We have many more designs in the pipeline. I am sure we will do a 2.0 of this collection soon. It's an extensive creative thought process and I feel one show is not enough to showcase this.
The clothes look lightweight and you have done prints too...
Talking about the new-age bridals, we have seen a shift in the last two years where the scale of the weddings have downsized, but the emotion still remains the same. The bride still wants to look her best and elaborate but that will differ from a 1,000-people wedding to a 100-people wedding. While you are maintaining the quality and luxury of a small wedding, you are also wearing a stunning outfit which is apt for that occasion.
The printed ones are for the bridesmaids who want to look amazing and be there for their best friend but at the same time not overpower the bride. The bride will of course wear something elaborate.
Tell us about the styling details...
Talking about the hand-embroidered gloves, me as a person, whenever I have attended weddings of close family or my best friends, I have loved the thought of putting mehndi, but it's just a headache when it's getting off and it looks so horrible when the colour fades off. You love it when you have it for the first day. This kind of came from that thought process that it's the mehndi, yet I want to wear something stunning, but I don't want it on me the next day. I thought of doing embroidered gloves and the embroidery is almost like henna but the henna which is inspired by our classic embroidery. It looks glam, dainty and beautiful and serves the purpose of embellished hands and at the same time, gives you the option of taking it off once the event is over. And of course it adds a touch of unique, fun and cool. I just feel it is an eclectic look.
Moving on from the gloves and going into the headscarves, it is very Moroccan. That whole idea of being gypsy and at the same time keeping it clean and neat. These were the dupattas that were part of the ensembles. So, we have taken the dupattas and styled them as scarves. As a bride, you have to stay a little more classic, but as a bridesmaid, you can have a lot more fun. It's great for Mehndi, pool parties and pre-wedding dinners.
The newest elements in this collection are the chainmail tops. From when I was 16, I have had a crush on chainmail. People would wear it to discotheques and parties and I was like, we have to make a version of this for our Indian bridal line. It is so untouched. On the chainmail, we have done these embroidered mirrorwork applique flowers to add a bit of softness and femininity. Chainmail is a very exciting product, but it has to be used correctly, so that it doesn't go OTT. It is something so new and refreshing that I would wear it instantly.
You love pastels...
I adore pastels. Indians have this wrong notion that pastels don't look good on Indian skin but I feel they look stunning as much as red and pink. You just have to pick the right tone and they are very versatile. You can go OTT or understated-elegant, wear it during the day or night. Dust pinks, coconut and mints are beautiful colours and they will never wash you away if you pick the right tone. It's a must-have in one's bridal wardrobe.
There is a lot of simplicity in your clothes, which is also the DNA of your label...
I have just gone with the flow and done what I wanted to do in terms of the bridal line. I always design collections thinking what would I wear, what would my girls wear or what would our buyers wear. My muse is literally me and people around me.
What is your top tip for the confused bride?
Firstly, it is important to go with the gut. Secondly, nowadays brides are so tech-savvy that it would really help to create a mood board. Your wedding is not just about your outfit, but also about the way you do your make-up, hair, accessories. Going subtle or OTT is up to the bride. Do whatever you want to do and make sure you are feeling on top of the world.
What would you pick for a winter wedding?
I feel it would be nice to go with a super pastel palette or with reds. Even weddings have become fluid. People value time and the approach has become practical. There are so many impromptu weddings. Keeping those emotions in mind, I think these palettes work extremely well and can be worn at any time of the day.