Arjun Chakrabarty sets festive winter style goals
Arjun Chakrabarty gets into winter festive looks by Jyotee Khaitan, only for The Telegraph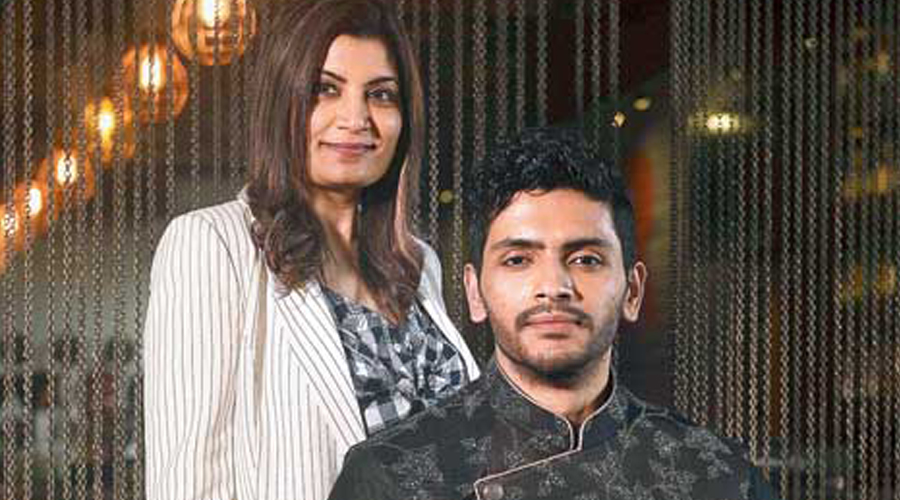 ---
Calcutta
|
Published 06.01.21, 10:00 PM
|
---
Designer Jyotee Khaitan dressed Arjun Chakrabarty in five winter party looks for The Telegraph. And, in a mix of the traditional and modern, the Byomkesh Gotro actor made for one dapper model. The edgy backdrop of Bakstage in Sector V, Salt Lake, provided a nice contrast to the modern-classic looks.
Quick five with Arjun...
What is your winter fashion like?
My fashion throughout the year consists of T-shirts and joggers, much to the irritation of various quarters. I might try to change it. So, this winter it is going to be denim jackets once in a while for a change with jeans and sneakers.
What does fashion mean to you?
To be honest, to me fashion means being comfortable. If you are not comfortable, you cannot carry it off. Doesn't matter what you are wearing. Sometimes you have to be above and beyond comfort. I have been told it is very necessary.
Have you ever made a fashion faux pas?
I went to a pujo judging once wearing a tracksuit. That was a little too much. I wore a T-shirt with tracks. Everyone was dressed as they should be dressed during Durga Puja, a little jazzy. The least I could have done is wear a kurta but I was too lazy.
What is the one outfit that you want to experiment with and see yourself in?
I enjoy wearing suits and find ethnic wear complicated, unless it is a simple kurta or churidar or pyjama.
One fashion or style item that you are obsessed with...
I am not obsessed but I think watches never go out of fashion. Even if it is an old simple wristwatch. I think some things are better left old school. We have clock in our phones and the habit of wearing wristwatches is slowly ceasing to be but then I think we should retain that. And for shoes, I am not too finicky but I like having some variation in my sneakers.
The asymmetrical beige tone-on-tone embroidered bundi with a touch of sequins was teamed up with a tone-on-tone resham embroidered ivory kurta and a pre-stitched off-white-and-gold dhoti."The bundi with structured silhouette and exquisitely embroidered in light and medium hues worn with kurta and stitched dhoti is adding contemporary oomph to the ethnic festive ensemble," said Jyotee. A James Bond fan, suits are close to Arjun's heart. This royal blue classic one was his favourite look. "The suit reminds me of James Bond, obviously these are slightly Indianised suits because the target client group is not Daniel Craig of course!" laughed Arjun. The tie and the pocket square add a vibrant touch. "An expression of timeless elegance, this structured silhouette worn with a white shirt and lavender tie is a classic luxury outfit and a must in your wardrobe for the winter party," said Jyotee.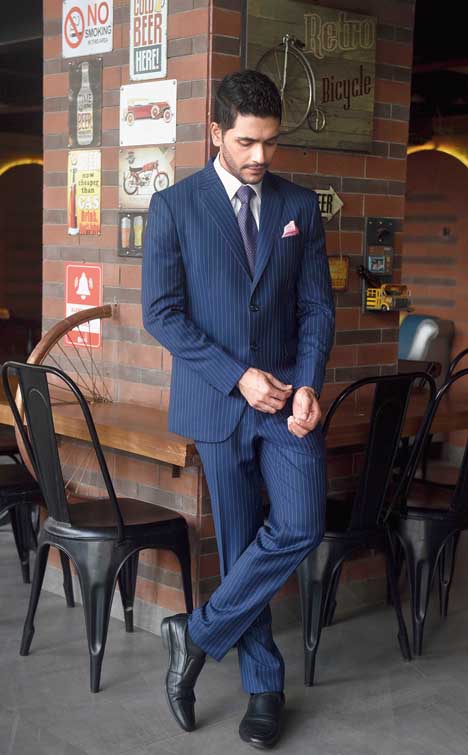 A black printed and embroidered asymmetrical bundi was teamed with a black-and-gold kurta for this look. "In this look, modern minimalism is combined with traditional. The look is dandy and modern with an ethnicity," said Jyotee.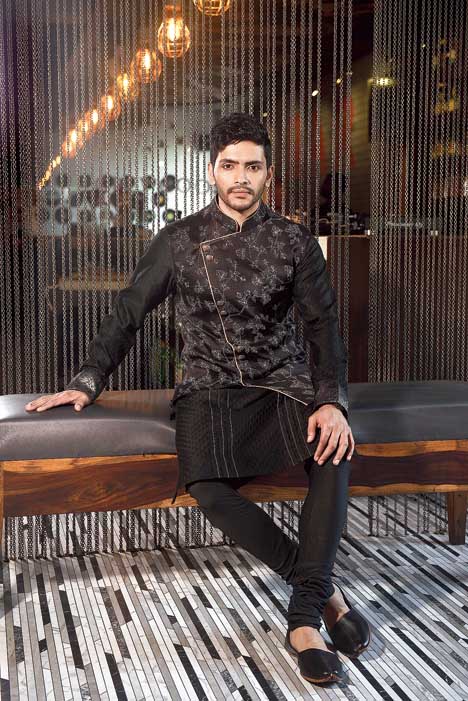 Arjun channelled the classy in this blue bandhgala suit detailed with handcrafted gold-hued buttons and white stitch lines running along the edge. "Subtle touches of refinement comprises the bandhgala suit that mixes heritage with the contemporary and embodies the essence of fine tailoring. Attention to detail is paramount. The look is that of an elegant vintage garment," said Jyotee. "I think blue is a wonderful choice when it comes to fashion. I wear a lot of dark colours but then come to think of it, blue can be interesting, especially when we think of a kurta. The kind of kurtas I wear, blue gives a regal touch to it," said Arjun.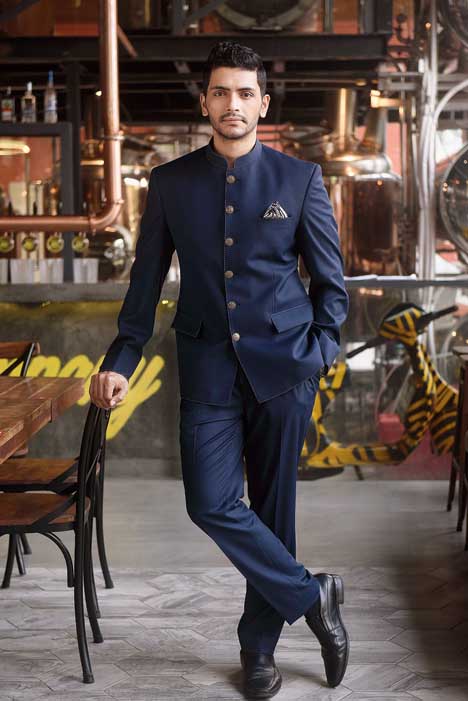 The embroidered sherwani was embellished with handcrafted jewel buttons, red fabric and gold zari detailing on the collar and sleeves and was paired with an off-white-and-gold pre-stitched cotton-silk dhoti and a beige pashmina shawl with red embroidery work. "Sometimes peaceful, sometimes adventurous, this royal sherwani and dhoti takes a path towards constant search of beauty. Precise craftsmanship is the backbone of this exclusive masterpiece," said Jyotee.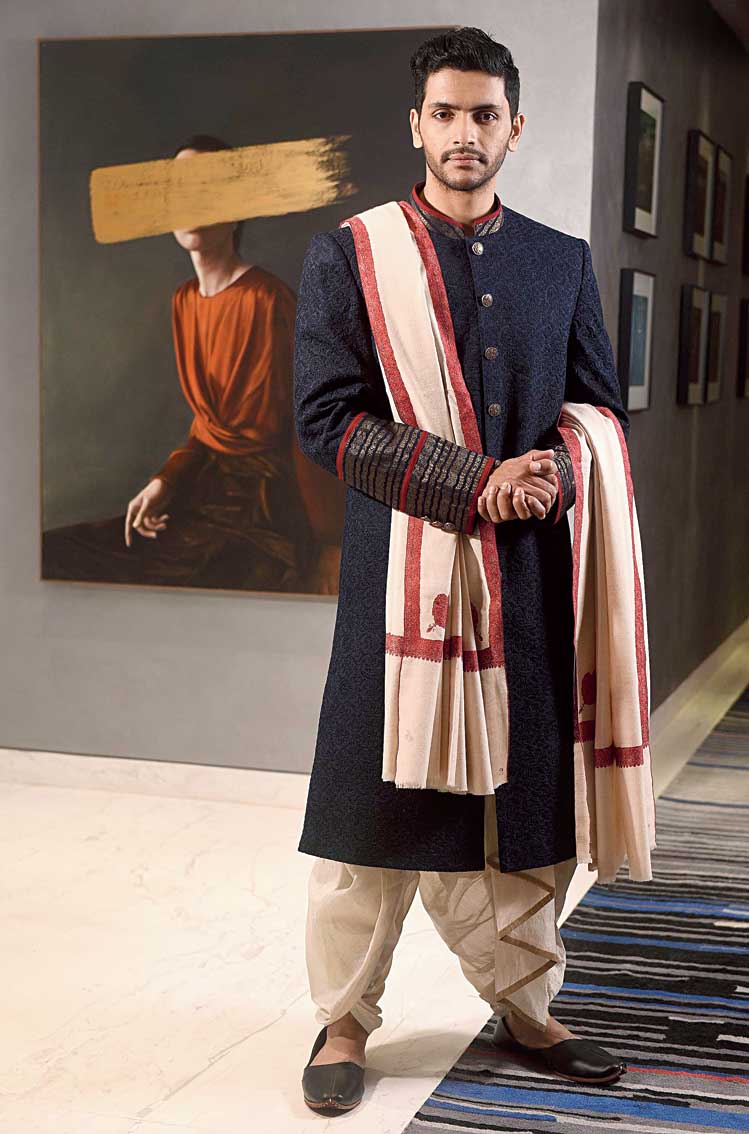 "Thanks to The Telegraph that people can see me this way. I am pleasantly surprised. I never dress up this way. Doesn't matter if I am going to a wedding or not. Like I said I am lazy but I am improving…. I like how some of the outfits have a very nawabi touch to it…. the credit for the shoot includes Aniruddhada's make-up and Mukhtar's hairstyling too. Recently, I was reading a book on Jaipur, it was about Maharani Gayatri Devi and this shoot reminds me of that book. I was thinking about the maharajas of Jaipur. The way they live. And I kept thinking of Saif Ali Khan too. I really admire him." — Arjun Chakrabarty
"Elegance is about being remembered! Our menswear collection directs your gaze towards a tactful expression of your own style and aims to turn your authenticity into an unmistakably distinctive quality." — Jyotee Khaitan
"We gave him an edgy sharp look. And for the ethnic, I made the eyes a little dark and intense that looks nice with ethnic wear. Mostly we worked with the hair, we have tried to keep one different look for each change with the hair. There is parting for one look, at times it is a little ruffled, we have spiked up for another. For a man's face, hair makes a lot of difference." — Aniruddha Chakladar
Pictures: Pabitra Das
Make-up and hair: Aniruddha Chakladar and Mukhtar Hossain;
Location courtesy: Bakstage, Sector V