Amit Aggarwal's Euphor celebrates minimal luminosity
'The most important aspect has been to stick to our purpose and to continue with the same craft in order to create a signature like no other'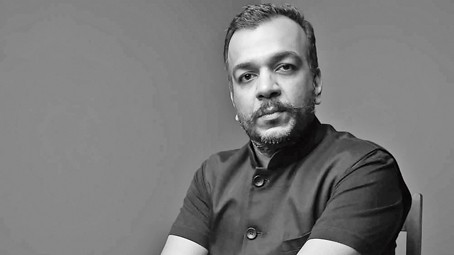 ---
---
Amit Aggarwal's Euphor is a celebration of minimal luminosity and the futuristic. The "wedding couture collection" that has a refreshing colour story of blush, fuchsia, mint and emerald among others, is travelling to Calcutta for a showcase at Elahe, the multi-designer store. t2 caught up with Amit ahead of the showing.
Euphor looks signature Amit Aggarwal. Can you tell us about the name?
Euphor stems from the form and the beauty of the natural world. The collection has been an extension of my personal journey in these unnerving times, wherein I found solace in the bounty of nature and its multifaceted beauty. These defining moments of life that translate to complete joy, celebrations and the exploration of blissful euphoria, inspired Euphor.
It's definitely for a new-age bride. Can you take us through the garment construction and a sneak peek of the other silhouettes beside lehngas?
Innovating with technique, the designs are printed over hand-embellished fabric to create unique surface textures unlike any collections created in the past. Weave of metallic cording has been moulded to create organic patterns; the range points to botanical therapy in a collection of meticulously embellished lehngas, saris and capes.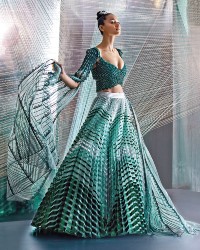 What are you getting at Elahe?
We are excited to offer some of the most exquisite pieces from our latest collection Euphor with designs ranging from couture, bridal, luxury pret to easy separates.
What is your perception of the Calcutta market?
Calcutta has slowly grown to become an imperative market, one that appreciates and values the intricacy of craft. A market that truly likes to experiment and enjoys the art of fashion. We are excited to be able to engage with our patrons in Calcutta.
You have always pushed boundaries. What kind of a response have you received for Euphor so far?
As in any crisis, we turn to nature, to soothe and to heal. I have often found solace in the lap of Mother Nature and the consciousness-altering beauty of blooms. This thought has literally been translated into this collection. Each piece has been crafted in the visually luscious hues found abundantly in nature and hope to evoke a sense of joyous optimism, positivity and euphoria. We are thrilled and humbled by the extremely warm response we have received from our patrons.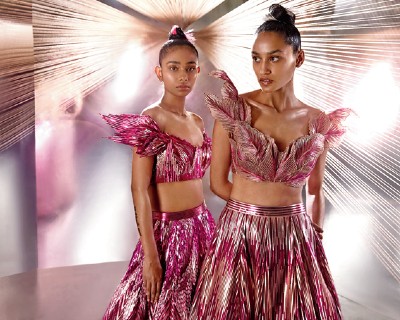 When a bride comes to you, what is your usual advice to her on what to expect?
The sacredness of the occasion only asks one to be true to themselves, to enjoy and cherish each aspect of this beautiful journey. As ceremonies become more intimate, focus on things that is truly tailor-made for them rather than something that is expected of them, to create memories rather than 'moments'.
What new bridal trends have the pandemic given birth to?
The pandemic asked us to pause and reflect, to revisit and rediscover our roots. Continuing with that thought, the bridal industry has gotten closer and more honest to one's core beliefs, values and aesthetics. Consumers, today, are looking for authenticity, a value for investment over an impulse buy. Additionally, creating and maintaining brand loyalty plays an integral role in today's present. Designs that truly stand the processes of time and transparency shall become preferred products.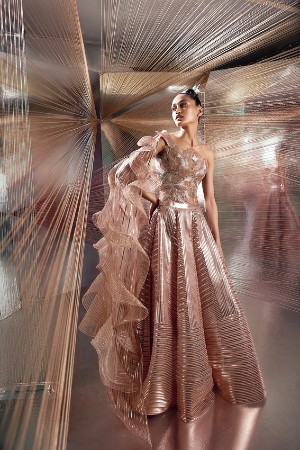 What are modern brides looking for in general?
I believe that today's brides want and should be able to enjoy their own wedding without being weighed down, hence, the preferred choice are of ensembles that are light, fuss-free, crush proof and easy to navigate. Also, a major focus is on the vibrancy of colours that spark hope, joy and a feeling of celebration, making it the go-to choice.
The brand will soon turn 10. Congratulations on that. What have the years been like?
In the past 10 years, I and in extension my brand, have not changed from the core belief, which is to push forward Indian craftsmanship. From when I started to today, our design language has evolved and adapted with better understanding of the market. The most important aspect has been to stick to our purpose and to continue with the same craft in order to create a signature like no other. I, personally, have always been inspired by the technical aspect of clothing and that helped define our purpose as a brand. While the expansion and understanding of techniques have made the collections look different over the years, the intricacies of the details have maintained the root aesthetic of the brand.
Pictures: Sourced by the correspondent
More about it
What: Amit Aggarwal X Elahe
Where: Elahe, 23 Ritchie Road, opposite St Lawrence High School
When: April 8 onwards; 11am-8pm