Adhuna Bhabani on bridal hairstyles
A lookback at tress trends over the decade gone by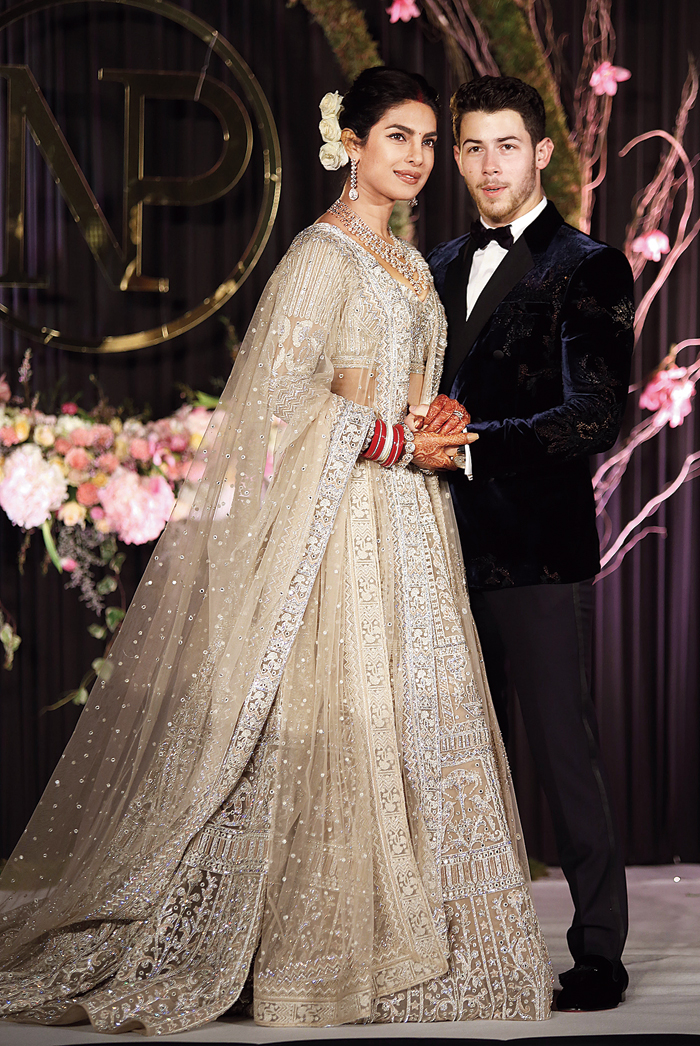 ---
---
A pioneering figure in the world of hairstyling in India, Adhuna Bhabani, founder and creative director, BBLUNT, looks back at the decade gone by and what to expect in the coming year, starting with the big, fat Indian wedding.
The bride's mane
What are your top tips for a bride?
My honest advice to brides would be to avoid trying to look like somebody else, especially on their wedding day, because you'll regret it every time you look at your pictures. I would recommend brides to go within the natural, soft, glossy space; something timeless and something you know looks good on you. A tried-and-tested look, just a more polished version of that.
Arm yourself with the right haircare and styling arsenal — take your pick from our bridal must-haves like Climate Control Anti-Frizz Leave-In Cream or Blown Away Volumizing Leave-In Spray. Our latest launch is a heat protection styling mist called Hot Shot. Our Back To Life dry shampoo is another bridal favourite to refresh and revamp flat, danced-out hair instantly. You can add a dash of gloss to any style using the first-of-its-kind spray on serum, Spotlight Hair Polish.
When selecting a hairstyle for your big day, it's important to keep the following in mind — how many events you have planned leading up to your big day, take into account impromptu events like brunches hosted by family and friends, the venue for each event as well as the weather conditions and the wedding wardrobe you have in mind. It really helps to draw up a mood board of the wedding theme, if any, and accessories like hair jewellery and fresh flowers that you intend to use.
Identify hairstyles that complement, also your make-up preferences and any special features that you want to accentuate. You could work with your stylist to identify which style works best for you — open hair, structured updos or soft romantic updos, bouncy curls, half-tied hair or the sleek and chic look. The most crucial element, however, is to keep in mind your personality, hair type, texture and face structure.
What's a great pre-wedding haircare routine?
Letting the bride know that she will or may go through the above is the best way to sometimes deal with it, but everything can be fixed if we give it time. Meet and consult a professional stylist that you trust and who understands your preferences as well as what your hair needs. Best is to start a regimen at the onset itself from the very day you say "YES".
There are four main haircare practices that every bride-to-be should strictly follow in the run up to her big day. A deep-conditioning treatment, recommended by your hair expert, should be an obligatory pre-wedding must-do to prep your hair. Apart from that, regular trims to get the dry, split ends out and regular relaxing head massages work best ideally at this time as the lack of blood circulation usually causes a stressed scalp, which affects the follicles and in turn the growth of hair. Also stay hydrated and drink lots and lots of water. Be sure to be gentle with your hair. The best way to shampoo your hair is to massage the shampoo product on to the scalp using a circular motion with the fingers and then sliding the fingers through to the ends of the hair to allow the shampoo and water to flow through. This helps prevent the hair from fusing or knotting.
Most importantly, make sure you arm yourself with the right products to protect and prep your hair for your big day. The right product regimen will work to improve the texture and condition of your hair over time.
And, post-wedding?
After all the constant styling and use of heated tools, your hair would have had its own share of wedding stress. Pamper your hair with nourishing and revitalising treatments. Regular moisture-infusing conditioning treatments and anti-breakage treatments are a must follow-up after all the wedding day shenanigans. Try and also get a few inches off the length and a full restyle to go with the new beginning.
Hair in the 2010s
How do you look back at the last 10 years in terms of how hair trends have evolved?
Over the last few years, hairstyles have evolved and how — from long sleek tresses to fun bobs, the past decade saw it all. Evolution seemed like the theme for the first half of the decade. Indian women associate long tresses and thick mane with beauty, but 2010 saw women experimenting with cuts and layers. Those afraid to try different hair lengths were opting for different variations of fringes and bangs.
2015 was the 'Year of the Bob' — from sleek, wavy to layered, the traditional blunt cut saw abundant variations. Another style that took the beauty world by storm around the same time was the undercut. You could have had the most classic haircut and still indulged in an undercut at the nape — creating different shapes or designs to revamp your look. While an undercut could be done on any length, texture or face shape, my personal favourites were the ones coupled with short cropped haircuts.
The second half of the decade was synonymous with colour. Ombre was one of the hottest trends irrespective of the colour chosen, so it wasn't just restricted to the bold and experimental at heart. Women were seen sporting natural brown tones to dramatic, bright colours like electric blue and hot pink using this colour technique. 'Denim Hair' was another trend that surfaced in 2016 where there were perfect blends of blues, greys and even shades of white and purple.
2017 encompassed a voluminous and thick mane, irrespective of your hair length. Celebrities were seen donning hairstyles that reflected volume. Balayage — which is free-hand painting the hair, dominated the colour industry around this time.
BBLUNT's philosophy has always been about embracing your natural texture and look and 2018 was all about that! We believe that the only person you need to look like is you. It was great to see more and more people embracing their natural hair and enhancing it with a range of products best suited for their scalp and hair type.
While much didn't change in 2019, we played with texture. Cutting is very freestyle, using the scissor to create character to the hair, and the finish is almost made to look like you are coming in from, not going out to a party. 2019 also embraced hair accessories like the popular exposed bobby pin to create patterns like crosses and stars on the hair. Hairbands and scarves were also used to complete a look.
Bolly & hairstyles
What were the iconic looks of the decade in films?
We started styling for films with Dil Chahta Hai and now our repertoire of films boasts of over 50 feature films — including the likes of Lakshya, Don, Dhoom, Rock On!!, Zindagi Na Milegi Dobara and Bhaag Milkha Bhaag to name a few. If you consider the number of movie characters that we've worked on — including the entire cast of Dil Dhadakne Do — I can say we've styled quite a few actors and created quite a few looks. We're looking forward to doing much more!
Who were the iconic celebrities who made the hair their own in the last decade?
Bollywood celebrities like Kangana Ranaut, Kareena Kapoor are considered style icons for the kind of updos they are seen sporting. Kangana's unconventional looks have always given her an edge, her curls have never stopped her from experimenting with different looks. For both the movies in the Tanu Weds Manu franchise, Kangana sported different looks. A fringe in the first film and a pageboy cut wig in the second film proved how she could pull both these looks off with ease.
Beach-babe waves or the classic no-fuss look by Kareena Kapoor Khan has been exemplary too. This style is the perfect hybrid between effortless and cool, which is why we see so many international as well as Bollywood celebrities sporting it. Deepika Padukone, too, has been setting some serious hair goals this past year. She's been sporting braided buns at various occasions, elevating this classic hairdo.
Internationally, Anne Hathaway definitely stands out as one of my personal favourites. She has never shied away from going short and is quite a trendsetter. I follow her closely. Even Bollywood stars like Anushka Sharma and Sonakshi Sinha, to name a few, have defied conventional norms and gone short. Thanks to these women, crop hairdos have gone from being undesirable to becoming a style statement today.
Industry talk
What has 'hairstyle' come to mean in the last 10 years?
The hair industry has changed significantly in the past decade. We are a much happier lot than before; today clients are discerning and open to work with their natural hair texture rather than opting for extensive chemical treatments. Today, most clients walk into a salon armed with the know-how products available globally and are abreast of the latest trends in hair as well; all thanks to the ever-growing influence of social media. The information may not always be on point but that's where we come in and guide them through the available options keeping in mind their scalp and hair type, texture, lifestyle, personality and time and effort they are willing to put in to care or style their hair. Lastly, hair has become so much more than an afterthought for almost everyone today — it's come to be an essential part of what completes one's overall look.
2020 will belong to...
The bob will always be on trend; it's a BBLUNT staple. Long hair is back and will be best worn organic; what naturally occurs. Working with the hair's natural flow and texture, blow-drying should almost mimic that 'coming back home, not going out' kind of vibe with the hair. Ponytails, worn low at the nape of the neck, or high on the crown will be popular this year... crimped hair with a huge influence from the '80s has made a comeback, and hair gel will be quite the rage as well.