Add a bit of 'Tinge' in your life
Decoding what clean beauty actually means and things to keep in mind if you are looking to embrace the world of the natural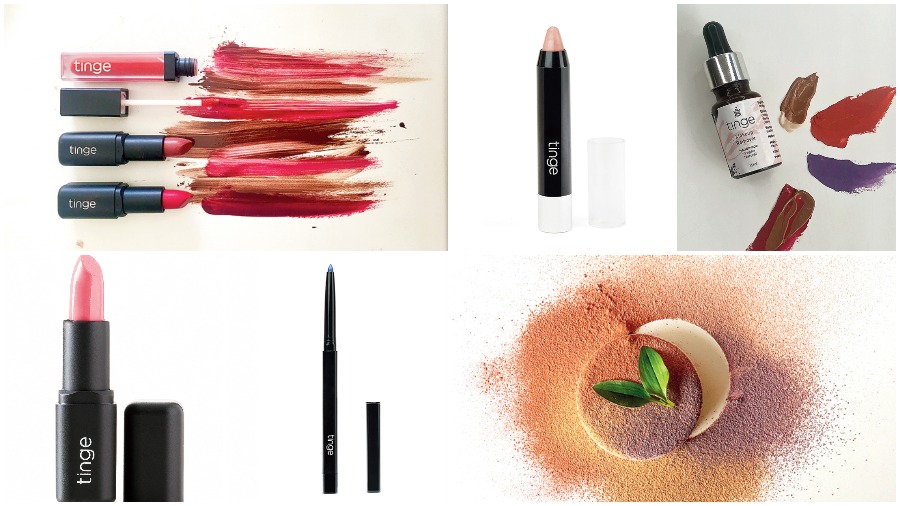 Do your research on the ingredients that you want because a person can be allergic to natural ingredients also. Make sure you know where the brand came from and what it is trying to sell, the brand or the product and where its base lies — Sabrina Suhail, founder, Tinge
Sourced by the correspondent
---
Published 13.05.21, 01:04 AM
|
---
Sabrina Suhail's brush with "make-up artistry" laid the foundation for Tinge, a customisable, cruelty-free and vegan make-up brand based out of Bangalore that she started almost three-and-a-half years ago. "Every single client wanted specific things in their product. I tried reading labels and realised this can't be that difficult. I just needed a foundation of what the ingredients do and what was the percentage of ingredients used in each product," she told The Telegraph when we caught up with her. That's when she went back to chemistry again. "I studied arts and science when I was in college. I did chemistry, botany, zoology and psychology in my plus-II. After science I studied fine arts and post that, I did some event management," she said. A 10-day practical course in New York later, Sabrina started Tinge. She decoded what clean beauty actually meant and things to keep in mind if you are looking to embrace the world of the natural.
Tinge is all natural and handmade...
It is all natural, handmade, vegan, cruelty free. So, all the goodness in one product.
How many people work with you?
We are a small team. Apart from my marketing and PR team, we are only four people.
These concepts are initiating a lot of dialogues now, especially during the pandemic. How difficult was it to start a brand like this?
The concept is quite easy to think of but to actually start the brand and get it going with legal certifications is still a fight for me. Cosmetics come under drug control and every season, the CDSCO (Central Drugs Standard Control Organisation) changes and you have to update your licences. The product is going on a person's skin. We love the entire process but it takes a lot to start a company like this because a lot is involved.
The name Tinge has a hint of minimalism. Is that the idea?
It speaks about minimalism because it caters to clients who want just a little. It is a character speaking to the brand that this is me but you have to just change it a little bit to make it shout 'me'.
What did you start with?
We started with lipsticks with lipsticks being the highest selling product in India and the second thing would be a kajal pencil.
What have you added over the years?
Now we have all categories of lipsticks and lip balm, like an agave lip balm, which is extremely nourishing and then we have our eye pencils that are also handmade. The butters and the oil are organically sourced in India. I personally go to all the farms and see where the plants are being grown and how the wax is being processed. I am very particular about the manufacturer having an Ecocert certification and legal licences in terms of where the product was sourced from and how it was sourced. I do not source my mica and colourants from India.
We also have our multi-shade sticks for the eyes, cheeks and lips. Our foundations and concealers are clay based. Those are also customisable.
What are the typical ingredients you work with?
We don't really use the term chemical-free because water is also a chemical. We use the term 'no harsh chemicals'. Our bases primarily have butter, oil, wax and clay. For colourants we use lakes among other things.
What are your favourites from what you make?
A mascara that I recently formulated, which I haven't released yet. It has beautiful waxes and oils. It took me three years to formulate this one and the formula is actually stable right now. Then my agave lip balm and I use the multi-shade stick for my cheeks. Very minimal. Everyone has their own products. This is what helps me.
What is clean beauty for you?
It is just a marketing concept for most people right now. It can be anything like eating clean, exercising and drinking a lot of water. It can be your mind also. A product can't give you exactly what you want if you aren't psychologically and physically able to bring that out in your skin. It is a lifestyle change and happens over time. We educate the person about it. That is why our service is also personalised. We try to address all the queries of the person before they go for the product because we want to build that trust.
Do you see the demand rising now?
Definitely there is a huge demand right now because people are hearing it a lot more. Of course a lot of them are not doing a lot of research on it. They are just hearing words like 'cruelty free', 'vegan', 'natural'. So, it might be a fad but the true users will remain in the long run. The ones who still want the products to stay for 12 hours and not smudge, will fall off and go back to the industrial ones.
Was there a switch for you personally?
I am mostly an artist and not the type who would dress up. Just to see my competition, I make sure I try everything in the industry and I try to improve on the products. I definitely stick to vegan because I am vegan and I love animals. We do raise a certain amount half-yearly for animal homes that need money.
Do you have pets?
I have my little Mia (cat) who is my shadow.
Make-up is all about feel-goodness. How has the brand helped you stay afloat in these times?
I think anything that lifts our mood... the first thing would be colour and the feeling of it. If you wear a fabric which makes you feel good, then it ups your confidence threefold. Colours up your sanity threefold. Visuals of how you look and feel can take your mood up to another level. Just washing your hair and wearing a red lipstick (can do wonders).
What is your message for women who are looking to make that start with all things natural when it comes to make-up?
Do your research on the ingredients that you want because a person can be allergic to natural ingredients also. Make sure you know where the brand came from and what it is trying to sell, the brand or the product and where its base lies. There is an entire array of products in India and in fact India has the largest number of cruelty-free and vegan brands and they should dip their hands into trying everything and then decide what they really want.