A Ray in the sun
Read more below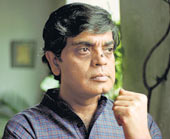 ---
Published 03.09.06, 12:00 AM
|
---
MAD ABOUT CRICKET: NDTV has signed up M.S. Dhoni for Rs 1.5 crore a year
Sandip Ray is a busy man these days. Just back from a reconnaissance trip to Hong Kong, where he plans to shoot part of his next Feluda film Tintorettor Jishu, he is neck deep in finalising shooting schedules and attending to the teething troubles of the newly-launched Satyajit Ray website. When you think you've finally buttonholed him, you find that he is off on yet another mission — expressing solidarity with his colleagues in the Bengali film industry over some worthy cause or the other.
There's nothing frantic about his pace, though. Rather, there's a certain ease with which he does things now. At 53, Sandip Ray is at last consolidating his place in the sun even as he continues to play his other role as chief custodian of his father Satyajit Ray's stupendous legacy.
He is upbeat about his forthcoming film Tintorettor Jishu, which he plans to release this December. And if it runs to packed houses, as his first Feluda outing Bombaiyer Bombete did in 2003, Ray will certainly be considered a director who can deliver some much needed hits to the moribund Bengali film industry. In fact, he intends to make at least two more Feluda flicks in quick succession. Gorosthane Shabdhaan is one of them, says Ray, "But I am still asking young people for their opinion on that."
That's because Ray knows that a Feluda film is always going to be subjected to merciless scrutiny. Pradosh C. Mitter, aka Feluda, is one of the most beloved creations of Satyajit Ray. His persona, that of an über cerebral private detective who is also the quintessential urbane Bengali, has attained an almost iconic status. Even today, more than 40 years after the first Feluda whodunit appeared in the magazine Sandesh, his adventures are among the hottest selling books in Bengali fiction. It's not easy to turn that kind of magic into celluloid and win audience approval for it, especially since Ray Senior himself had made two hugely successful films on his super sleuth — Sonar Kella and Jai Baba Felunath .
Sitting in his flat in south Calcutta's Bishop Lefroy Road, Sandip Ray, dressed in his customary kurta pyjama, smiles a little ruefully, saying, "When I decided to bring Feluda to the big screen, people said, 'He is playing it safe.' What they don't realise is that it is much tougher to get acceptance with Feluda because a benchmark has already been set there. Which is why the success of Bombaiyer Bombete was so gratifying."
Tintorettor Jishu, where the detective (played by Sabyasachi Chakrabarty) is in hot pursuit of a stolen painting of Renaissance artist Tintoretto, takes the action to Madhya Pradesh and thence to Hong Kong. "The sheer variety of locales and moods in the story attracted me to it," says Ray. Produced by R.D. Bansal, the film will probably cost somewhat less than the Rs 1.2-crore Bombaiyer Bombete, he predicts.
Ray admits that Feluda's character has mutated a little in his hands. "My Feluda is more robust, more physical and certainly more contemporary. But I wouldn't go too far in trying to make him move with the times. One must draw a line somewhere. Otherwise there is a danger that we might lose his cult following. I wouldn't give him a mobile phone, for instance."
Is that because he doesn't carry one himself? "Not really" laughs Ray. "It's just that things become a bit too simple with mobile phones. That's also the reason why I don't want to show him with a PC, searching the Net — at least, not just yet."
Evidently, Ray takes his patrimony seriously and would do anything to remain true to it. Yet his inheritance hasn't always been an unmixed blessing. Satyajit Ray's colossal fame and achievement — as an auteur, as a writer, as an icon of post-Independence Bengal — meant that once he had decided to become a film maker, Ray Junior would be incessantly compared to his father. If critics panned a certain film he made, the inevitable subtext of the criticism was that he couldn't hold a candle to his father; if they praised his film, they hinted that Ray père had had something to do with its making. "When Phatik Chand, my first film, was released in 1983, I remember that everybody said Satyajit Ray had made it for me. I felt hurt but I also realised that the film must have turned out well," says Ray. Wasn't he irked by the constant sniping? "Of course," he replies. "But I learnt to deal with it. And I don't think I have let the comparisons hamper my creativity in any way. Baba's influence is pervasive in my life. If I hadn't learnt to deal with all this, I would have had to go off and be a sadhu or something."
Ray did not always want to be a film maker, though. In his teens, he had wanted to be a professional photographer. "But then slowly, I became interested in editing and the post-production aspects of a film," he says. "My interest in shooting happened later." Even today, he feels that the shooting of a film is really like the ingredients of a dish — the cooking of it is in the editing, where a film takes its final and complete shape. "One thing I learnt from my father," says Ray, "was that you had to be utterly ruthless about editing. No matter how lovingly you have shot a scene, if it does not take your story forward, you have to dispense with it."
Ray's formal apprenticeship with his father began in 1976 when he became his assistant director on the sets of Bala, a documentary on the legendary dancer Balasaraswati. He went on to actively assist the master in his last three films — Ganashatru, Shakha Prashakha and Agantuk. And he has directed a clutch of films himself, including Goopy Bagha Phire Elo (1991), the third installment of Satyajit Ray's classic fantasy flick Goopy Gyne Bagha Byne. However, up until the success of Bombaiyer Bombete, his career has been a trifle desultory and has never quite caught the imagination of the viewing public.
But today, Ray feels that he is beginning to define a space for himself. "I do feel that has happened to an extent," he says. As a film maker he has been inspired by the great Hollywood movies he grew up watching — the works of Billy Wilder, John Ford, William Wyler, Alfred Hitchcock, and so on. "I want to be a storyteller, first and foremost. I believe that if the story is good and you've told it well, the film is bound to work." Even today, he is a voracious watcher of movies, and if he has time to spare, he would rather spend it at home with his wife and teenage son than venture outside.
Right now, he is trying to sort out some irregularities in the running of the children's magazine Sandesh which was started by his great-grandfather Upendra Kishore in 1914 and revived by his father in 1961. "I shall step down from its board if we cannot manage to resolve the issues," he says regretfully.
But even as he tends to his legacy, Ray is looking outward and beyond. His last film Nishijapan (2005) may not have been a thundering commercial success, but he doesn't want to restrict himself to his father's material alone. "Bengali literature has such a rich storehouse of short stories. I would like to do a TV series on them," he says. "Basically, I'd like to keep on working and make some good movies along the way."
The quiet confidence with which he says it makes you believe that he will do just that. Meanwhile, Feluda aficionados can rest easy. Their super sleuth is safe in Sandip Ray's hands.