A look at Kamal Haasan's House of Khaddar's new launch — Warp & Weft
Khaddar is always synonymous with being muted and simple cuts. We wanted to turn it over completely. We had the collection in all pop colours —Amritha Ram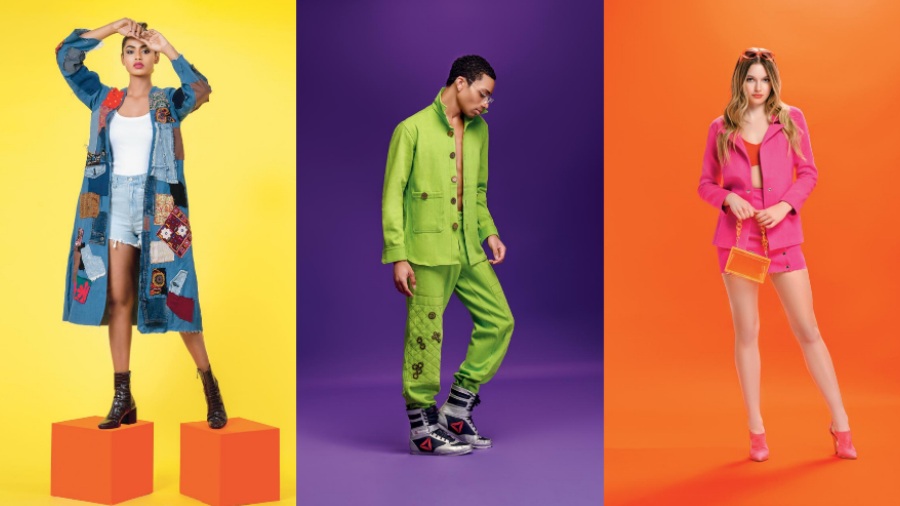 ---
Published 10.10.22, 06:32 AM
|
---
Cool and global. KH House of Khaddar's (KHHK) Warp & Weft can take you from brunch to the bar. The 'KH' in the KHHK stands for Kamal Haasan. And the veteran actor is much involved in what the brand whose 'mission is to save the art of khadi and make khadi cool and relatable to the young urban market', puts out there. t2 chatted with Amritha Ram, the creative director of KH House of Khaddar to know more about the brand's vision and DNA. Warp & Weft looks quite spectacular, given it's all khadi. What kind of an audience do you have in mind?
Warp & Weft is a global concept. I don't think 'young' is associated with age, but mind and what you do and who you're around with. It's for the young, people with optimism and energy. You have the muted ones too. I have always wanted to do a mix of everything where there is something for everyone. 
What was the starting point for the label?
Kamal Haasan sir and I wanted to do something with this gorgeous fabric, in the sense, his father wore khaddar to the courts... he was a lawyer. In those days, lawyers had their coats made and given to them. His father refused to wear the synthetic coats given to him and he made his khaddar coats and he apparently wore only khaddar. So, it's there in the family.
For me, as a student... I went to the United States to study fashion... I am always fascinated by cuts and fits. But, my base is Indian and I am surrounded by Indian fabrics whether it is silk or cotton or textures like embroidery, the Pochampallis, the Gadwals of Hyderabad... my exposure to these has been far and wide. I always wanted to bring a fabric from India to the United States. Indian fabric meets western cuts is something I always wanted to do....
My first collection was East to West where I made halters and dungarees out of block-printed fabrics and I used antique zaris, my mom's old Benarasi zaris.
I am so excited because unless you have somebody thinking on the same lines as you, you are going to have problems setting up the brand. With Kamal Haasan sir, he is all for it. He gives us so much freedom for creativity. I like to keep the excitement levels up and it's not about being overconfident, but being happy with what you do. What is the DNA of the brand?
The DNA of the brand will be patience, sustainability and constant evolution in terms of fashion woven into the industry.
What did you showcase in Paris?
The Paris Fashion Week was the opening to the world. The first collection was released in the middle of the pandemic and we had a fall/winter (collection) that was launched in Chicago... small but global audience... and then we had it online here. Warp & Weft we opened up to the world and we had this new fabric, called the Khaddar Denim which is woven denim along with khaddar. It is 80 per cent khaddar and 20 per cent denim, which is what makes it so soft and light and we have different variations of the denim, in terms of the weight, so that you can make different designs and patterns.
Khaddar is always synonymous with being muted and simple cuts. We wanted to turn it over completely. We had the collection in all pop colours. The bottom line was to make it pop. We had candy pinks, greens, yellows, oranges and it worked together in the post-pandemic mindset. Everyone wanted to come out after staying in for two years... you want to come out and do this for yourself. So, putting these two together we arrived at Warp & Weft and it was overwhelming to see the response out there for the beautiful fabric, just standing out and playing out by itself.
What have Kamal Haasan's inputs been like?
So, his inputs have been everything from trying out new combinations and fabrics to putting in art and culture. I am amused by history all the time. While studying, I did American history and being a student of India, I know Indian history too. And, history and art play an important role in design. They go hand in hand. It's art presented in different forms. So, this is also something he believes in. So, his inputs are also strong in terms of what we could do and how we could take it forward and be very bold. He likes to make bold statements all the time.
For me, my inspiration has been art and culture and people. They might be athletes, dancers and musicians, actors and they might be just common people... everyone is an inspiration. That's what sir also believes in. His inputs are everywhere. Sometimes he gets us into a unique colour zone and he'll tell us to try a surface texture. We have a long list of to-dos. I think the name also came from him... he would say look they are doing rubber from dandelion and leather from mushroom... so we should try to create combinations for khaddar. I always keep telling him the fabric is so flexible and it can do everything. He is constantly that force behind us that pushes us to do more.
What was his brief for you?
Kamal sir's brief to me was we have to work on this entire initiative of getting khaddar globally, which is why the brand was launched in the West and the collection was showcased in Paris. It preserves one of the biggest heritage's of India and also this would change the positioning of the highly talented craftsmen who are relegated to the lower end of the echelon because of the ignorance about what they do. He is like, we have to change this whole positioning and yes, we are working on it and with the recent showcase at the trade show Magic, which is one of the biggest globally, people opened up to the fabric so well. It was really emotional... there was one person who walked in and said 'I can smell the love and hard work behind this fabric'.
What is the roadmap for the label?
The roadmap for the brand is clear and simple... to be present in every country and state, to be accessible to everyone, across boundaries and cultures. Have no barriers, basically.