A house for Mr Naipaul
Read more below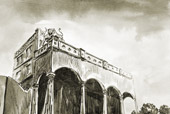 ---
Published 16.05.04, 12:00 AM
|
---
Have you guys met Shah Rukh Khan?" The excitement in the voice of the frail East Indian man at the little music store in Chaguanas, Trinidad, was unmistakable.
"Have you met V. S. Naipaul?" I wanted to ask him instead. But Vikash was so fascinated by 'Indians from India', my efforts to change the subject bore no fruit. Clearly, the man was more into Bollywood than into the country's very own Nobel Laureate — his store of re-recorded chutney, soca and calypso just a few paces away from the legendary Lion House which once housed Sir Vidia.
Even though we landed — with 10 other passengers — in the still-sleeping capital city of Port-of-Spain at the crack of dawn, we were on our way to Chaguanas within a few hours.
Travelling on the Uriah Butler-Solomon Hochoy Highway there's every chance you'll miss the town of Naipaul's birth — a small sign saying 'Welcome to the Borough of Chaguanas' the only proof of its existence. The town derives its name from an Amerindian tribe, the Chaguanes — the original inhabitants of the place — till indentured labourers from India arrived in the 1840s. With its population essentially comprising those of Indian origin, Chaguanas has developed into the 'main market town' of Trinidad.
As we found our way into Chaguanas Main Road, we were greeted by loud music blaring from countless wooden stalls selling cassettes and CDs. Chaguanas is indeed a busy town, the road hustling and bustling with people. Two massive malls — the Mid Centre Mall and the Centre Point Mall — stand as a modern-day answer to the old vegetable and fruit market. Shop after shop selling dirt-cheap clothes and footwear imported from New York and India add to Chaguanas' appeal.
As I stood spellbound in the midst of the commotion, someone whispered, 'Mujhse dosti karogi?' It was a young girl at a petrol station, her eyes shining in anticipation. Another starry-eyed Bollywood enthusiast, I thought. "Of course, I know Hindi. I learnt it in school," she said indignantly. The retort took me back to Pamela Gopee of Par May La's Inn in Port-of-Spain. "We Indians may go hungry but we educate our children," she had said with pride.
Away from all the chaos, past the huge vegetable and fruit market and Indra's Beauty Salon, is Lion House. As the unusually white sombre building moved into sight, everything else faded into oblivion.
Naipaul called it 'Hanuman House' in A House for Mr Biswas. "Among the tumbledown timber-and-corrugated iron buildings in the High Street at Arwacas, Hanuman House looked like an alien white fortress," he had written. As we walked towards the building, I realised how apt the description — 'alien white fortress' — was.
Built in 1926 by Naipaul's maternal grandfather, Pundit Capildeo, the house eventually fell vacant and into neglect. When renovated, little of the original style and structure was restored.
However, Pundit Capildeo's grandson Surendranath Capildeo, in 2001, repainted it white as a tribute to what the house originally stood for.
With a sense of loneliness marking its facade, Lion House showed no trace of the vagaries of human nature that marked the Tulsi family in Naipaul's famous book. In fact, today there is no trace of life at all.
Closed to the public, the imposing building evoked a feeling of isolation, and detachment. Beneath the portico of the arched edifice was an inscription in gold letters — The Lion House or Anand Bhavan, 'The Mansion of Bliss'. Would Naipaul have agreed?
Steeped in local architecture and built in the North Indian style, Lion House surely takes its name from the lions that adorned the terrace. I could stand there for a lifetime, but time wasn't willing to wait. The Waterloo Temple was still on our agenda. Chaguanas may be a small settlement but getting out of it was a Herculean task. With three attempts, three tours past the row of shops and four guides, we finally made our way out of the main road and out of Trinidad's third-largest town.
Off the Southern Main Road and into the Orange Field Road, we were now into sugarcane country. Houses adorned with Hindu prayer flags (jhandis) led us into the sleepy Waterloo village. The narrow road, though, was full of life on the day — several Hindu priests in luxury cars were on their way back from the Waterloo Temple.
A leg-spinner was trying to perfect his art in a nearby field. "Bowled him!" he yelled and promptly turned around to strike a pose for us. I wanted to spend more time, watching cricketers from Brian Lara's land show off their talents — but soon it was time to go.
Past Raj Roti Shop, Serpersad's Hot Rotis and Ramkissoon Workshop, the clear waters of the Gulf of Paria slowly drifted into view. The last strains of Ek pyaar ka nagma hai floated in the air as we made our way to the picturesque setting. A wide-eyed idol of Lord Shiva, Hindi film songs blaring on a car stereo, pious families with prayer flags, grieving relatives of departed souls and the unparalled expanse of the wide blue sea — Waterloo has a touch of mysticism.
Funeral pyres on the banks, the onion-domed temple on a pier — they spoke of the devotion and perseverance of a certain Sewdas Sadhu. The indentured Indian labourer is said to have singlehandedly built it, carrying foundation rocks on a bicycle out into the water. As a mark of respect, a statue of Sewdas stood tall.
Across seas, Indian culture thrives on a diminutive island. Trinidad is fascinating, Trinidadians even more. The East Indians love Bollywood, Hindi, daal roti, chutney and their peers from India.
Like Vikash who especially opened the doors of his shop on a Sunday for us, who gifted an inexpensive CD and promised to visit India to fulfil his dream of meeting Shah Rukh Khan. Like the little girl at the petrol pump who wanted to be friends with us. Like Chaguanas itself.