Quirky, cool and statement. That is Genes Lecoanet Hemant's AW'22 collection Paris Dot Delhi. The art-inspired statement clothes were showcased in Mumbai recently along with artistic director Didier Lecoanet's mix-media paintings 'Another Look'. The Telegraph chatted with Hemant Sagar and Didier on the showcase and more.
Paris Dot Delhi is an interesting name. What of these cities will forever remain in you both?
Hemant Sagar: Paris was and remains to be deeply personal. It's where we grew as creative individuals and pursued our dreams. The formative years in France established the codes that guide us till today. Genes has a uniquely modern voice, which is not necessarily bound to an image or aesthetic. It is ever-changing yet anchored to our couture beginnings. When we came to Delhi we brought with us everything we learnt. India has been a huge part of my identity and coming back has been like a reconciliation, even rediscovery of sorts. Having been here for more than two decades, both Didier and I have a relationship with this city that finds its voice in what we create — clothes or otherwise. Paris Dot Delhi is all that and more. It is an acknowledgement of the milestones behind us as we look to the road ahead.
Fall and Paris are so romantic. Having spent so much time there, what are your most vivid memories?
Hemant: Undoubtedly the people and the relationships we built. It is where Didier and I studied fashion and had the opportunity to meet people from the world over, creating friendships of a lifetime. Paris saw the beginning of our professional journey. The workings of a haute couture house is a very intimate affair, more so during those times. The atelier was a safe space where all of us came together to create. The seamstresses, embroiderers, studio assistants — everyone worked very closely together and we were lucky to be a part of that family.
Has any of it made it into the collection?
Hemant: Yes, of course. These details find themselves rendered in a very eccentric language throughout the collection. Graphic prints chart the brand's journey from Paris to Delhi. But more importantly, the essence of Paris also comes through in the process of construction. From fluid drapes to deftly tailored bags that integrate into the garment, they are reminiscent of our couture tailoring roots.
Talk a bit about your favourites from the collection?
Hemant: This one has a lot of favourites. A double-layered bomber comes to mind, with printed polka dots on the base layer of crepe and overlayer of tulle creating a dynamic optical illusion. It is a homage to the iconic Yayoi Kusama dots. But delving deeper into the inspiration, the sculpted tunics and full-sleeved dresses in Irish cream appeal to the meditative practice that lies underneath the eye-popping works of the artist. Effortlessly draped in poplins and linen-satin, these pieces are marked by dart manipulation and strategic pleating. The collection also plays with the idea of functionality through detachable pockets that play canvas to Jean-Michel Basquiat's graffiti-inspired narrative prints, tracing the evolution of Genes. Fastened on tunics, jackets and dresses, these 3D pockets turn into stylish sling bags.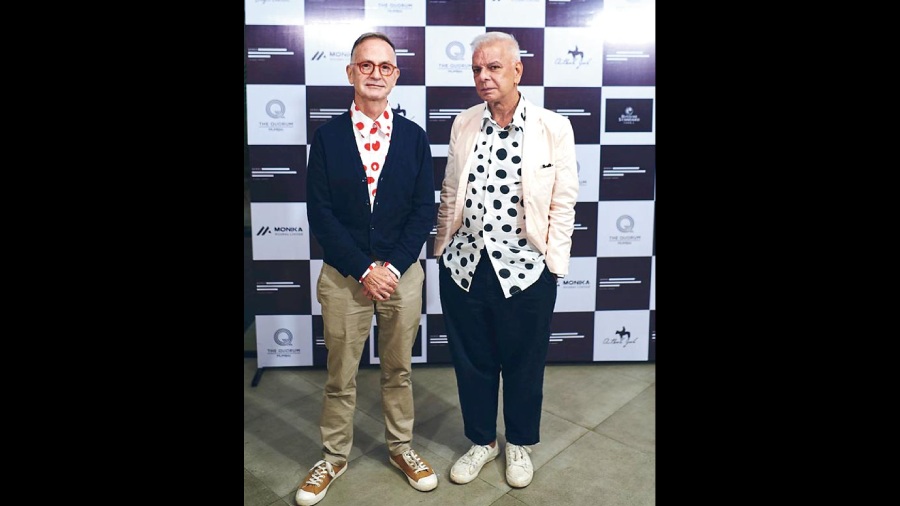 Didier Lecoanet and Hemant Sagar
Does your choice of the artists have anything to do with how you are seeing life now?
Hemant: Every season our inspirations take us to a different world. And for fall we were inspired by the sheer eccentricity of life. It was a conscious step to really highlight that elusive silver lining and escape to a sensorial celebration. Genes envisaged a season of colour, vivacity and freedom. Taking cues from neo-expressionist and contemporary artists Yayoi Kusama and Jean-Michel Basquiat, Paris Dot Delhi celebrates that essence of individuality and creative expression.
Didier, take us through 'Another Look'...
Didier: After a long hiatus, I went back to painting and created this series titled 'Another Look', a narrative of mix-media paintings to configure the present tense, the essence of time. The works hold a very personal and sentimental value; they are a homage to my beloved niece who passed away at a very young age. I grew up in Chaumont in Eastern France in a family of interior decorators and engineering designers that nurtured an environment of artistic pursuit. While fashion remained a central force professionally, making art solely for the spirit had its phases. I initially studied fine arts and was drawn to the classical style of paintings. Busts and renaissance-esque landscapes were recurring themes. I would return to paintings at different junctions in life and this time the approach became more abstract. I tried to get a sharper grasp of origination, growth and existence — all viewed through a celestial lens with colour, form and texture driving the narrative.
Who are your favourite artists?
Didier: I admire the works of Anish Kapoor, Bharti Kher and Subodh Gupta the most.
Is art-based fashion the only way for fashion to have an original voice?
Didier: One can be inspired from anything and in a very naive but true sense, there is art in everything.
Since we are talking about fall, which city has the best fall?
Didier: All places that have a continental climate and are close to a forest have a beautiful fall. And for me that's Paris and Berlin.
Finally, how are you planning to spend the fall?
Didier: With some good old holiday spirit. We will be spending it with our families in Paris and Berlin.