Costume designer Payal Saluja on styling 'Gold'
For the Akshay Kumar-starrer 'Gold', Payal's canvas was India of the '40s, with a special Bengal flavour to it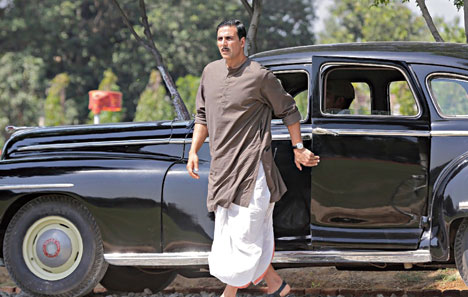 ---
Calcutta
|
Published 22.08.18, 12:00 AM
|
---
Designing for a film is like creating a painting for costume designer Payal Saluja. For the Akshay Kumar-starrer Gold, Payal's canvas was India of the '40s, with a special Bengal flavour to it. "It is good to be in a zone that I had not explored much earlier," said Payal who has lived in Calcutta, and Barrackpore when her father was posted there as part of air force. The costume designer of films like 7 Khoon Maaf, Ishqiya and Dedh Ishqiya chatted with t2 on travelling back in time with Gold.
What was Gold director Reema Kagti's brief to you?
Reema wanted the whole look to be classic. It has been one of my most intense films because we have been on this film for almost a year. She is specific yet gives you enough space to explore. The warmth she carries with her is beautiful.
What was the research like?
Gold is a period film, so the cuts were different. Every single piece in this film has been custom-made. That is something I feel very proud about because usually you don't have time or you don't have the budget for it. I have kept the men's palette more or less neutral and I have used the women's shades as accents. The colour scheme is accentuated neutral. So, Mouni Roy (who plays Monobina) has a lot of colours in her wardrobe. She plays this sweet, snooty wife (to Akshay Kumar's Tapan Das). The colours are not over the top because we have used natural dyes. Everything was cotton.
What is striking is that everyone had clothing for every occasion. Every item in the wardrobe had a specific function. Also, everyone had headgear. The fun part was we made costumes till the last day of the shoot.
How did you go about creating Akshay Kumar's Tapan Das in the film?
The word 'babu' sits very well on Akshay's character. The reference was clothes worn by people who were working in the British offices. Their clothing was influenced by what the British wore and that is a beautiful blend of Indian and British costumes.
For his main look, we have the kurta or the khameez. I have used different colours for the kurta and they are textured. A khameez has elements of a shirt and a kurta. It is till the mid-thighs or a little longer and is halfway open in the front and has a collar and cuff. You can still see it being worn in Rajasthan and was strongly prevalent among the Bengalis in the early 20th century and late 19th century.
I have paired the khameez with red-bordered dhotis, sourced from Calcutta. There's a Parsi touch to Akshay's look, too, since he is based in Bombay and the Parsis were the elite class in Bombay. The hair was again the British influence.
You will also see him in a crisp, tweed, three-piece suit and a double-breasted jacket. For his footwear, I have used Peshawari jooti, a criss-cross kind of a sandal. To go with his Western attire, I have used tan brogues. That's his two distinctive looks in the film.
In accessories, we have used a watch and a very typical leather bag, like a briefcase.
Earlier, men would wear trousers above their navel. So, when Akshay did the look test, he asked where he should wear the trousers from, and he was like, 'that high?!… almost reaching the neck!'
It was nice to see how sporty he was. One of the most professional actors to work with, who is always on time and values each department's work. I have not seen an actor who is always on set whether he has a shot or not. He definitely had his styling inputs and feedback.
Akshay Kumar is known to be quite a prankster. Did he pull any on you?
We were shooting in London. I had my phone in my tunic pocket. Suddenly he said, 'Maybe you should make a call to your tailor'. My pocket had been picked! No guessing who did that! He also sent some messages out from my phone! (Laughs) He keeps the atmosphere very lively.
Mouni Roy's Monobina looks very pretty…
As I said earlier, she is the sweet, snooty wife who knows how to keep her husband in check. Only Monobina can deal with Tapan Das! She is a breath of fresh air. Since Mouni is a Bengali, the transformation was simpler. Some things came naturally to her.
Unless it is a formal occasion, she drapes her sari the traditional Bengali way. In terms of colours, I have kept it retro. The details are in the blouse, whether it is a puff sleeve or with a little frill… it is an amalgamation of Parsi costumes and British costumes. We didn't want to make that strong a statement, but she does wear her sindoor and her shankha-pola.
Did you source the saris from Calcutta?
I have used Bengali saris… the jamdanis, but I have also used some embroidered ones. For her formal look, I have used a lace sari too, with Lucknowi work.
Where else did you source from?
I have sourced a lot of stuff from Punjab — Amritsar, Jalandhar, especially the sportswear, for which we have used the right material. For this film, most of the referencing was in black-and-white. So, how do you get the colours right? We started researching to get the team colours right. We found out two-three families who had the jerseys. All the sports shoes have been custom-made for the film. I have sourced the shoes from Japan to get the authentic colour and also got references from London about the old style of shoes.
When you can go to that detail, it is very satisfying for a costume designer. Plus, we got some references from museums in the UK. I went to London and I also collected material from a lot of books.
What do you think is the essential difference between how people dressed then and now?
Back then, your clothing very strongly defined who you were. Now, it's homogenous. It has its pros and cons. The diversity was interesting. Now, everyone is cloning each other, which is boring.
I think people are going back to retro because of the detail, because of the style. Right now, you could have 20 dresses and not be satisfied. Earlier, you could get a custom-made dress and feel very happy. I feel earlier people were connoisseurs of clothing.