A collection that's inclusive of size, age and gender orientation
A special menswear shoot that celebrates inclusivity and champions breaking stereotypes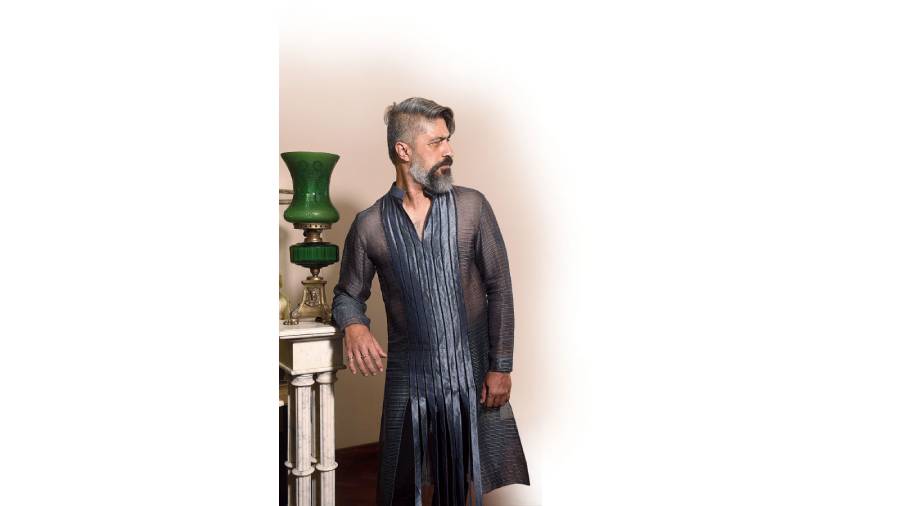 ---
---
Launched amidst the pandemic in the month of August, Calcutta-based menswear designer Rahul Dasgupta's new design campaign 'Plus, Minus and More' presents a collection of menswear that is inclusive of size variations, age and gender orientation. In a shoot for t2, Rahul introduces three regular guys as his models and shows us how they fit in with comfort and stand out with confidence, without giving in to set constructs. Each model tried two looks, going by the norm and breaking the norm.
1 BREAKING THE NORM: Rana Mukherjee, a 45-year-old aspiring model and actor, channelled confidence in this anchor grey striped silk organza kurta with vertical silk panel stitched together with hand-faggoting detail and showed us that age is no barrier while shining in sheer. It is paired with a pair of black silk trousers. "Rahul's outfits are well-made, broad along the shoulder and narrow along the waist, a style that I like. My appearance got enhanced and Rahul's design brought out the best in me," said Rana. "With this sheer kurta on him, I wanted to break the notion that men of his age can't wear whatever they want. It is a breath of fresh air. Comfort is the only rule that applies to the wearer. The grey achkan perfectly fits his age and style," said Rahul.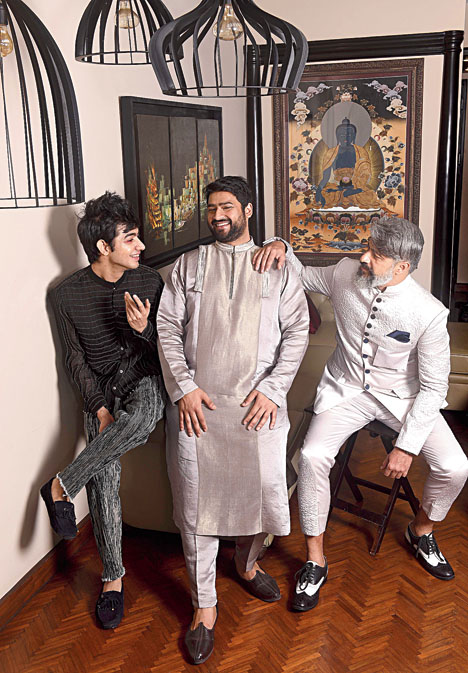 2 For a palette of black and greys, Rahul gave his models outfits according to their choice, that defines their comfort zone. Aman's choice was a shirt and he wore an organza shirt with an asymmetric overlay cord running over it and teamed it with a tie-and-dye cord textured trousers. Rana wanted to try a short jacket. The tone-on-tone silk-satin Jodhpuri jacket with asymmetric overlay and quilting detailing matched the trousers. Rohan's choice was the lighter shade of the colour grey, a subtle grey sheen linen tissue reverse-faced kurta with tie-and-dye cord detailing. "Aman likes easy casual clothing, so I gave him a striped silk organza overlay shirt. It's cool and easy and speaks of my aesthetics as a designer. Rana likes to dress up, so I gave him a Jodhpuri jacket. Rohan's confidence shone through in his choice," said Rahul.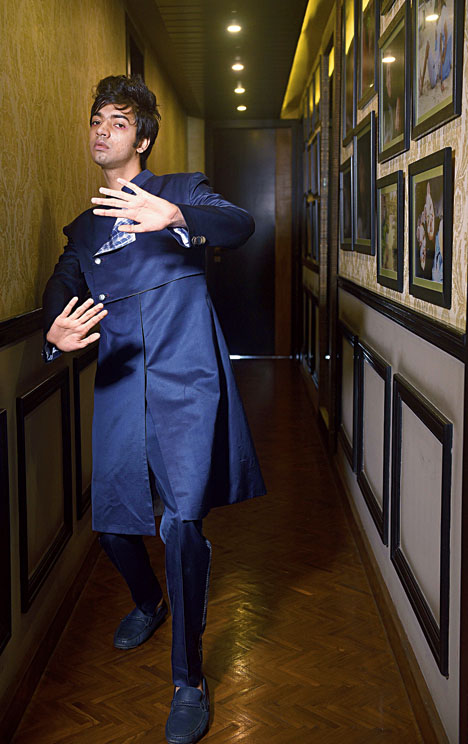 3 Going by THE NORM: For Aman it was all about finding comfort in being himself. Rahul did just that by giving him a navy blue asymmetric overlay silk satin achkan with silk shibori lining peeping out in style, adding colours to the solid shade. "I went through a lot of bullying throughout my schooldays for being effeminate. Through my work, I want to convey that one doesn't always have to fit in the box. We can be different. I hope people with similar experiences can resonate and find strength to be comfortable in their own skin," said Aman.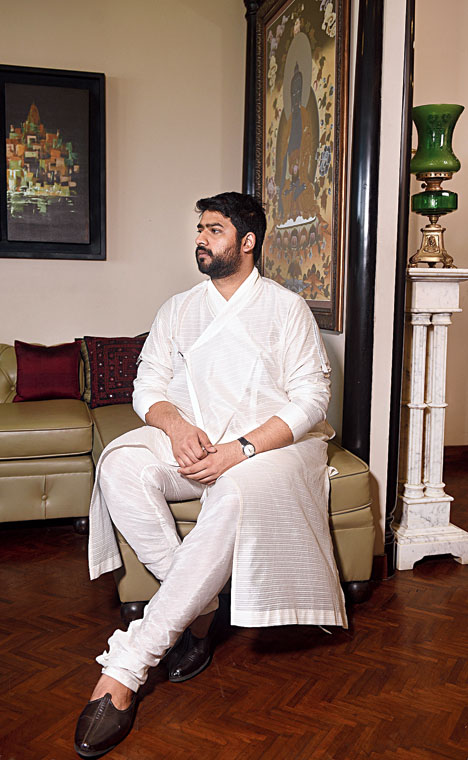 4 BREAKING THE NORM: Rohan Sanghrajka, a 25-year-old pharmaceutical entrepreneur, wore a deconstructed bagalbandhi-style horizontally striped white Chanderi kurta with metal buckle embellishments. The kurta has blue running stitch detail across the belt on the shoulder. "With this piece I wanted to break the notion that plus size people can't wear light colours and horizontal stripes if they wish to. Rohan rocked both the looks," said Rahul.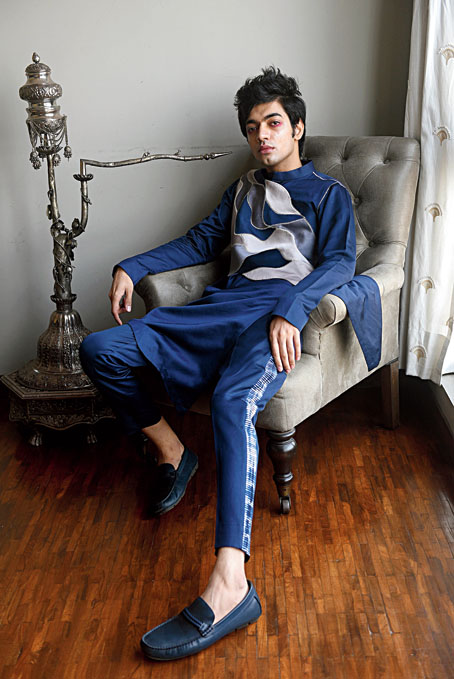 5 BREAKING THE NORM: Aman Pal, a 21-year-old student and budding gender-fluid model, put on a navy blue silk-satin hand-stitched kurta with asymmetric hemline and hand-faggoting multi- coloured flap detail at the front. It was paired with a silk-satin trouser with a striped tie-and-dye silk organza tape detailing on the side seam. "I love Rahul's aesthetics, very chic. Effortless clothing but the attention to detail in his garment is impeccable. It was really a liberating experience for me. I could be who I am even in front of the camera and I loved it," said Aman. "Being a part of the LGBTQ+ community, people tend to expect flashy show clothes, I have given him nothing of that sort, he nails these simple looks in bold colours with a variety of design elements and can still be who he is. This outfit has a lot of organic fluid line movement in pattern which shows his softer feminine side. I wanted to restrict the colour to navy for both the outfit as it goes with the collection. I also wanted to play with the patterns to reflect Aman's both male and female gender-fluid sides," said Rahul.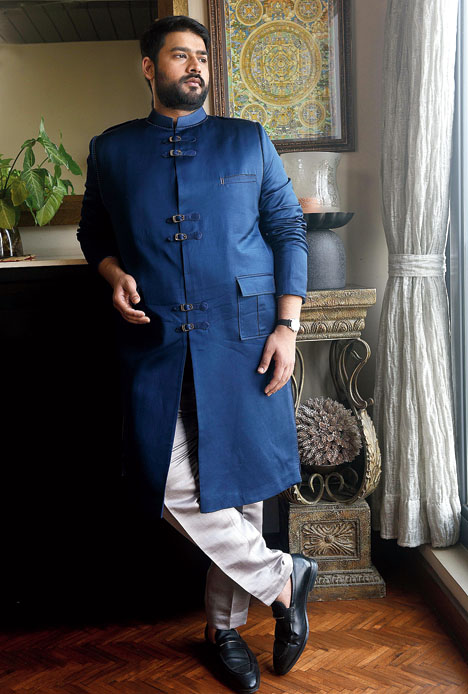 6 Going by THE NORM: Rohan carried off with suave this classy silk-satin navy blue achkan with patch pockets, rai dana hand-stitch along the seam line and buckle-style opening at the front. It was paired with warm grey silk-satin trousers."I wanted a clean chic look for him," said Rahul. "Being oversized never made me think of myself as any different from others. I always stood out in sports at school and did so with confidence, but never thought that I could do modelling! I am doing this for the first time and it is an exciting experiment for me. Rahul convinced me. His outfits, besides breaking the size-colour stereotype, look great and fit perfectly too. It feels good to know that we have home-grown designers who make clothes for different sizes," said Rohan.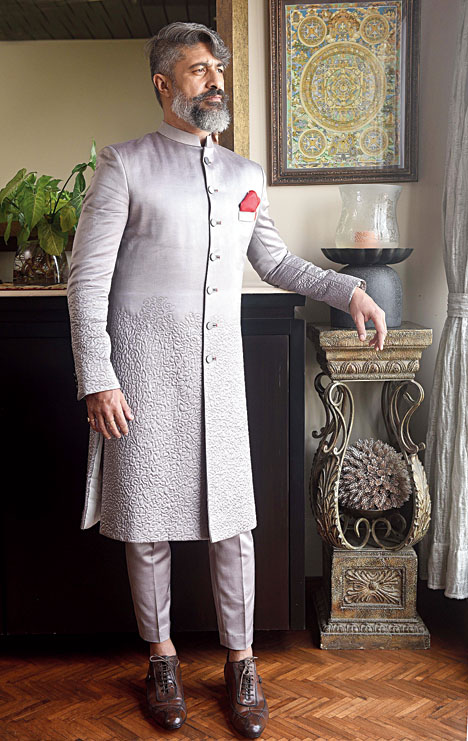 7 Going by THE NORM: Rana wore with sophistication this warm grey silk-satin achkan with asymmetric quilting design going upwards from the hemline and along the sleeves. It is paired with a red pocketsquare adding a pop of colour and a matching pair of silk-satin trousers. The salt-and-pepper hair and beard complement the regal look. "With my father's sudden illness I moved to Calcutta leaving behind a flourishing career in the tea estate to begin a new chapter in my life. I consider my mid-age bracket as my key USP in exploring and attracting creative opportunities. It is a long road ahead and I hope to carve a niche for myself in the modelling world," said Rana.
Pictures: Pabitra Das
Hair and make-up: Bhaskar Biswas
Label Rahul Dasgupta store address: 11/1, Sunny Park, Ballygunge