1070114/asp/look/images/limelight.gif
In his own words Hindi-Chini bhai-bhai Song and dance Stamp of approval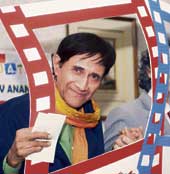 ---
Published 14.01.07, 12:00 AM
|
---
In his own words
It's been quite sometime since his vigorous on-screen noddings of the head failed to stop cinegoers from nodding off in their seats. But Dev Anand is known to pull aces from his sleeve at times least expected. Which is why reels have given way to words, and Bollywood's grand old octogenarian is all set to make his mark as an author. His autobiography, tentatively titled Romancing with Life, was handed over to publishers Penguin earlier this month, and is slated to hit the bookshelves sometime later this year. Running into well over 100 chapters, it is poised to cover several aspects of Dev Anand's film career, his early life, his rise to stardom and his associations with the who's who of tinseltown. This one gets our nod.
Hindi-Chini bhai-bhai
The subject is China, the author is French, and the venue is India. But Guy Sorman is not complaining — for he'd want his new book, The Year of the Rooster, to have as wide a readership as possible. The French economist-journalist was present at the book launch at the French Embassy in New Delhi on Friday — as were all of Delhi's chatterati. But the book — which looks at today's China — should be of interest to those following India's own economic opening up. "With the concentration of wealth in the hands of a small elite and no trickle-down of the benefits, what we have is the clear consequence of developing a strong China, not a genuinely developed China," Sorman has said in an interview. Rings a bell?
Song and dance
So you thought that all Urmila Matondkar could do was sway her torso seductively to yai rey, yai rey, zor laga ke nachey rey? You got it wrong — the actress is not just an able dancer, she is a promising singer as well. Those who have heard her croon in Mehbooba Dilruba, the third music video in the Asha and Friends series, are raving about the actress's voice. "Her voice texture is as good as Shamshad Begum's. She has amazed everyone," says the director of the video, Mumbai-based S. Ramachandran. The album, slated to be released in early February, starts with a conversation between Urmila and singer Asha Bhonsle in an autorickshaw. The Rangeela actress choreographed her own dance steps and even taught Asha a few moves. On her part Asha ensured that Urmila had a fair share of lines to sing in the album produced by the music company Mauj.
Stamp of approval
It's the season for stamps. Blues singer Ella Fitzgerald smiles from a postage stamp released in the US last week, and the Beatles are going great guns with a special set of six British stamps celebrating their album covers. Closer home, the late film director Bimal Roy has finally been inducted into the government of India's hall of fame. Forty one years after his death, a postage stamp was released in his honour on January 8. And more than anybody else, his daughter Rinki Bhattacharya is thrilled to bits. "My father was one of the earliest to showcase Indian films in the international circuit and win accolades as well. And so this seemed like a relevant idea," she says. For the maker of films such as Do Bigha Zameen, Bandini and Sujata — who, incidentally, was not even given the Padmashree — this, indeed, is a stamp of recognition.