1051113/asp/look/images/Authors/samitbasu.jpg
FINE PRINT On a high Curry favour Adorable Joey AWARD OF THE WEEK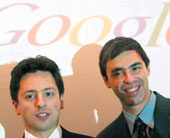 ---
Published 13.11.05, 12:00 AM
|
---
FINE PRINT
Google founders Sergey Brin (L) and Larry Page
My reading list just exploded. Google's controversial print project relaunched this week. Introduced at the Frankfurt Book Fair this year, the project involves scanning books and making them available online. For now, the titles are mostly 19th century-American works which are out of copyright and other books in the public domain, though extensive extracts from copyrighted works are available as well. With the coming of Google, the hugely popular Project Gutenberg now looks like a small university press. Groups of authors and publishers are up in arms over copyright issues, of course, and on the business front Microsoft, Yahoo and the Internet Archive are planning to overshadow the Google print project (at print.google.com) with their own Open Content Alliance. Does this signify the end of publishing as we know it? Not just yet. The Internet hasn't yet managed to kill off newspapers, either.
On a high
Rockers getting high is no news, but five British musicians from separate bands have just raised the bar. They claim to have played the world's highest rock concert ? above Mount Everest's base camp. The BBC recently reported that these rockers performed at 5,545m at Kalar Pattar last month, in a 40-minute concert to raise money for young victims of armed violence in Nepal. The concert was organised by the Nepal Balabalika Trust, and seen by about 100 mountaineers. They raised close to ?30,000 to help create a shelter and skills centre for children at Dhulikhel, east of Kathmandu. A wonderful gesture, in my opinion, though I wonder if the local yetis are planning to complain about the decibel levels.
| | |
| --- | --- |
| | KOENA MITRA, PRIDE OF BENGAL, IS NOW the star of the latest explicit MMS clip doing the rounds ? and happy to be so. It's all part of the promotion of Pritish Nandy skin flick Ek Khiladi Ek Hasina. |
Curry favour
Andy Flintoff's set for a spicy honeymoon. As a reward for his starring role in England's Ashes victory, curry emperor Sir Gulam Noon is sponsoring the world's top all-rounder's 5000-pound honeymoon in Mauritius. In return, I hope Flintoff returns with some pointers to help British Indian food taste less like unwashed socks.
Matt LeBlanc
Adorable Joey
Matt LeBlanc is soon to appear on Indian screens as the lovable Joey in the long-overdue telecast of the last season of super-sitcom Friends. He is currently starring in the second series of a Friends spin-off sitcom Joey in the US and has turned film producer with The Watch, a sci-fi horror movie. Set during World War II, it's about a group of soldiers attacked by an evil entity released by the Nazis. Sounds like just the kind of film Joey would want to produce. They should really cast Maggie Wheeler (Janice) to play the demon in question.
AWARD OF THE WEEK
To 10-year-old, 12-fingered, 13-toed Devender Harne from Nagpur, who might end up in The Guinness Book of World Records as the person with the most useful fingers and toes in the world.