Some say I have a certain nuisance value: Swara Bhasker
The actor chats with V. Kumara Swamy about the cost of speaking one's mind in a rabidly polarised India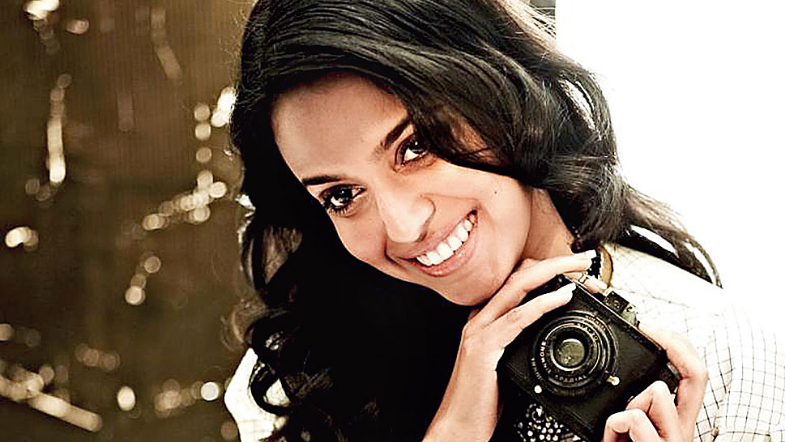 Swara Bhasker
Image: The Telegraph
---
Published 13.10.18, 06:50 PM
|
---
Actors, more often than not, talk to the media when they have to promote a soon-to-be-released film or when they are endorsing a brand. Ask them about an issue with political undertones or social concerns attached, and most will quietly slip away. But when you talk to Swara Bhasker, you end up talking more about politics and current affairs than films or her career as an actor.
In fact, she is among the few Bollywood actors who do not ask to be briefed on questions before they decide to answer. But then Bhasker is a different kettle of fish; she seems to be courting controversy on social media perennially.
There's a WhatsApp group called Swara Social Media Rant Filter, comprising herself, a friend, her father and her brother. The group's agenda is simple. "I draft the tweets that may be controversial and I run it by them. They ask me not to tweet and then I tweet anyway," she laughs and as an afterthought adds, "Sometimes I heed their advice."
Bhasker is probably one of those celebrities most trolled by the 'IT cell crowd' — her name for Right-wing trolls. But they don't get under her skin. She doesn't look at reactions to her posts most of the time. "Unless I am in a sadomasochistic mood of aao kuch gaali khayen," she laughs.
We are in Delhi's India Women's Press Corps. We are seated on a blue two-seater sofa in one corner of a hall where she has just had a media interaction replete with political questions. She requests me not to repeat the ones she has answered already. I nod sheepishly, as if in agreement, knowing full well I will repeat some of them anyway.
Bhasker looks elegant. She is wearing a multi-coloured silk shirt with a shrug and a high-waist pleated skirt. She has a vibrant voice but a bout of cold has her plucking tissues from her bag quite often. Words come easily to her and she likes explaining every point in detail. She doesn't take her eyes off her listener till she is convinced her point has gone across.
Bhasker often doesn't understand why people get worked up about her opinions. She says, "I don't say or speak about things to be political. I say what I feel as a citizen of this country. But we live in such a polarised society that people call me political for it."
Her Delhi-based parents are a worried lot. "My mother cries every time she reads the reactions to my posts. I keep telling her not to read those comments. My father has a Google alert on me. Some mornings I get a message from him saying, 'This thing has happened, please don't tweet.' My poor father gets trolled on Twitter thanks to me."
Her last film was the much-talked about and raunchy Veere Di Wedding. She courted controversy here too and this time it had caused ripples even across the border. After the film was banned in Pakistan, Bhasker said in an interview to a television channel that Pakistan is a "failing state". This clearly didn't go down well with many Pakistanis. The backlash was swift. An interview of hers in Pakistan, in which she praises its citizens and the city of Lahore to the skies, was fished out with many commenting on her "doublespeak".
"Being called a failing state is not a good thing to hear about one's own country. It was inadvertent on my part to say that. But I don't want to retract the statement. And it was not coming from a position of viciousness. I was talking in the context of Pakistan and terrorism. That video of me praising Pakistan and its citizens and the last one are not contradictory because I don't see a state as equal to a culture of a country or its people or the land."
Did she lose some friends in Pakistan? Apparently not. "Many were understanding of what I meant. It is like our Hindutva Right-wing getting angry if we criticise the government. Criticising the government is not criticism of the country and its people. There is a basic difference," she says.
Bhasker shakes her head describing how her film releases and the events in the country are lined up in such a way that she invariably ends up in controversy. "Main kya karoon," she says holding her head with both her hands.
She may be right. When Nil Battey Sannata was released in 2015, she was one of the first to speak on behalf of the students of Jawaharlal Nehru University (JNU) and against allegations about student leaders like Kanhaiya Kumar and Umar Khalid. As doctored video clips of them raising what were dubbed anti-national slogans played out in sections of the media, Bhasker says she knew instantly that there was something wrong with them. "I know the JNU culture too well to fall for such things and believe anything that is thrown up by the media." Eventually, it was established that some of the footage aired by the media was fake. Bhasker tells me, "It is heart-breaking to see the media buckling under pressure of the government. Little by little our democracy is being taken away."
Then came Anaarkali of Aarah in 2017. Its release coincided with cow-related lynchings reaching a crescendo. Once again, Bhasker took a stand. Veere Di Wedding coincided with the Kathua rape and the politicisation of it. Sometimes events compel Bhasker to take a stand. She says, "I was on holiday in Europe recently and once I got back along comes this case." She is referring to the criminal cases against five rights activists in connection with the Bhima-Koregaon violence case.
Bhasker has followed the Bhima-Koregaon events of last year so closely that she knows the names of the victims and also those of the accused. "Sambhaji Bhide and Milind Ekbote, who were the real accused, haven't been arrested by the police, but they want to investigate those who were nowhere near the scene," she thunders.
For somebody who did English Honours from Delhi's Miranda House and followed it up with a master's degree in Sociology from JNU, Bhaskar would have been happy doing a PhD in Social Anthropology, perhaps in the US. But the acting bug bit her when she was part of the Indian People's Theatre Association at JNU. Street theatre and protest theatre perhaps made her more aware of political and social issues. She tells me, "I was brought up by my parents and teachers to question and be liberal in my outlook. Nobody can take that away."
Have her political views and opinions affected her career? "Some say I have a certain nuisance value," she laughs. But she is unaware of any producer or director not casting her because of her tendency to shoot her mouth off.
Bollywood, which is fairly docile when it comes to airing its opinion on politics and other issues, may seem a bit out of place for her. But Bhasker doesn't mind sticking her neck out even against her workplace. She came down heavily with an open letter to director Sanjay Leela Bhansali for "thoughtlessly glorifying" sati and jauhar in the film, Padmaavat. She says that most of the industry stood by her except for a few who questioned the timing of the letter, as it added another dimension to the film that already was facing many problems.
But she jumps to the defence of the industry when pointed out that many established actors and the industry in general cower when it comes to taking a stand on national issues like actors in Hollywood do.
She says, "The US has the First Amendment that guarantees freedom of speech and expression and everybody respects it. I don't think we in India can express anything we want. It is not a fair comparison with Hollywood. First, let us respect dissent and accept that it is not anti-national to ask questions."
têtevitae
1988: Bhaskar is born to naval officer Chitrapu Uday Bhaskar and JNU professor of Cinema Studies, Ira Does master's in Sociology from JNU. Thereafter is associated with theatre group Act One
2008: Shifts to Mumbai
2009: Debuts with a supporting role in Hindi film Madholal Keep Walking that sinks without a trace
2011: Acclaimed for her role in Tanu Weds Manu. Acts in Raanjhanaa (2013), hosts TV series by Shyam Bengal, Samvidhaan: The Making of the Constitution of India
2015: Female lead in Sabki Bajegi Band and Machhli Jal Ki Rani Hai. Nil Battey Sannata bags her awards
Some other films are Anaarkali of Aarah and Veere Di Wedding. The last stoked controversy for a sexually explicit scene picturised on her. The film was banned in Pakistan