Snapshots from an afternoon spent hearing tales of the earth
All participants unitedly accepted that sustainability is not new to the Indian household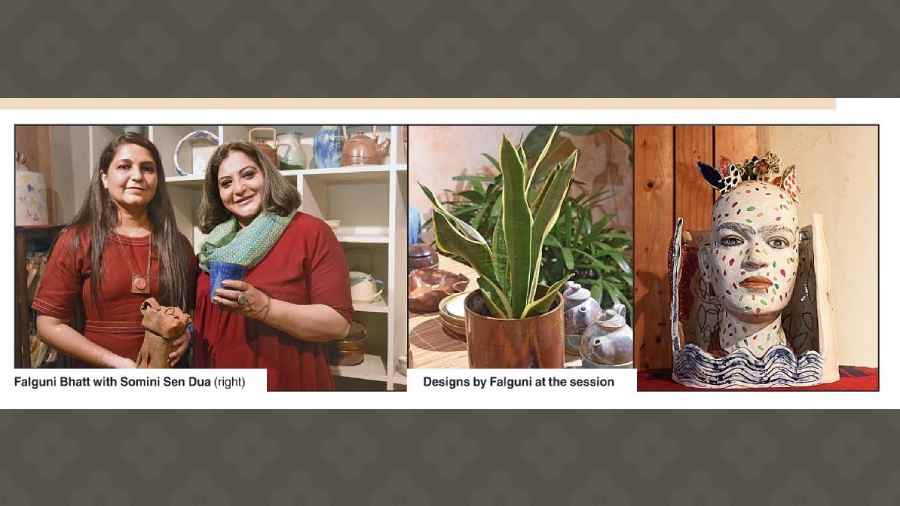 ---
Published 03.01.22, 05:04 AM
|
---
Mrittika — The Earthy Tales, an initiative of Falguni Bhatt and Somini Sen Dua, had its first volume of adda-cum-demonstrations recently, at Aorang Studio. In the one-hour long module, Falguni Bhatt, a ceramic sculptor, talked in detail about the art of ceramics. An alumnus of Baroda School of Art, Falguni completed her masters in ceramic sculpture in 1999. She shifted to Calcutta post-marriage and started Aorang Studio close to a decade ago. She is currently participating in Bhu, an ongoing exhibition of ceramics at Emami Art Gallery.
"I shifted to Calcutta in 2008, but I have been into ceramics since 1983. I chose working in clay because I was a sculptor for which I had to work in everything — stone and glass. But I really liked working in clay because it was very malleable. You can work directly on it unlike other mediums," said Falguni.
After a brief round of introductions, Falguni talked about the myths of the art, and stated the differences between clay and ceramic. "Now we see many sites selling terracotta utensils. It is okay if you are using terracotta utensils on a use-and-throw basis. But when you are using it for a long time, in the form of kettles, cups or plates, it is not at all safe without glaze. Moreover, the soil used in terracotta and ceramic are also different. Terracotta always has a dark colour. On the other hand, the clay used in ceramic also has a lot of minerals in it. That is why they shine. The maati is from the mines, unlike terracotta, which is easily available from the riverbanks."
An interactive session was held about how each of the participants have contributed to the earth and how each of them has incorporated sustainability in their daily lives.
While many of them focussed on the small initiatives taken by them, they all unitedly accepted that sustainability is not new to the Indian household. However, we have often left it unnoticed and unappreciated. From mothers stitching old clothes to make a kantha to saving fruit peels for plants, from preferring hand wash over machine wash to the old bucket bath over showers — all speak volumes about sustainability, reducing global waste and recycling. The popular concept of Indian jugaad too, is something to be appreciated, as it in itself, is a form of sustainability.
According to Somini Sen Dua, who conceptualised Mrittika, "I would spontaneously associate two people whenever I think of clay or maati — Sita (who was born out of mother earth) as I have a keen interest in mythology, and the iconic scene from the film Ghost with Patrick Swayze and Demi Moore who forever sensualised the potter's wheel. I am so happy that children from schools too have come up to collaborate with us. We are open to conversations with all!"
Following the interactive session, the participants had a gala time as clay was handed over to them and Falguni demonstrated how to make simple cups and pots. "We want you to touch the clay — until and unless you touch the maati, you won't understand what we are dealing with," said Somini.
This is the first of the series, and it was done in collaboration with Luminesces, an organisation that sells beautiful candles. "During the pandemic, when the Internet had started boring us, we decided to do something different, and here we are. We use reusable glass jars as a way of contributing something to the environment," said Malini Sarkar Navada who runs the organisation with her husband Arjun Navada.
The event ended with some tea and snacks, retail therapy and want for more of such soulful talks!
Pictures: Pabitra Das