Reviving love for the language
A new project encourages the study and learning of all first languages of the subcontinent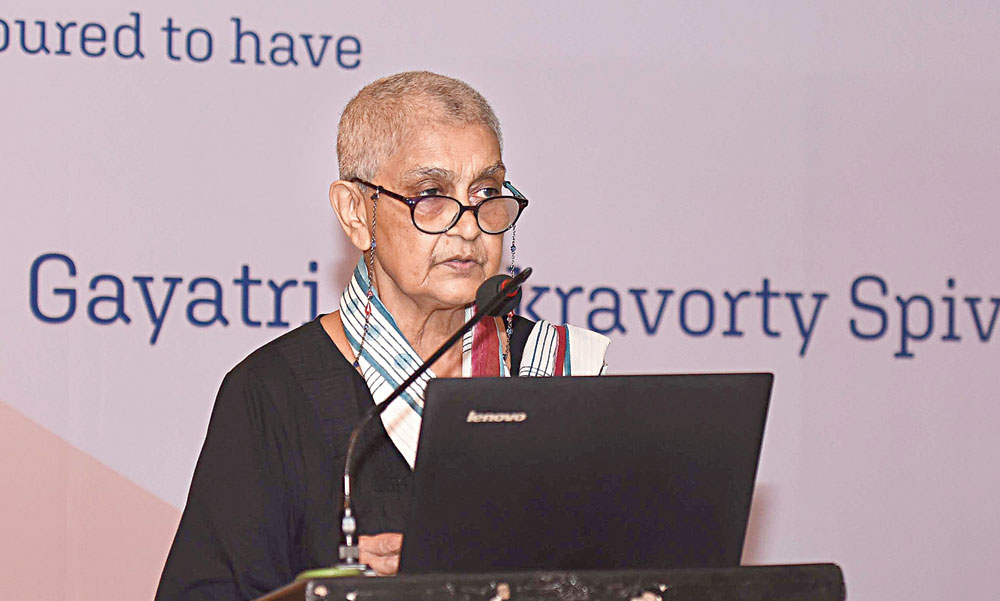 Language legacy: Gayatri Chakravorty Spivak at the Bengal Club, Calcutta
Picture by Gautam Bose
---
Published 25.05.19, 05:41 PM
|
---
The title of the talk is a mouthful — To Preserve and Revive the Textual Treasures of Bengal in Globality. The speaker is feminist critic Gayatri Chakravorty Spivak and she is addressing an audience at Calcutta's Bengal Club about a heritage language project — called Seven Centuries of Bengali Texts. She has put together the project — meant to encourage study and learning of all first languages of the subcontinent — along with Jnanpith awardee Sankha Ghosh, and Frenchman and professor of Bengali at the University of Chicago, Thebaut d'Hubert. "It is in the languages learnt in one's mother's arms before reasonableness that the possibility of unconditional (ahetuk) ethics are laid down," says the 77-year-old Spivak, dressed in a black salwar-kameez (she reportedly wears saris with combat boots when in the United States, and jeans during her visits to India).
Spivak drops on the audience the phrase "affirmative sabotage". Something about learning intimately the use of tools — in this case, language — developed by colonisers to subjugate the colonised. These tools once divided a people and continue to do so. She says, "When I walk through the streets, I hear those who are talking in English and those who cannot. That particular division still exists, it is not just them, it is also us." According to her, the point of this project is to turn the tool around, against the original intention.
This talk is happening weeks before the Vidyasagar statue fracas in the city, nevertheless the Bengali polymath and Renaissance man comes up. Spivak tells her audience how the 15-year-old Ishwarchandra affirmatively sabotaged the colonial powers by producing Byakaran Koumadi, a modern grammar of Sanskrit, and the Bengali primer, Barnaparichay, around the time Macaulay's Minutes was published. In his Minutes, Macaulay, who was the secretary to the Board of Control of India during the British rule, criticised almost everything Indian — astronomy, culture, history, philosophy, religion. He lauded everything Western. And even said, "…a single shelf of a good European library is worth the whole native literature of India and Arabia…"
Spivak, who has researched primary education in West Bengal and Bangladesh, says, "So many years later, Barnaparichay is more suited for Scheduled Castes and Scheduled Tribes in the poorest villages of West Bengal than the textbooks on teaching English as a second language produced by Paschim Banga Siksha Parishad." And to think they vandalised this man's bust. The violation possibly stems from a damaged understanding of heritage. Spivak points out that among the subalterns, English words are constantly in use; elite Bengali words are just not useable anymore. For instance, harassment is more in currency than the Bengali word for it, "nirjaatan".
Amidst such a loss or losing of touch with heritage or the sense of it, the professor of Comparative Literature says she finds a curious situation, wherein the same globalisation that had made regional languages redundant in a way has also created a community of people who are now hankering for their roots. That brings her again to Seven Centuries, which will publish bilingual editions (Bengali and English) from the end of the 13th century to contemporary times. They will include critical introductions, explanatory notes where necessary, scholarly apparatus citing alternative variants of texts, and glossaries where needed. These will be modelled on the Loeb Classical Library published by Harvard University Press.
There is a substantial Bengali diasporic community in North America, the United Kingdom, northwestern Europe, Africa and various nation states in Australasia. Spivak hopes the publications will appeal to these groups. But the deconstruction theorist clarifies that the primary goal of the series is to provide quality material for the educated audience unacquainted with the riches of Bengali literature.
There are plans upon plans. A volume a year, an essential Bengali reader and so on and so forth. In keeping with the notion of affirmative sabotage, Spivak and her co-editors are putting together a collection of poetry recitations set to music. She says, "When I was working in Purulia, I dealt with Tushu, a language of the subalterns. There was this old limerick that went 'Ashok bone pata khunde Sita pasha kheliche… In the Ashoka forest, Sita plucks leaves to play a game of dice.' There was also a new one that went 'O Daroga rasta chado Tushu jabe Kolkata… O policeman, make way for Tushu for she is going to Kolkata.' This combination of tradition and modernity is active in oral traditions that exist in West Bengal and Bangladesh. We hope to be able to do a series on this."
Spivak, Ghosh and Hubert do not want the translations to be complete and happy substitutes of the originals. "We do not want to extend the empire of English," says Spivak. They want the translators' notes to indicate the problems of translation and share with readers how they have been solved. "I have a great resistance to synonymising, rather than translating. We encourage our translators to talk about the problems of translation and bring the translation into the book as it were, as an act," she adds.
The series will begin with a novel by Bangladeshi writer Akhtaruzzaman Elias which is being translated into English by Matthew D. Rich. Elias' book is titled Chilekothar Sepai, meaning The Soldier in the Attic. Says Spivak "While Loeb celebrates grand origins, we turn literature around to inaugurate a great Muslim author from the neighbouring subcolonial state."
Affirmative sabotage.