Restoring art to its former glory
Art restoration requires intensive research and training and loads of skill. Anasuya Basu on a few projects and the painstaking effort they involve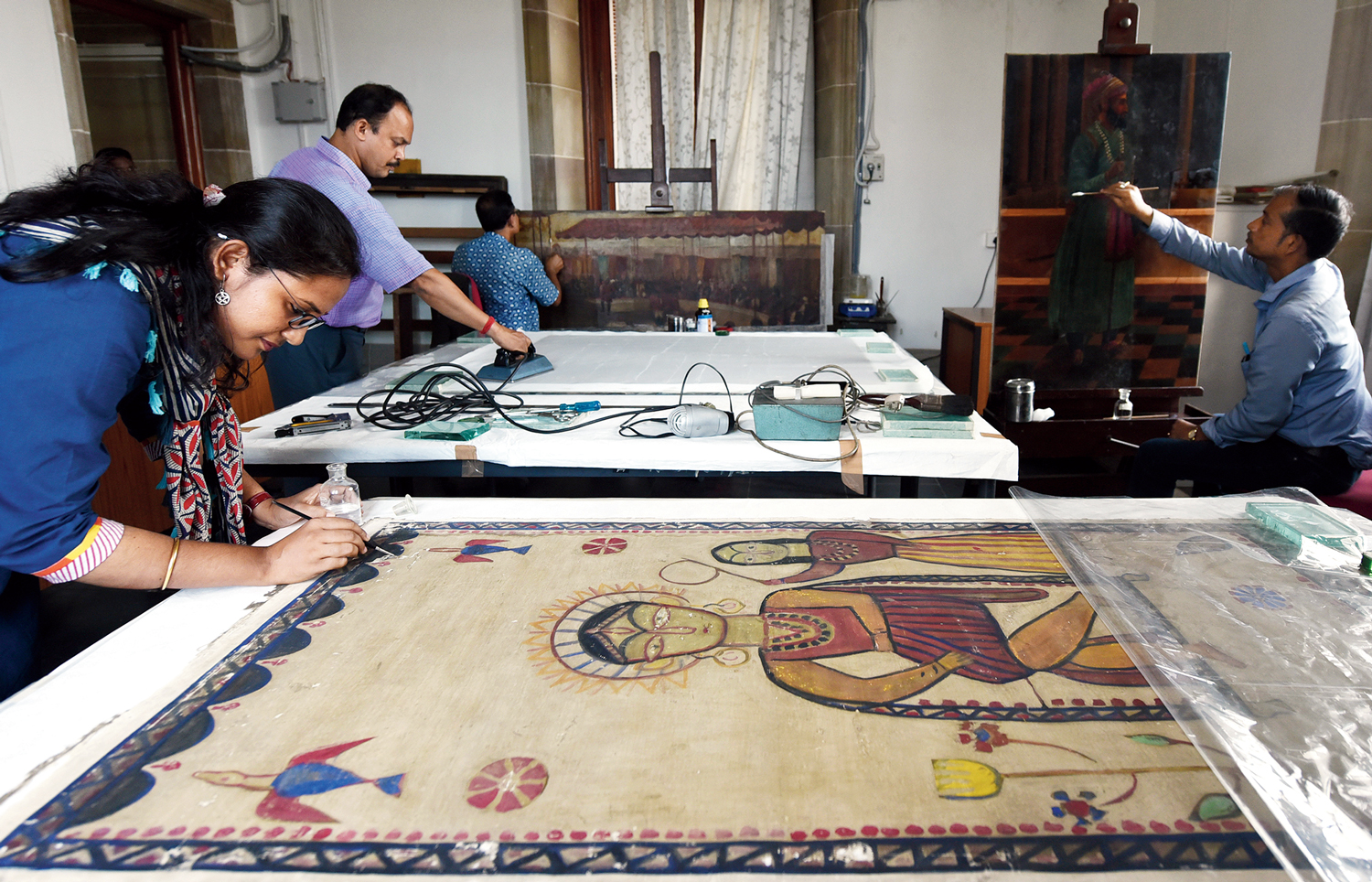 HEALING TOUCH: Restorers at Victoria Memorial Hall work on a Jamini Roy painting on cloth
Pradip Sanyal
---
Published 03.11.18, 06:10 PM
|
---
The Calcutta Tercentenary Trust, set up in 1989 and chaired by British high commissioners in India, had created a project team of the best restorers from the Victoria and Albert Museum, British Museum, National Gallery and several other institutions in the United Kingdom to train VMH personnel in restoration. "The Trust was the original platform to take the restoration and conservation of VMH artefacts seriously," says Jayanta Sengupta, secretary and curator of VMH.

The VMH team has since advised Bose Institute on how to revive Jagadish Chandra Bose's garments, Calcutta Club on how to restore a painting of George V, Alipore Court and Sub-Judges Court on conserving documents on the revolutionary movement in Bengal and the trial of Sri Aurobindo, and Presidency University on restoring paintings of former principals and one oil by Bikash Bhattacharya depicting a young Subhas Bose.
Restoration can be both a preventive and curative craft. The first prevents decay of objects, the second restores objects already damaged.
Any object can be restored, from manuscripts to maps, books to medical registers, paintings to sculptures. Conservators in Calcutta are generally armed with a degree in Chemistry, while restorers have to be qualified in the Visual Arts. Both types need to have intensive on-job training.
Several of the conservators and restorers in Victoria Memorial have trained abroad. VMH's Abhijit Bhawal trained at the Dresden Museum, Subhendu Banerjee at the Art Institute of Chicago, Subir Dey at the British Museum and the Smithsonian Institution. Together they have worked on Firdowsi's 11th century epic Shahnameh, which is now kept in an acid-free solander box. The Deewan-e-Hafiz by Khwaja Hafiz, again a magnum Persian poetry manuscript, has also been restored by them.
Says Sengupta, "I have had people from institutes abroad tell me how skilled our people are when they went there for training."
Calcutta itself does not offer much scope by way of training. Within India, though, there is the National Laboratory for Conservation of Cultural Property in Lucknow and the museum laboratory at Chhatrapati Sivaji Maharaj Vaastu Sangrahalaya (CSMVS) in Mumbai. "We often turn to CSMVS for advice," says Sengupta.
The VMH team has done a lot of paper restoration. And watercolours have been treated by submerging them in water. "Paraprint washing is a favourable method of water treatment," says Dey, adding, "Water travels over the object to be restored in a controlled manner, washing away soluble impurities."
Abanindranath Tagore's Bharat Mata and The Passing of Shah Jahan are some of the watercolours to have been restored by the VMH team thus.
The Passing of Shah Jahan is a miniature-style painting and a study in detail. It depicts an ailing Shah Jahan watching his beloved wife Mumtaz Mahal's mausoleum while his daughter sits at his feet. This work, rich in detail in the marble inlay work and complex railing patterns, established Abanindranath as one of the leading Indian artists of his time. Both the paintings have had their pristine colours restored.
Intach's head restorer Subash Baral talks about the Port Trust nautical maps he has restored. "I have removed tea, coffee stains from them," he says.
Contrasted with the dark and dingy conservation chamber in the back office of VMH, which precludes entry of light, the art restoration department on the first floor is a bright, light-filled and airy room. Master works such as the Delhi Durbar by Roderick Mackenzie, and a portrait of Alivardi Khan are being restored here. Working on them are restorers Dibakar Karmakar, who has trained at the Stichting Restauratie Atelier Limburg in Maastricht, Baisakhi Mallick, Tapan Adhikari and Tapas Sil.
The Alivardi Khan painting, done in 1920 by S.C. Palit, has a "fungus problem", says Karmakar. "The painting, which is part of a series of 14 paintings donated to the VMH, has been in the store for long. It has bio-deteriorated. The alteration of varnish, probably done during a restoration bid in 2008, has led to flaking. The painting has now been cleaned and consolidated," he adds.
Mallick has just finished working on an oil painting of the Meenakshi temple done on paper. She pasted it on cell cloth while restoring it. A Jamini Roy painting on cloth is now awaiting her attention. "Since cloth is fragile, there is a problem consolidating it. The paint in the Jamini Roy is crumbling," she says.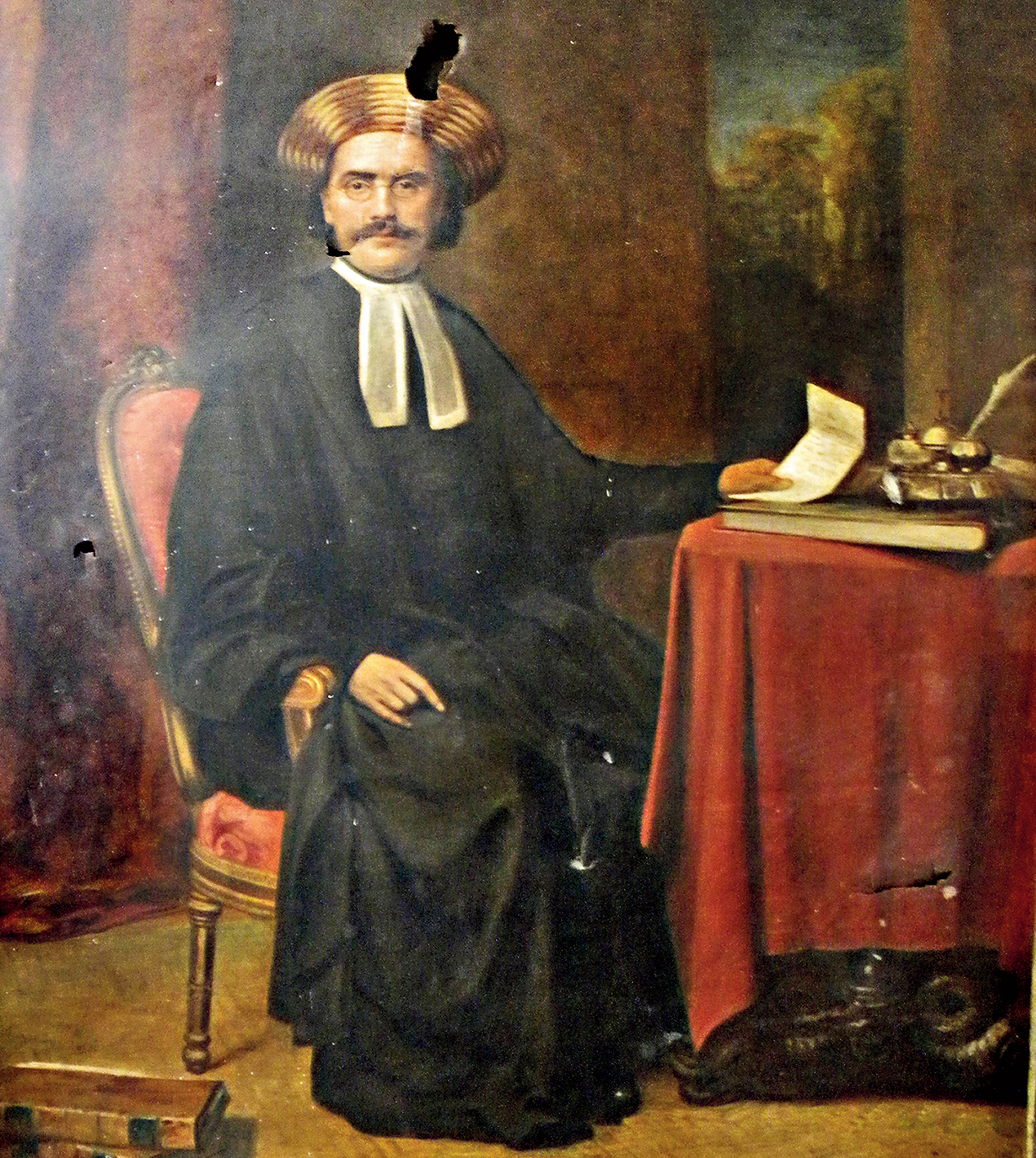 Justice Sambhunath Pandit, the first Indian judge of Calcutta High Court in 1863, was captured by an unknown artist on a 224cm x 166cm canvas. The painting was in Court No. 4 all these years, a century of dust settled on it. The sombre-faced judge in his black robes and rimless spectacles looked forlorn, and above his turbaned head was a deep tear. That's how it was till Chief Justice Jyotirmoy Bhattacharya turned to restorers at the Victoria Memorial Hall (VMH) for help.
In Calcutta, there aren't too many places one can turn to for art restoration. Private collectors usually rely on the Calcutta chapter of the Indian National Trust for Art and Cultural Heritage or Intach, but for every place else there is the VMH — India's largest and one of its oldest museum libraries.
The Delhi Durbar of 1903, immortalised by Mackenzie in a six metre by four metre oil painting, commemorates the coronation of King Edward VII, celebrated by a procession led by Lord Curzon and his wife, followed by Lord Connaught and his wife, and the maharajas in order of importance.
"There was a termite channel on the painting," says Mallick, who helped Karmakar restore the huge painting, which had to be divided into grids for restoration. The painting had developed cracks that gave it the appearance of alligator skin. "They generally develop if the painting is varnished when wet," says Karmakar. A duplicate of Mackenzie's work is in the Bristol Museum.
Baral of Intach headed the restoration of Johann Zoffany's Last Supper in 2010. Zoffany's work dates back to 1787. The German neoclassical painter, active mainly in England, was a satirist. In his Last Supper, the apostles of Jesus were all well-known merchants of Calcutta, Christ, himself, resembled a Greek clergyman and Judas was a famed Calcutta auctioneer.
The Intach Restoration Centre on Chapel Road in central Calcutta is equipped with the latest gadgets — low pressure table, pH meters, magnetic stirrers. But it had to restore the painting on site at St. John's Church. A certain portion was barricaded while restoration work was afoot for six months between February and July 2010, says G.M. Kapur of Intach.
"It was a very heavy painting, weighing about three quintals (300 kilos). It had to be brought down using a crane and pulley," says Baral. It was deframed, and termite channels were discovered. After dividing the picture into grids, it was cleaned with non-ironic detergent. A tinted varnish that covered it was removed, as were earlier fillings. Strip lining was done after that.
"There was a gap between the ground, which is the preparatory surface of the canvas, and the oil paint. These gaps were consolidated with injections of adhesive, pressed with a hot spatula, which seals the adhesive," explains Baral. Finally, a Dammar varnish, a traditional pale yellow varnish that dries quickly to a high gloss for use on oil and alkyd paintings, was used.
Justice Sambhunath Pandit's painting is back in Court No. 4. The tears and holes were mended by Tapan Adhikari over two months. "First we had to clean the dirt by using rubber," he says. After cleaning the dust from the back of the painting, Tyvek — a kind of high-density polyethylene fibre — was used as a protective cover.
The late Justice appears happier in his restored avatar. His turban is clean, the tear is gone, he looks content in his bright pink perch. As for Chief Justice Jyotirmoy Bhattacharya, he is effusive in his praise. Jayanta Sengupta says he has written a letter thanking Victoria Memorial Hall for the "excellent job" done with "utmost efficiency".