'The smile on people's faces when we reached them with supplies meant more than anything' — Satnam Singh Ahluwalia
The Good Samaritan has distributed ration and other essentials to daily wagers, migrant workers, and others.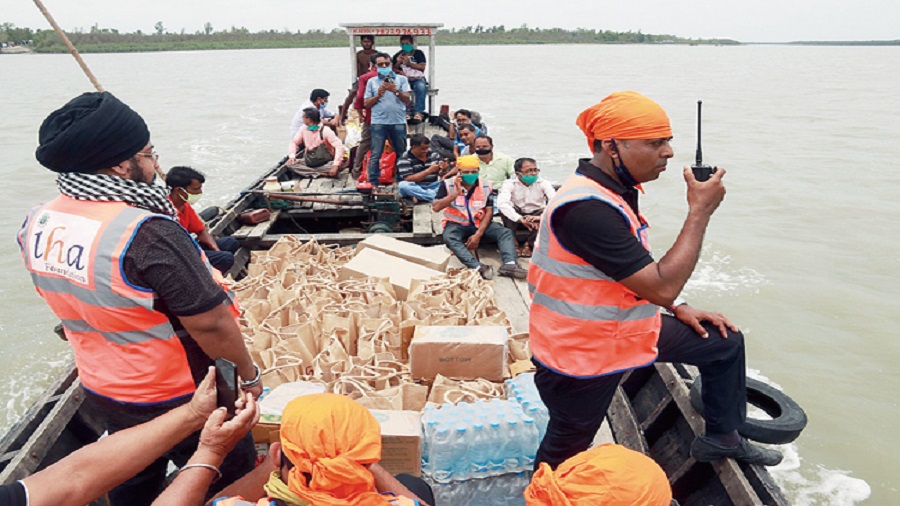 ---
---
During the lockdown period owing to the COVID-19 pandemic, social activist Satnam Singh Ahluwalia (chairman, IHA Foundation), has distributed langar (community kitchen) food to more than 9,300 people daily for more than 100 days continuously. That makes it more than one million meals served to the needy till now. The Good Samaritan has also distributed ration and other essentials to daily wagers, migrant workers, and others. The Telegraph caught up with him in a heart-to-heart chat on what inspires him to reach out to the people.

You have been doing a lot of charitable work in the past few months. How did it all start?
I received a call from the KMC commissioner at 11.45pm of March 24, the day the lockdown was announced. He said they plan to help all underprivileged people and the people on the street and put up temporary shelters. He also asked me to make food arrangements for 700 people. Things started rolling from there.

Were you a bit scared at first considering that the virus was spreading?
I was, to be honest. After my morning prayers I went to the gurdwara and put together a langar team. We went to the market to purchase our goods. I had to manage the transportation as vehicular movement was limited. I tapped my networks in different parts and got them going. We were already a part of the essential services team.

How did you start operations?
We started giving food to around 500-700 people in shelters. In a week's time that number had gone up to 9,000. We started putting up small community kitchens. In Diamond Harbour, there's a gurdwara where we cooked food. Three organisations — Gurdwara Behala, IHA Foundation and Kolkata Response Group — came together to help the cause. So while some people came to the gurdwara for the langar, at other places like slums and hospitals our teams made food accessible. All the information was passed on from the West Bengal control room and the KMC control room.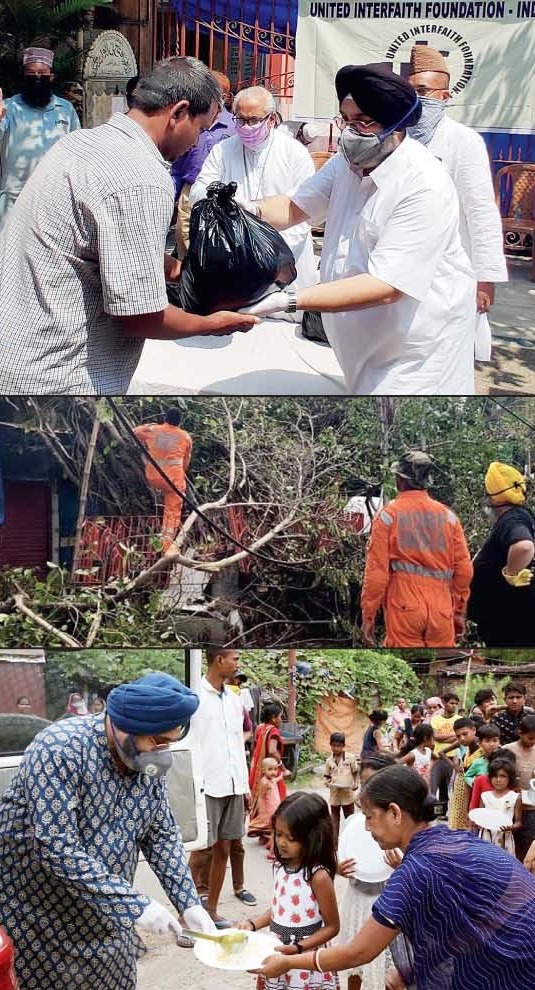 Then, of course, Cyclone Amphan ravaged our state...
Yes, it was a double blow to our efforts. But before it made landfall, we did a few things. We sent some tarpaulins and water, and dry stuff like muri (puffed rice) and chira (flattened rice) through our local networks because it would be difficult to travel to some places like the Sunderbans. After the cyclone was over we identified a few villages, like for example Amlamati, that were the worst hit. We went there, served food and tried to help. We helped around 400 people with rations and assured them of total support for the next three months. We tried to repair their houses, constructed toilets and set up community kitchens.
When Cyclone Amphan hit us, it became our moral duty to assist the administration in whatever way we could. We all as citizens need to stand by the people who have been affected to rebuild our Sonar Bangla, if each and every one of us decides to help the affected and support our mission we would be able to achieve our goals faster.

Any initiatives for the city after the cyclone?
For Calcutta, we had set up a 24x7 helpline for assistance. People started calling us if they faced power disruptions so we had to contact the power department. There were people whose homes had been inundated and they could not get essentials like breads or biscuits or medicines. Also trees had been uprooted, blocking movement and we got 50 men from the Kolkata Response Group to assist the National Disaster Response Force (NDRF) to chop the trees and clear the mess.

Did you receive any help from the state or central governments?
We did everything on our own because if we had waited, our mission and vision would have been affected. But we received an acknowledgement letter from the Bengal chief minister, Mamata Banerjee. Then Kolkata Municipal Corporation's mayor and now chairman, board of administrators, Firhad Hakim, sent me a letter too. The district magistrate of South 24 Parganas, Tanvir Afzal, sent a note of thanks. The NDRF commandant, Nishith Upadhyay, sent us a letter of appreciation too, for our efforts. We got help from the police, the administration. In the villages, the DMs, BDOs and the SDPOs helped us.

You have been working tirelessly for some months now. Tell us about the experience.
It was a lifetime experience for me. It has been more than 100 continuous days, cooking and serving people. This is God's wish… if not me someone else would have done it I am sure. The smile on people's faces when we reached them with supplies meant more than anything. It's a humbling experience. On World Environment Day (June 5), we started a drive to sanitise religious places — of all faiths. We also took care not to use alcohol-based sanitisers there, we imported iodine-based sanitisers.

Any particular incident that stands out?
A woman came up and asked if she could get a cup of tea. So I offered her. She had two cups. She then said she wanted to help in her own little way. I said there was no need but she wouldn't listen. Next day, she came back with around a kilo of tea leaves. She said, 'You are doing a wonderful job. I will be happy if you accept this'. That kind of emotion is priceless where people of all castes and age groups come up and appreciate our work. The love we got was worth the effort.

Tell us about your vision of langar on wheels.
Since due to COVID-19 people could not venture out of their homes, we thought why not take the langar from the gurdwara to the people. We are planning to have a permanent langar on wheels. I am designing a food truck. We will make small kiosks and the truck will supply food to these and in places there are no kiosks, the vehicles will serve the cooked food directly.

Tell us about your team and how did you plan?
Operations is my hardcore forte since I am into the security business. Serving people and organising langars is in my DNA really. I had three verticals —the cooking team, the distribution chain and the purchase group. The Behala gurdwara langar team of 15-20 people supported me. I got volunteers from the Kolkata Response Group.

Anything that you would like to enhance in the operations?
We are mulling using a roti-maker though we had 20 women on the job. It's easier and faster and many people prefer rotis to rice owing to health issues. We would like other organisations to fund our charitable work so that we reach more people.

You love cooking. Did you make anything special in the lockdown?
I have been trying a few dal preparations for the langar. At home, I would cook potato rolls, palak pakoras, chhola-bhatura, kulcha, dahi vada. I tried my hand at old Indian recipes. I made potato-stuffed bread rolls, onion samosas, papri chaat etc.

Any message you want to give out to people?
We sit in our homes and think someone else will do it. We blame other people or the governments. Rather than protesting, it is better to do something ourselves.