The RP-SG Indian Sports Honours is coming up in Mumbai next month
Pullela Gopichand and Sanjiv Goenka talk about the importance of support in sports and what the award has set out to do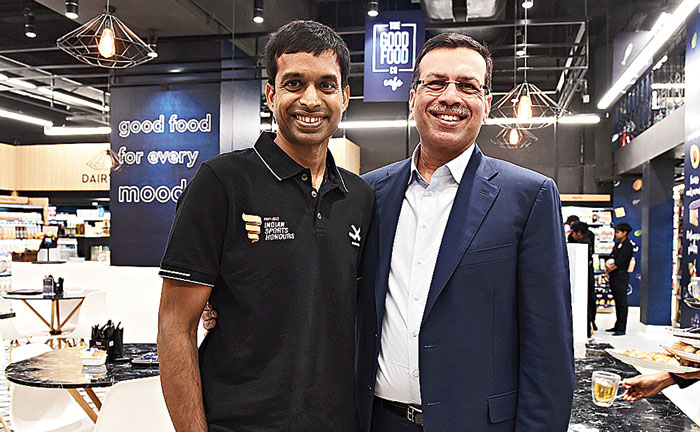 ---
---
Champion shuttler Pullela Gopichand and business magnet Sanjiv Goenka share their love for food shopping. We discovered that when the two came together for a t2 chat at Nature's Basket on Park Street, after the jury meet of the third season of RPSG Indian Sports Honours that was instituted by RP-Sanjiv Goenka Group and Virat Kohli Foundation. Gopi, as he is fondly called, is the jury chair along with Sanjiv. The awards will be held in Mumbai on March 6.
Gopi, what do you think of this place?
Gopichand: I loved this place. Food is something that I really love and I also like to see and buy food. So for me, the vegetables and the fruits are really nice. I still look for organic and things that are natural and local. I watch labels quite a bit. And, I spend a lot of time when I go to stores, just roaming around.
Sanjiv, are you surprised that Gopi is a foodie?
Sanjiv: Honestly, he went there and he asked for mamra. It's quite incredible that somebody knows mamra almonds. He clearly is! It doesn't show though!
Nature's Basket is quite eclectic…
Sanjiv: I think it is a constant process and I think the team keeps adding things so that there is no monotony that seeps in. I am seeing Zopf for the first time, which is a Swiss bread. It's very soft and it is a really good bread.
So, what are you picking up?
Sanjiv: I am definitely buying the Japanese sweet potatoes, the German white asparagus and the Zopf bread. Rest, I'll look around.
Both of you are fit and active…
Sanjiv: He is fit. I am not!
But you are on your toes all the time…
Sanjiv: I am on my toes but that doesn't make me fit.
Do you work out?
Sanjiv: Yeah yeah. I walk 7km every morning… (at The Agri Horticultural Society Of India) and four days a week, I have a trainer coming to my house. He makes me do weights, but nothing seems to work…! (Laughs) Fitness and working out have been a gradual process. It is increasing now. Food is also becoming relatively healthier and the quantities are reducing. As you get older, you need to do a lot more.
So, what's on your table?
Sanjiv: Typically breakfast is one-and-half slices of homemade bread with some toppings… asparagus, artichoke, avocado, paneer, vegetables and half a cup of tea. It's quarter to nine, after I have come back from my walk. Lunch is a salad and half a roti with some vegetable, at work. My main meal is at 7pm when I get back from work, which would include fried, sweets… everything! It's a controlled feast but it's a feast nevertheless. Dinner is again half a roti and two bowls of vegetables and dahi.
What about you, Gopi?
Gopichand: The session starts at 4.30am and I am up by 3.45am. I sleep by 9pm. I don't eat anything for breakfast. I am fasting the entire time till lunch, which is typically 12 or sometime after 12. I have been doing this for a long period of time, so it is a part of my routine. So, around 12.30-1pm, I eat a lot of fruits, a ton of papaya or watermelon and some buttermilk. I have a desi cow at home. If I am at home, I have some vegetable that they prepare. Or, at the academy I eat whatever vegetable is cooked. In the evening, it is mostly vegetables and fruits again. May be once or twice a week, if I am going out, then I eat some roti or rice. My dinner finishes by 7pm. So, if I am hungry in between, I snack on nuts. I love cashew nuts and I love dates as well. I love fruits and vegetables.
Coming to the awards, Sanjiv, Gopi has been an important part of it…
Sanjiv: He is an integral part of the jury and, in fact, the family. I knew of him but I didn't know him before. And, I always had an aspiration to meet him. And the more I get to know him, the more my admiration for him goes up. The clarity and the simplicity of his thoughts and the sheer humility of his demeanour and behaviour… and, it's constant with everybody. There are lessons not only in thinking, but also lessons in leading and it is a lesson in human behaviour. And, every time you walk away learning something or the other. It's how he is inclusive… at a jury meeting, how he handles it, it's incredible… quietly, softly… yet he has a view, doesn't impose it… it's remarkable management also.
Gopichand: Honestly, I didn't know that this will become like family. It's a name you have heard… a big industrial house… you tend to think of a not very human connect. But I think that relationship was very important. I feel at home in this environment and in his company. I really like his simplicity… his work…. So, the real quality of work that these awards have been able to do and where we started to today and where we aspire to go, is something which is very inspiring. We have some excellent people on the jury. They have solid clarity of thought, the stature and the knowledge of varied sporting backgrounds… a jury with integrity and commitment.
When you had started the awards, what was the plan and what's the future plan?
Sanjiv: The fundamental plan is to recognise exceptional sporting achievements. We want to extend it to supporting grassroot programmes, supporting people, kids who are talented and don't have the means to do it on their own. Virat Kohli Foundation does it. RPSG does it. It is the beginning… pick stories which are inspirational to people. Cricket reaches every home in India, but there are sports beyond cricket which don't reach people. Now that Gopi has created so many superstars with badminton, it has reached homes, but there are so many other sports that people don't know about, the struggles, the achievements, the talent… it is about producing and nurturing more of this talent and taking it national first and then international.
Gopi, you have always spoken about this support…
Gopichand: Once you are a star, then there are a lot of people taking care of you. The journey is important and that's where you need to support them. It is not about funding but actually to be in touch and asking: 'What do you want?' and then providing that support.
What are some of the stories in these years which have shaken you?
Sanjiv: When you hear about these differently-abled people and how they actually compete and win… the resilience… it's not just touching but inspiring. It's grit, determination and overcoming all odds… it's an education.
Gopichand: People whom we have picked up as emerging athletes have come back to win medals and come the next year, have been up for the sportsperson of the year…. I remember Pramod Bhagat's match at Para-Badminton World Championships (Basel, 2019). He was playing an English guy (Daniel Bethell) and midway through the match, half the stadium gets together, cheering the English guy. And, this guy starts the fight back (and eventually winning it) and you hear Bharat Ma ki jai so loudly and so passionately… it gives me goosebumps. He wins and takes his shirt out and throws it in the audience… imagine the kind of confidence which it gives to a guy who is disabled. That for me is a standout moment.
Then there are stories of say, Manasi (Nayana Joshi), in her 20s, everything going right and then suddenly, nothing goes right and then she goes on to be celebrated again (Manasi lost a leg in an accident and went on to win a gold at the Para-Badminton World Championships last year and trains with Gopichand). If you ask me to pick one or two, I would do injustice to the people I have not picked. Somebody like a Yogeshwar Dutt… the kind of effort he put in after his injury or rehab… Abhinav (Bindra)… legends….
What does recognition do to you and how did it treat you? And, how can you utilise recognition as motivation?
Sanjiv: Recognition does two things. It in a way humbles you. And it puts greater onus and responsibility on you. It also encourages you. It is important to get recognised and at some stage, equally important to give back.
Gopichand: God has been kind. I have got a lot of awards. Now, awards mean responsibility. For the team, it is very motivating. The entire academy feels very good, my parents, my wife… but for me, if you want to say 'I want to retire now', it's almost like: 'No, no... you have got this… so, it means put in some more work'.