Shashi Tharoor on being a man of letters above everything else
He talks about his love for the written word, irrespective of the medium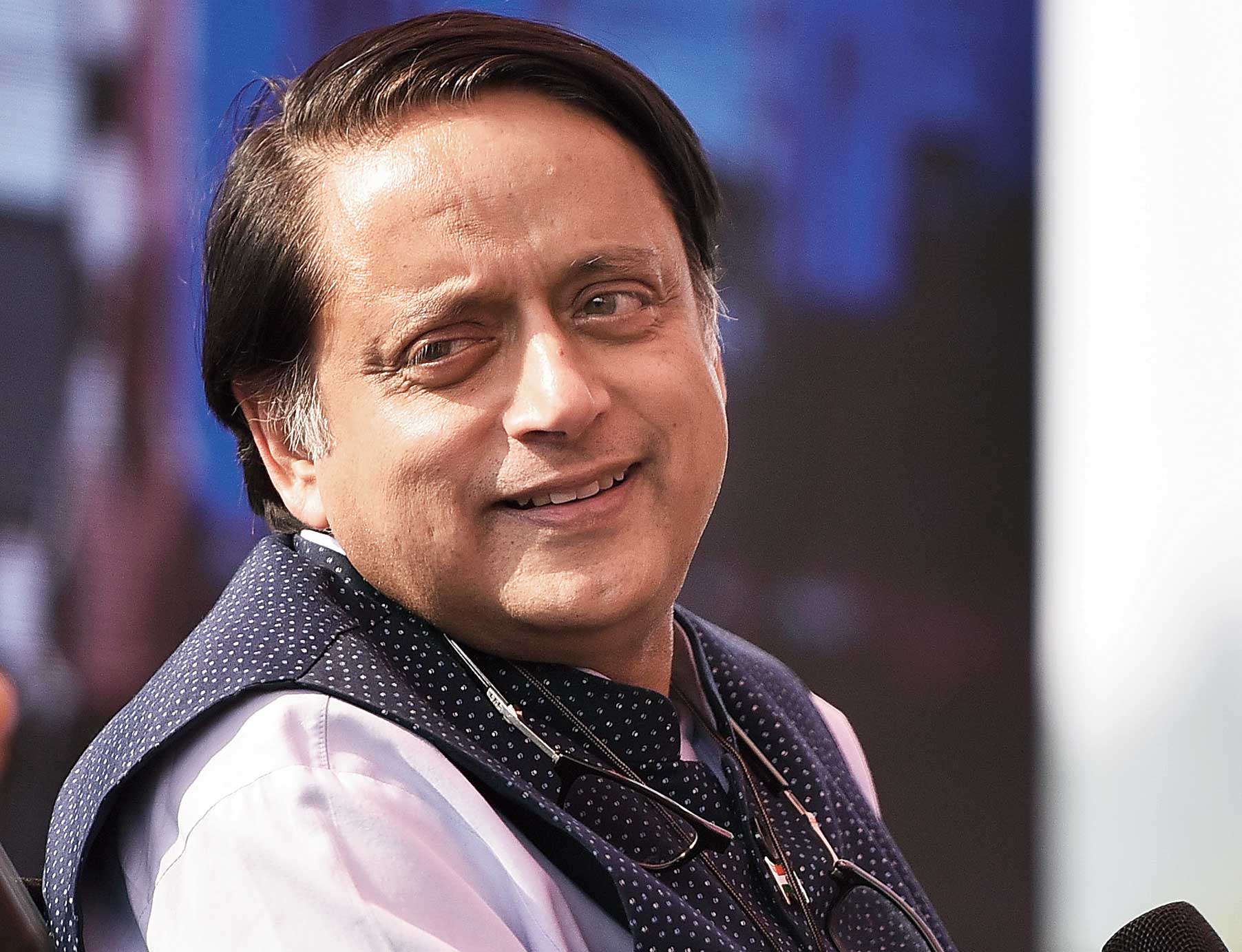 ---
|
Calcutta
|
Published 04.04.20, 02:01 PM
---
Out of the barrage of blistering Tweets that Shashi Tharoor encounters on a daily basis, his son Ishaan calling him out "in front of the world" for being a "lackadaisical boomer" (in a Tweet dated March 19) for having attended a session at a packed parliament during the ongoing Covid-19 crisis, is possibly the mildest. But at 64 and with over seven million followers on Twitter, it is safe to say that Tharoor has had brushes with his fair share of keyboard warriors spewing hate at him. When we meet the Lok Sabha MP on the sidelines of the Kolkata Literary Meet, held in association with The Telegraph and Victoria Memorial Hall, way back in January for this chat, he is measured as he says that he takes the bad along with the good and admits to attracting "more criticism than the average politician would". Well, for Tharoor, the said attraction can be attributed to the many hats he wears; which can be found crammed into his 160-character-limited Twitter bio — I will go out on a limb here and say that the fact that he had to forego the spaces after the punctuations to fit them all in the bio must be irksome to a man often in the news for his lexicon. I mean, he alliterates even while participating in online quarantine challenges — "Idle Idli" is his quarantine name.
But foremost, he is a man of letters, as he says, "…at the end of all of this, I keep telling myself that I am already a former minister, and one day, I will be a former MP, but I hope never to be a former writer." Here's Tharoor on his love for the written word — in books and social media — and how he navigates the choppy waters therein: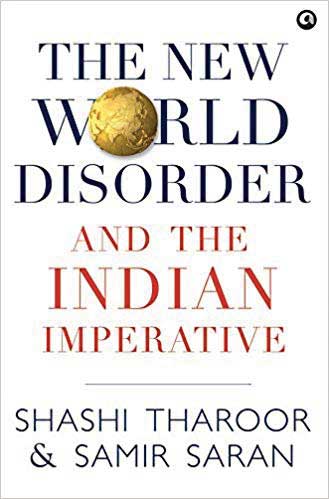 Being a politician, an author, travelling the world for various events, your former life at the UN and more — which do you find the most fruitful and which, the most taxing?
I am a human being with a number of responses to the world I see around me, some of which come out in my writings and some of which come out in my political work. So it is difficult to draw a clear line of separation. In the short term, I think the politics is more immediately impactful and meaningful because it deals with the urgent issues of our current lives. In the longer term, I hope and expect that my books will be more enduring — it's a matter for me of great satisfaction that The Great Indian Novel is in print 30 years after it was published. So that kind of enduring value that you have contributed something that stands a certain test of time, that to me is the longer-term satisfaction.
I have been a writer longer than I have been a politician. I have certainly got the feeling that I am happiest in a closed room with just my computer screen, my text, my ideas and my mind at work — that's not a luxury that I have 90 per cent of the day, where politics and public engagements naturally take up the bulk of my time. But there's a certain other kind of satisfaction, a sense of social relevance when you make an impact through politics that will, of course, affect entire generations. As a writer, you can at best hope to affect those who read you and digest what you say and appreciate the way you have tried to say it but in politics, some of the decisions you are able to influence or impact and some of the currents in our society that you're part of — all of that have a larger immediate impact. But at the end of the day and at the end of all of this, I keep telling myself that I am already a former minister, and one day, I will be a former MP, but I hope never to be a former writer.
India has almost always played a big role in what you write...
My first book started when I was abroad and in many ways, I was intrigued by two factors and it was a sort of mental itch that I wanted to keep scratching — India, the country that I came from and what it represented to the world, what has made India and what has really unmade it; and second, there was a circumstantial thing that as a UN official, there were certain constraints on me as under the staff rules, I was not allowed to write anything that would offend member states. But since I came from a democracy, offending my own state was reasonably safe because it was highly unlikely that the government of India of those days would complain to the UN about one of its own citizens expressing his democratic rights. So in those circumstances, the bulk of my writing came and then because I was in the process of carving out a certain space for myself in the world of literature and then public ideas, the requests from my publishers came more and more for Indian themes. Between what I had begun writing about, what I was somewhat restricted in writing about and then what the publishers wanted to hear from me about, I found my space.
And after coming back to India where I can literally write about anything with nothing to worry me, in terms of any obligations to any employer, if the same themes have continued, it is because this is what my readers now largely expect of me. So when I was living abroad, I was very concerned about the audiences, the publishers and literary agents there whereas here, I find myself largely indifferent to the outside audience. Yes, I am pleased that the British edition of An Era of Darkness reached the bestseller list there and it gives me a certain perverse satisfaction that a book on British colonialism did well there. But other than that, by and large, my books are now unabashedly targeting Indian issues, concerns and readers.
Coming to The New World Disorder and the Indian Imperative (co-authored with Samir Saran), what, according to you, is India's method to the madness in this new decade?
I can say what it should be and whether it is, is debatable. My argument is that if global governments worked in certain ways, helped preserve the peace and in many ways, there are lots of positives — developing countries became free of colonialism, things like maternal mortality, child mortality have gone down, people are living longer and healthier lives. But many challenges have persisted. And if you look at the overall impact of the last 75 years of global governance now, you're going to say that essentially, the bigger beneficiaries were the rich countries that became richer and more stable and more prosperous. And though the others did alright, relatively speaking, they still have fundamental problems that have been conquered elsewhere, including social problems, economic problems and some serious problems of politics and authority.
So the book analyses peace and security in the world, the development debate, climate change and even the Internet and cyber regulations. It basically argues that the time has come for us to revisit the structures of global governance, that 75 years on, you can't continue running the world on the basis of the geopolitical realities of 1945.
In the last chapter, we talk about what we call the 'Indian Imperative'. India is a country which so far in many ways has been an example to the world — it's been a developing country that has made tremendous progress in developing and bringing decent lives to its people and it has pulled hundreds of millions of people out of poverty. Equally by becoming a very successful example of the management of diversity, in democracy and in a developing country, we have also set a remarkable example to the rest of the world. And finally, I would say that our education and technical excellence have given us the resources, the human capacity and the technology to play a significant role in the world in everything from outer space to cyberspace. In other words, we can be the rule-makers and not just the rule-takers that we have been for so many decades. Now, that's why I would argue the case for India to step up and be a bigger player on the world stage.
But where I probably part company with my co-author is my worry that we are rapidly disqualifying ourselves from that role by what's happening domestically in our country. That a government that is in the process of pursuing a divisive and regressive social agenda, that is in the process of, unfortunately, marginalising our biggest minority in the name of a historical revenge, a government that is completely wrecking the economy — will an India that is failing so spectacularly in all fronts be an example to the world? Very clearly not.
How do you go about choosing your topics?
I have ideas all the time that are bubbling away at the back of my head but what I don't have is time. Secondly, publishers are constantly wooing me, to commission a book and I say that I don't have the time. But sometimes what the publisher suggests and what I have been thinking about seem to gel together and that makes it work.
I also have very good personal equation with a man called David Davidar (who is now with Aleph Book Company) and I have published many of my earlier books with him. It is he, for example, who persuaded me to write India: From Midnight to the Millennium, which for a long time was my single-most successful non-fiction book; and it was also David who, perhaps, is responsible for what is now my most successful book ever, which is An Era of Darkness. So for me, it's a matter of tremendous satisfaction that I am in a relationship with a publisher who understands both what is good writing and what the audience either needs or wants or desires to read. Once in a while, I will tell him that listen, there's something I want to write whether people read it or not and he is equally obliging.
Given how pressed for time your are, what sort of a writing process do you follow?
The short answer to what kind of a writing process I have is whenever I can. Unfortunately, it does not mean daily. I am a Lok Sabha MP and for me, even finding time to read is a challenge. I mean, I often don't have time to finish the day's newspapers and I take them on a plane and finish the morning newspapers on a night flight! So my writing is very unpredictable.
My ideal window to write is from 11pm to 2am when there is nobody dropping in or telephoning me. But I have to say, that that time often goes in responding to the day's messages, emails, Tweets, articles, etc. And I do write because I feel that as a current political representative, I need to keep my voice out there on immediate ongoing issues. There's no point saving everything for books because the problems are today and the book might emerge a year from now.
How difficult is it to be a politician with the kind of celebrity fan following you have?
To be honest, these things always cut both ways. I attract more criticism than the average politician would, I attract more trolling and frankly, more viciousness — I mean, the lies and the horrendous things that are said about me! I have finally learnt to ignore the nastiness and enjoy the good things. But on the other hand, what is the purpose of being well-known? It is merely to put that to some good use if because I am able to attract attention, the ideas I articulate reach more people, then I think I am actually performing a public service through being visible and audible.
But did you take time to resign to the fact that with the pros come the cons of leading such a public life?
Before I came into politics, I must say I had a very easy ride. I mean, you go back and look at the press that I was getting in India every time I was visiting from Geneva or New York and giving interviews, it was so adulatory that I was thoroughly spoilt. Then I came here, fought an election, got elected and foolishly expected the same sort of affection from the media to continue and I got the rudest awakening of my life within weeks. I certainly realised that first, I am no longer this benevolent outsider visiting from afar who is no threat to anybody — I am a direct threat. And second, my beliefs are what are going to be judged and opposed. Third, there is the good old-fashioned Indian virtue of jealousies, which actually is not my understanding but it is Manmohan Singh who told me that this is going to be one of the biggest challenges I'd be coping with.
Despite that turbulence, I decided that you just have to take the rough weather smooth because once you're in it, there's no turning back. Like they say, if you can't stand the heat, get out of the kitchen. Well, getting out of the kitchen is no longer an option because even if you're not in the kitchen, you're still the guy who has generated that heat. So I may as well stay and fight my corner.
In context of some of your comments that have caused a storm in a teacup, circa "cattle-class", how difficult or easy is it to not offend while writing or speaking at a public platform nowadays?
You know it's not easy but it has to be done and it's particularly true for a politician and it is even more difficult because ours is multilingual politics. So the "cattle-class" thing is a classic example of a phrase that is very commonly used in America and that was not offensive to people but only to airlines. And what is more, it was used by the questioner who asked me if I'd travel cattle-class. And I replied, "Absolutely, in cattle-class out of solidarity with all our holy cows!" But the "holy cows" did not get me into trouble, "cattle-class" did even though it was in the question. And then I was reminded of Shakespeare's famous line, saying that the success of a jest lies not in the tongue of the teller but in the ear of the hearer. So it does not matter how good your intentions are but it depends on what the people hear and understand. And I am still paying a price for it and I have learnt, therefore, that I am far responsible to avoid such mistakes. Once in a while, I still make them because I am human and what I consider witty to say, after I have said it, I wish I hadn't and that is what happens.
What's the worst joke you have heard about your lexicon?
The bad ones are all the ones where every Diwali or New Year, some person will send you some stupid joke that some illiterate has made up, full of incomprehensible gibberish with big words saying, "This is how Shashi Tharoor wished me Happy New Year". It's a 28-word sentence with each word having 20 letters and the whole thing is ridiculous because I don't talk like that and no sensible person would! But there are some good jokes and I was just recounting the other day that someone forwarded to me. It was a meme saying: "I used to be poor and then I met Tharoor and realised that I am impecunious." Now that wasn't too bad because it was sort of clever and funny.
A book that you wish you would have written:
It is difficult to say because you can't wish to have written (Jawaharlal) Nehru's The Discovery of India because I did not live when he did but a book that I admire so much that I would have been happy to have been a part of is (Gabriel) Garcia Marquez's One Hundred Years of Solitude. There are lots of books that I have enjoyed hugely — almost anything by P.G. Wodehouse but again, it's a different world than anything I could effectively recreate.
One book of yours that you would have written differently if you were given a chance:
I think a book is like producing a child and once it's done, it's got to make its own way in the world and obviously the person today looking at a book 10-20 years ago is not the same. What you thought then is what you thought then.
A favourite writer while growing up:
P.G. Wodehouse from age 11 when I discovered him till 19 when I finished all of his books, including volumes of his correspondence. I just absolutely love him!
Favourite page-to-screen adaptation:
I am one of those who says the book is always better but I suppose The English Patient (by Michael Ondaatje) is probably the best. Another book that was the most hysterically funny is The Hundred-Year-Old Man Who Climbed Out the Window and Disappeared by Jonas Jonasson and the Swedes made a film out of it, which I saw with subtitles but it was almost as funny as the book, though the latter was still better.
A favourite modern-day writer:
Writers whom I look forward to with their books coming would range from Salman Rushdie to Amitav Ghosh. But now I read much more non-fiction and that is usually dictated more by the theme rather than the author. Young Manu Pillai has done some outstanding writing on popular history and he and (William) Dalrymple are the gold-standard in our country for popular history of India and therefore, I would single them out in the non-fiction arena. Midnight's Machines by Arun Mohan Sukumar is also quite astonishing because it takes a very dry subject and writes it astonishingly well.