Rendezvous with Aditi Rao Hydari
'People will love you not for what you bring on screen, but also for who you are' — the actor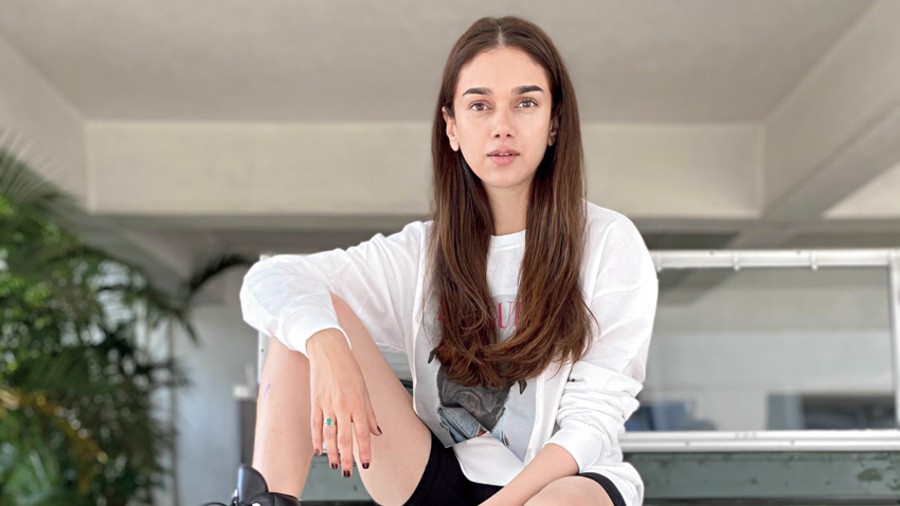 ---
---
Actor Aditi Rao Hydari has collaborated with Cancelled Plans to design a special limited edition that amplifies the brand's ethos of sustainability. Cancelled Plans was founded and launched at the London Design Festival in conjunction with London Fashion Week in September 2019 and celebrates the use of recycled and rejected materials otherwise deemed as waste. t2 caught up with Aditi for a chat on the collab, being comfortable in her skin and what she loves about being in the movies.
What prompted the collaboration with Cancelled Plans?
It started with a present I got from Mallika (Reddy, the founder of Cancelled Plans), which was a sweatshirt. During the lockdown, I went back to my family home and since I had flown in directly from shoot, I had very few clothes with me. I really like athleisure and I ended up wearing this sweatshirt all the time... I would just wash and wear it, wash and wear it, wash and wear it (laughs).
It went on till the day I actually called Mallika and asked her, 'Do you have more athleisure and co-ord sets?' She said she didn't, but she could make some for me. Then she asked me, 'Since we are doing this, can we make a line?'. And I was like, 'Ya, but it will basically be what I like'. And she told me to put in whatever I liked, whatever embodied me. It started very simply. We didn't have access to many colours and materials during the lockdown, and we made the line with whatever little we had.
You've said that this line is an extension of your personality...
I don't know how to design, I have never learnt it. So the idea with this was to do something I like and can relate to, or something that is a part of my world. Like the quotes that I have used are quotes that I have on my Instagram and WhatsApp profiles. These are lines I strongly believe in. So the collection is really an extension of me. It's not that someone gave me five patterns and I ticked what I liked... I actually sat on the ideation and we decided things. I can't stitch at all, but the whole visual creation, the idea of what to place where is something that I was completely involved in.
How important is sustainability to you?
The times that we live in, every human has to be aware of the kind of waste that we are generating and burdening the earth with. Once you realise how wasteful your actions are, that in itself will lead you towards practising more sustainability. It's important for every person and every family to make sustainable choices. Having said that, a lot of people think that only the privileged can have access to these choices. I don't think that's true, though I am aware that in many homes, sustainability may not be a priority... they need to put food on the table and educate their children. But I feel that every family can make sustainable choices in their own way and the way we can make these choices needs to be accessible to everybody.
I went to a school that talked about sustainability long before it became the buzzword. We had worming pits and compost pits and we did farming and collected cow dung. We had a limited set of clothes and we kept re-wearing them. We grew up around trees and we had respect for nature.
This collaboration happened during the lockdown. What else kept you going in those months?
Professionally, I actually did quite a bit of work last year. I had a few releases, and I also shot two projects. I started shooting in August itself and everyone at home was very afraid of letting me go to set. But I felt that I was lucky that I could, and I did it. Two of my films released on OTT platforms and they were both successful, which was a lovely feeling.
On a personal level, the lockdown made me realise priorities and how important time is, for people that you love and for the things that you love to do. We are just chasing things all the time. Not that I was typically that kind of person, but everybody, at some point, is like a hamster on a wheel... just running, running, running, running. These months gave me the time to breathe, watch, look, listen.
Priorities became very clear to me and I realised that we actually need so little. I have done (magazine) cover shoots during the lockdown with practically no hair and make-up. There was no access to stylists or clothes. Even this whole Cancelled Plans shoot was done during the lockdown. Mallika and I just did a recce, took photos on our iPhones, tried to figure out what time the light hits which spot, and the next day, we just went in with my cycling shorts and the line of sweatshirts and co-ords we had made and we just shot on an iPhone. The pictures are simple, and so is this collection... it's about recycling, upcycling, re-wearing.... I think we were genuinely sustainable while doing this collection.
You always come across as someone who is very comfortable in your skin. What keeps you centred?
I think it's because of the way I grew up and for the people around me. Whether it's my friends and family who treat me very normally... it's not the work that I do but the person that I am which is more important for them. That keeps me grounded. How I come across and what the world gets to see me as is the result of an amazing team that works with me. What I put out there is my hard work and my craft. So what do I have to be arrogant about? I think what keeps me grounded is that art — whether it's dance, music, acting, design — is far greater than the human. I truly believe in the fact that people will love you not for what you bring on screen, but also for who you are and what your intent is in everything that you do.
You continue straddling multiple movie industries. Has it been a struggle or is it the only way in which you can function?
I joined films because I watched Mani Ratnam's Bombay, and I just wanted to be a Mani Ratnam heroine... it was as simple as that (laughs). I didn't come from a background where I watched a lot of films, but it was so magical for me and I wanted to do it. I didn't know how, where, when, what, but somewhere I knew that one day I would have to do a Tamil film because that's the language Mani sir works in. I wanted to do a film with him in his language. Maybe because I never grew up watching so many films, so I didn't have the distinction of language in my head... films were films, they were stories. It's about what the story makes you feel.
I've always wanted to work with certain directors and actors, tell certain kinds of stories. It's never been about which language it's in. Having said that, it's of course been difficult. Though I am half south Indian, I don't speak many of the languages I work in, though I do understand them now. Maybe it's because of my dance background, where I have had the training that when there is a challenge, one needs to live up to that challenge. I am someone who will either do zero or I will do 100... if I believe in something, I will do 100.
Working in multiple languages has been rewarding for me. Some days I don't know what language I am speaking in, which city I am waking up in, it's very tough (laughs), but it's so much fun.
What is the best and the worst thing about your job?
The best part of my job is the kind of unconditional love I get. I love to be loved (laughs). I am very humbled by the kind of love that people give, they literally make you feel like a part of their families. There are people who write to me saying that when they were going through a bad time, something I have said in an interview or in a movie, really helped them. You feel, 'Oh my god! I can't imagine something that I say could affect somebody so much'. I feel it's less about me, and more about how open they are. That's so beautiful... to love somebody who you don't even know. Then, of course, are the other things... you get to travel, meet different kinds of people, if one is on a good set, it's so much fun because there are so many creative people working together towards one passion project. That energy is beautiful.
I try and not look at the downside because I am one of those perpetually optimistic people, much to the possible irritation of some people (laughs). I know there is good and bad everywhere, I choose to look at the good and I always count my blessings. If you start looking at the bad, then you go down the rabbit hole and there is no way out of that. If I really have to pick, then I would say that our lives are always under the scanner, and it can be a pressure, though I choose not to look at it that way.