Of lockdown, PPE uniforms, empty stands and more
'Just bite the bullet for these next three-four months and I am sure everything will get back to normal' — Sourav Ganguly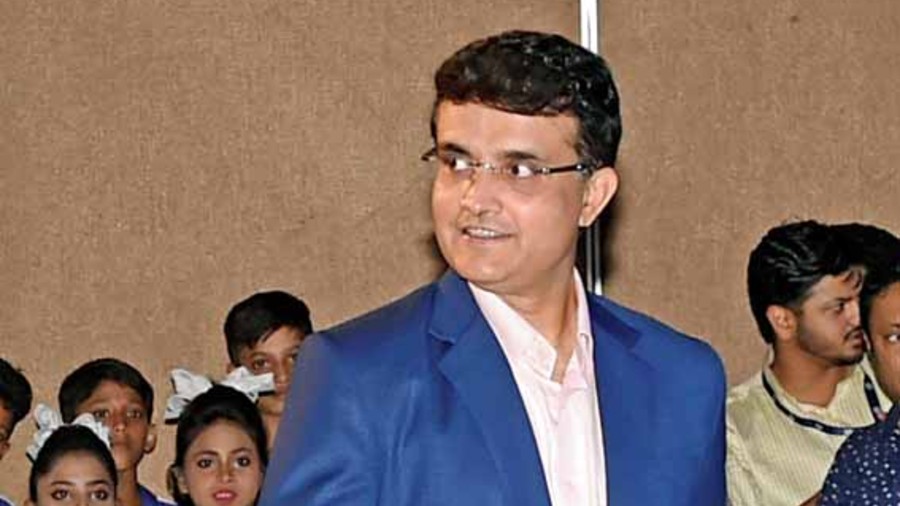 ---
---
The air hostess' PPE uniform makes him feel that he is flying to space, but the eternal optimist in him also makes him believe that mankind will triumph over the "biggest test" that is coronavirus. Sourav Ganguly. "Just bite the bullet for these next three-four months and I am sure everything will get back to normal," he said on a Zoom call as part of a Livinguard AG announcement on Tuesday. Sourav is now on board as the brand ambassador of the hygiene brand's masks and gloves. He chatted with The Telegraph on life in lockdown and the way ahead.
Though we aren't in a lockdown, the pandemic is still very much here and we are not back to our normal lives. What's life like now for you?
No, we are not. We are protecting ourselves through various ways like testing, masks, hygiene, gloves, handwashes…. That is also one of the reasons of associating with Livinguard, to make people aware that this is important. The messages needed to be sent out to the community.
You have been on the move for more than two decades of your life. How did you react to the world shutting down earlier this year?
Obviously we were in the lockdown for months, but we just had to get used to it. Once things started opening up, people were still apprehensive and didn't know what was in store, but then they got used to it. You look around and you'll find people have started stepping out. People will have to work and get on with life. That's the positive part of it. There is no medicine at the moment and hopefully the vaccine will be with us shortly. I am a firm believer that there will be an end to this. We will get back to our normal lives in a short period of time.
Was it welcome break or did it feel frustrating?
To be honest, I didn't mind it. I actually enjoyed it. I was at home. I trained at my own gym.

So, no work?
No, no… there is no question of no work. The world was also working from home. Running the board and working on video calls and getting things back in place. You realise that there is a life on videoconferencing also. I am fine with it.
We had to organise the IPL, which we did. A lot of adjustments had to be made to put things back in order.
Are you travelling much?
No, no… internally I haven't travelled much. I was in Dubai because of the game (IPL). Obviously it is not back to normal for sure.
There seems to be constant fear. Has this virus made you paranoid?
Yes, there is and awareness is also important. No, it hasn't made me paranoid, but obviously it has made me aware and be careful and safe.
You got tested 22 times in the last four-and-a-half months! That must have been uncomfortable…
It was, but I dealt with it.
What kind of compliments are coming your way post the completion of IPL?
When there was no cricket around, India successfully conducted the IPL. The credit goes to the entire team. We are getting back to our domestic cricket. England will be here and then IPL will be back again.
Were the empty stands upsetting?
That's okay. That's the new normal. It is a temporary thing. The crowd will be back. The medical part was the toughest.