Mirror, Mirror, on the Call
Armed with a smartphone, navigating a clutch of social media accounts, India's suburban youth are exploring new worlds. And their ticket is the profile picture. The Telegraph pieces together a trend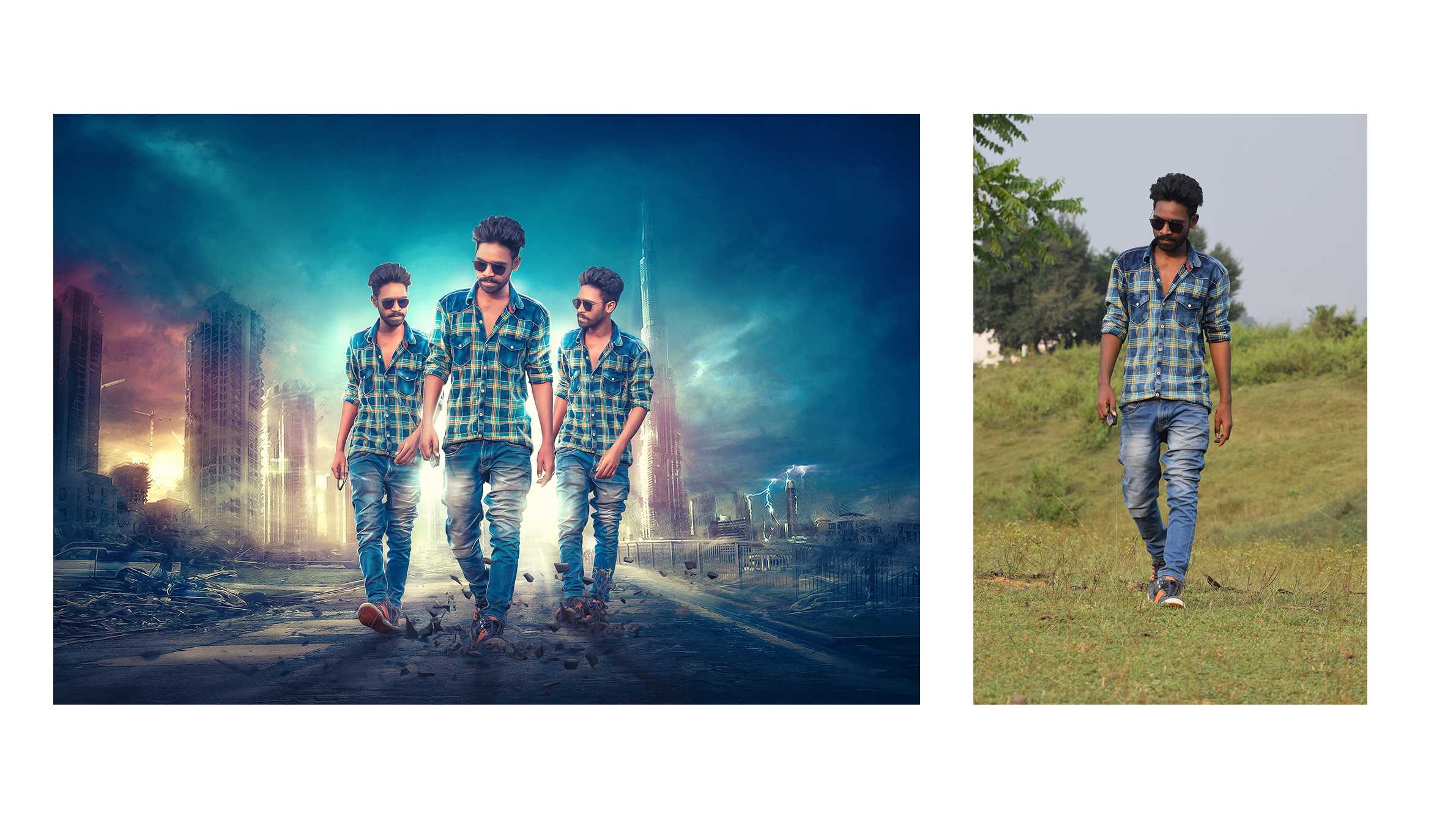 ---
---
A 20-something youngster standing in front of a red telephone booth typical of London. A waif-like woman dressed up as Shiva. Another young woman in a T-shirt that says "01 Queen"; in place of the girl's head is a heart with flaming red and indigo hair tumbling down. The first photograph belongs to someone who calls himself Arman Rock R-z. The second belongs to a Payel Jha (Angel). The third is of Lovely Sahnita. Going by these social media profile pictures there is no telling where the account holder is located, except that the profile information places Arman in Howrah, Angel in Darbhanga and Lovely in Magrahat.
Many of these photographs have a watermark, usually the name of the photo studio behind the smart profiles. Indranil Ghoshal runs one such studio in north Calcutta. He says, for the last four years most of his business constitutes "touching up" photographs of school and college students from Burdwan, Nadia, South 24-Parganas and Jhargram districts of Bengal to make them "social media ready", mostly Facebook and Instagram. This means lightening the skin tone, working on facial features and body structure. But more than anything else, everyone seems to want stylised backdrops. He says, "They want to unplug from all mundaneness and create a setting. Some just want to erase the real background."
But aren't there apps and filters for this?
There are and there is no reason to think that youth in suburban India do not have access to this technology. India's smartphone market is one of the fastest growing in the world. And reportedly tier II and III cities are driving this demand. A 2017 Mobile Internet report by Kantar IMRB states that higher SECs (socio-economic classes) have diverse service apps and use them, but the more budget-conscious segment with relatively lower capacity smartphones sticks to limited apps and usage categories. Also, if you were wondering about Internet users in these geographies, according to a November 2019 report by the Internet And Mobile Association and Nielsen, rural India has 227 million active Internet users — that is 10 per cent more than urban India's 205 million.
Indranil explains that while a lot of women use phone filters, the men do not want to be caught using such "vanity" tools. Subhash Hansdah runs the Lucky Photo Editing in Jamshedpur, Jharkhand. Like Indranil, he too calls himself a "photo editor". He says of his clients, "They are young and most of them want to become popular on Facebook."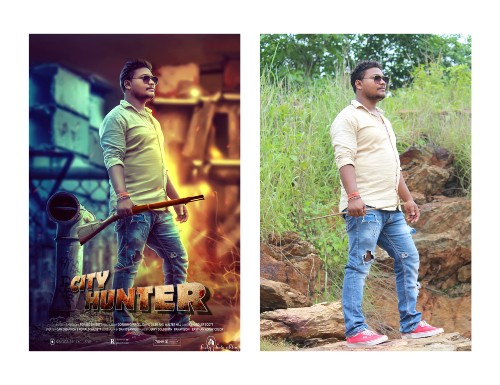 Subhash's own profile photos look like film posters; he has a whole collection that he keeps adding to and shuffling as testimonials of his expertise. He says, "I try to make the photo look real, at the very least the background should not be completely out of place." So, if there is a man with a stick in hand standing amidst overgrown bushes and boulders, he replaces the stick with an airgun, puts a blurred cityscape for a background and, hey presto, with City Hunter written in stylish sans serif and credits in small font below, it assumes the character of a film poster. He adds, "Some people make impossible demands — a polar bear or a tiger or an elephant for a prop — and I have to do it. One client asked me to set his photograph amidst a dozen girls. But there are ethical issues. I cannot just Photoshop random women into a photograph." His rationale for these impossible requests is this — "Un logon ko adventure se pyar hai."
Subhash seconds what Indranil said about profile pictures being baits for more followers on social media. "There is a craze for followers and likes," he says. Reason? As Lovely alias Tahmina puts it starkly and resolutely, "Amar like chai... I want likes."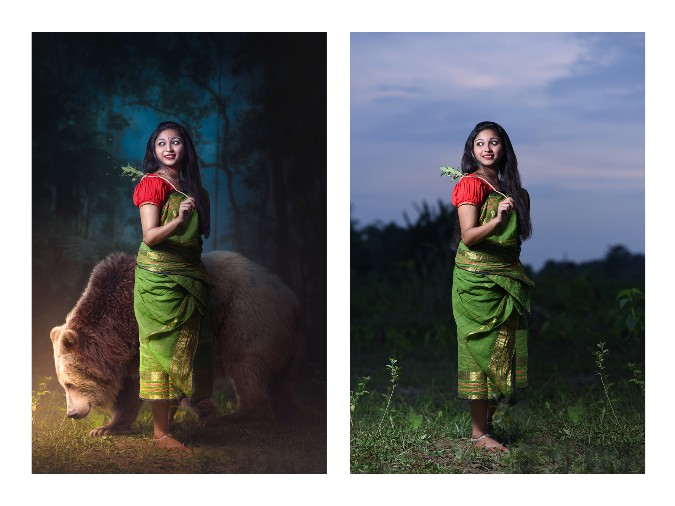 Subhash has been in the photo-editing business the last four years. No sooner than he graduated, he raised money, bought a second-hand laptop and started his "online studio". His clients are from all over India and all payments are made online. A year ago, Subhash purchased a new laptop with his earnings. During the lockdown, he says, his business has doubled. "Earlier I edited seven pictures a day. Now I edit 20 pictures a day."
Alongside being aware of the surging demand, he keeps abreast of the "world trends" through YouTube, films, sites of "international photographers" whom he cannot name and "Google search".
For many others, the obsession goes beyond a mindless harvest of likes and follows. Subhash says, "Young people spend anything between Rs 200 and Rs 1,000 because there are returns. This is one way of attracting agencies who place their ads on timelines and pay a fee."
Quick on the scent of the trend, local parlours have stepped up. Shahagir Shah, a 22-year-old from Diamond Harbour, has a Facebook profile picture of himself with a blonde flattop. The "garments dealer" claims this hairdo is a product of his own imagination, then concedes that the local parlour keeps a handy catalogue as well as magazines full of Hollywood styles. At some point, Shahagir sported the Honey Singh look. "Others like to copy Guru Randhawa, Music MJ and Badshah [all singers]," he adds. But he, too, has resorted to photo editors to alter his profile photo look. It is possibly less expensive an exercise than hair styling.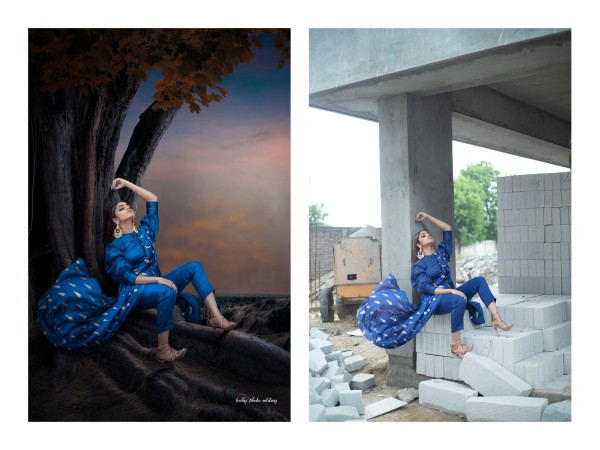 Shahagir's social media profile has cryptic descriptors and emojis. Sample this: "1 Man. Emoji of a muscular arm. Show." What does it mean? He replies with a swag in his voice, "It means I run the show on my profile single-handedly and I have a huge fan following." And what can these followers do? "They can fetch you a million likes if I so command," comes the reply and one has a vision of the old world parar dada, part-evangelist part-bully. In social media lingo, there is a word for this sort — social influencer. Among the incessant jottings beneath his profile descriptor, one sys "ownar of AK.47". Does he own an AK-47? Shahagir chuckles. "It is the name of a group I had floated. There were 47 of us." Its purpose? "We were in the business of making a post popular." Something Indranil said comes to mind, "Era local hero hotey chay... They want to be local heroes."
The language of appreciation is singular. A for admiration, F means full support, O means owesome, K for okay. Some of them add prefixes (Smartboy, Lovely, Loverboy) and suffixes (Angel, Queen, ABZ) to their names. While they may have their own hardwired logic, it is not always apparent to those outside their orbit. The end goal, too, is elusive in many cases, with just a hint of grey.
Lovely is 19 and a college dropout. She says her aim is to become a model, but thus far she has ensured that her face is not visible in her profile pictures. "Looks don't matter. I have the attitude that will make me famous." She talks about how social influencers lend a hand. It seems there are groups with Facebook accounts that accept friend requests on certain dates. She explains, "One has to pay Rs 200 to be accepted. In turn, the group ensures a particular profile gets a few lakh likes and followers." And how does that benefit anybody? She says, "Now that I have a few lakh followers, there are greater chances that I might be offered a music video or an ad."
Sohan Soren, who lives in Jadugoda in Jharkhand, has quit the profile picture craze a year ago. He reasons, "I am 29. I have responsibilities and a proper job now. Besides, this thing is time consuming."
Shahagir knows, "Yes, yes. I have to change my profile picture every week. One cannot become boring. That is not what we intend to be."