Abhijit Vinayak Banerjee talks about tennis, world cuisine and Bengal
Centenary celebrations of Calcutta South Club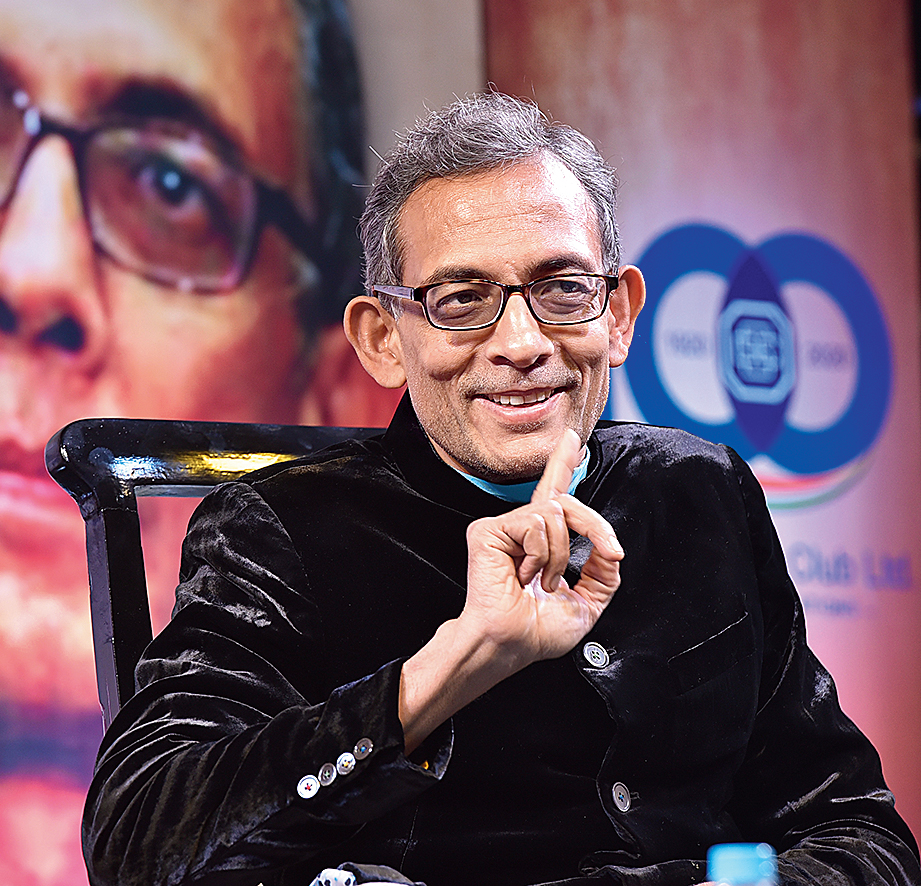 ---
|
Calcutta
|
Published 17.02.20, 10:57 PM
---
It was a meeting of different worlds at the Calcutta South Club Welcomes Dr Abhijit Vinayak Banerjee partnered by t2 on the evening of January 27, as people from all walks of society, including former and present players, politicians, consul generals and bureaucrats, gathered on the club premises to honour the Nobel laureate and to celebrate 100 years of the prestigious club. Moderated by sports commentator Boria Majumdar, the session came alive with anecdotes, sports trivia and... a wry sense of humour from the economist himself. Excerpts from the chat session:
Have you watched a match at South Club or played here?
Both. I think it was 1975 or 76 when I watched Vijay Amritraj play here. And I watched Premjit Lall play a doubles match with Jaidip Mukerjea.
Does this country give you hope at this point in time with what we are seeing in newspapers and television?
Always. We have to hold on to hope. I don't see a way without it. With a population of 1.3 billion people and with so much of talent, enthusiasm and human goodness here, it better give you hope. Yes, there are lots of things wrong with the country, there have always been lots of things wrong with the country. Sometimes we forget these things, sometimes we feel on top of the world and that things are now going to be okay. But that is not necessarily a bad thing.
You are an icon of society. What is Bengal to you now? What's your understanding of the state?
Bengal to me is not that different from the rest of India. It's easy to essentialise, to say that Bengalis have culture. I am only half-Bengali, half-Maharashtrian. I see only a little bit of the other side of it. To me it's all of a piece, that is enthusiasm. 'Let's do things, let's try things, let's be excited' more than things of historical greatness. Historical greatness bores me. We have great traditions... it's true... it's fine but it's boring. I value enthusiasm, I value trying new things and in that sense Bengal is similar in a sense to the rest of India. It's not a very big divide in those terms. Maybe this could offend Bengali sensibilities but I think what's valuable to Bengal is not valuable to India.
You cook every day. Give me a sense of your palate. What is your fave cuisine?
I cook everything. I will tell you what I don't cook. My wife is French... I don't cook French food. She's trying to encourage me to cook French food. Otherwise I cook Italian, Chinese, Thai, Indonesian, Indian, Peruvian. I have mostly finished writing a cookbook. One day possibly I will have a cookbook.
How did it happen? So many different cuisines...
I am very greedy... I like food.
Bengali food?
Yes, I cook Bengali food a lot. Specially when I cook vegetarian, I often cook Bengali food. It's one of the greatest vegetarian cuisines of the world. It's one of those cuisines where you can cook veg and have a whole array of flavours. And yet it does not quite have the conventional flavours of Indian food. A lot of Bengali food is flavoured by posto or shorshe bata or just vegetables flavouring each other like in a chorchori... you really don't put much to flavour it. It's a really different cuisine than from most of north India where you wouldn't let vegetables alone... you would clobber them with some onions, garam masala... it's one of those things that is very nice in Bengali food... there's a very deep appreciation of what vegetables taste like, what vegetables complement each other, what vegetables have water. A lot of the chorchoris are made with the idea that if I mix the right vegetables, the water from the vegetables will help cook faster. That's an idea we see a little bit in north Africa... but not so much in other places. We don't need so much water or oil. We just need to let the vegetables generate the liquid, the heat will release the water and will cook the vegetables. It's a very Bengali idea.
Any faves in tennis? Do you watch the sport?
I watch it a lot. My brother and I are real tennis addicts. We also talk a lot of tennis. Obviously who doesn't watch Federer or Nadal! or Djokovic! I like Alexander Zverev... even the young Russian, Karen Khachanov. He is excellent. He will come up.
We celebrate your success. How do you deal with failure?
I wish I would say there's a formula. One thing I don't do is that I don't brace for failure. I assume that I will keep going till I fail. I see amongst my students a fear of failure. That often leads to failure. It's important to understand that failure is a part of trying. Don't make it happen by anticipating it and therefore by not taking risks. Take the risk... sometimes you fail... sometimes you will be unhappy... that's how it is.
Has sport contributed to your intellectual energy at some level?
Maybe... it's a tough question. I haven't thought of it. I get bored with myself very quickly and as a result, we donated a ping-pong table to the economics department of the Massachusetts Institute of Technology. And I played ping-pong with all the students a few times.
What does Presidency College, now university, mean to you?
To me, Presidency was a great delight. I didn't like my high school, I thought it was a deeply anti-intellectual place. And at Presidency College it was a kind of open embrace of being intellectual. Even at MIT, it has this stereotype that all people there are the 'nerds' in high school and were laughed at. It is a home for people who are unabashedly nerdy. In high school, people used to think an IIT degree is the be-all and end-all of life but at Presidency it was an embrace of everything. It was a fabulous place to be.
Did you bunk classes at Presidency College?
Yeah... who didn't?!
Did you watch Mohun Bagan vs East Bengal matches?
I watched many a demolition of Mohun Bagan by East Bengal. I am a member of the Mohun Bagan club though.
You wore a bandhgala panjabi and a dhoti to the Nobel award ceremony. What was the motivation?
You had no choice. The letter said 'You have to wear a white tie, a cummerbund' ... a funny looking suit. I figured if I am going to do funny, I can do my own funny. There are so many interesting clothes in India... there was no constraint. I am sure I could have worn a loincloth and a T-shirt.
Has the Nobel Prize changed life in any way?
Me? Hope not. Life? Of course, in many ways. I am honoured and grateful. More selfies have been taken of me in the past three months than in my entire life.
What's next?
We hope this will open up more opportunities. Right now, I think we are very lucky to have received the prize as early as we got it. I am not young... my wife is very young to have received the Nobel.
You and your wife have worked together, taught together, won the Nobel Prize together. Give us a sense of working together.
We are very different people, which helps a lot. She is very good with details, I am not. She can keep a 100 balls in the air and remember all of them and choose the right ones to let drop and pick up the other ones. I am maybe relatively good at seeing the big picture, anticipating and planning for the long haul. We bring very complementary skills to the job.
AUDIENCE ROUND

You have said this country has skill but a certain type of system is needed. What is that system?

I was talking about academics. Academics with skill to be productive. There's a real need to create a community. There's a lot of talented researchers here but the problem is to get to the next stage if you don't have a community. It's always thin on the ground, the talented people are always isolated. It's important to build and concentrate resources.
Is questioning of the system encouraged enough in India?
As Amartya Sen said, we are very argumentative... we are willing to challenge. We ask lots of questions. The point is whether there's any follow-up. If you ask a question and don't engage with an answer, it's not useful. There has to be more commitment to the process. People do ask questions. The institutional forms of it... whether the media is free to ask... those are things we need to worry about.
Do you think you would have achieved whatever you achieved if you didn't go to America?
I don't know. If I had stayed in India... my sense is that... and this is not a statement on the Indian system... it's a statement on the limits of my talent. I am not Ramanujan... I could not have done something remarkable sitting in a government office... that's not me... I am not that talented. There's a set of people who benefit from lots of talent around. I learnt a lot from other people. And so I would have to be in a place where there were other talents. That's what makes me.