'Our society is regressive, TV reflects that reality'
Popular scriptwriter and chairperson of the state women's commission Leena Gangopadhyay on the importance of keeping it real even while entertaining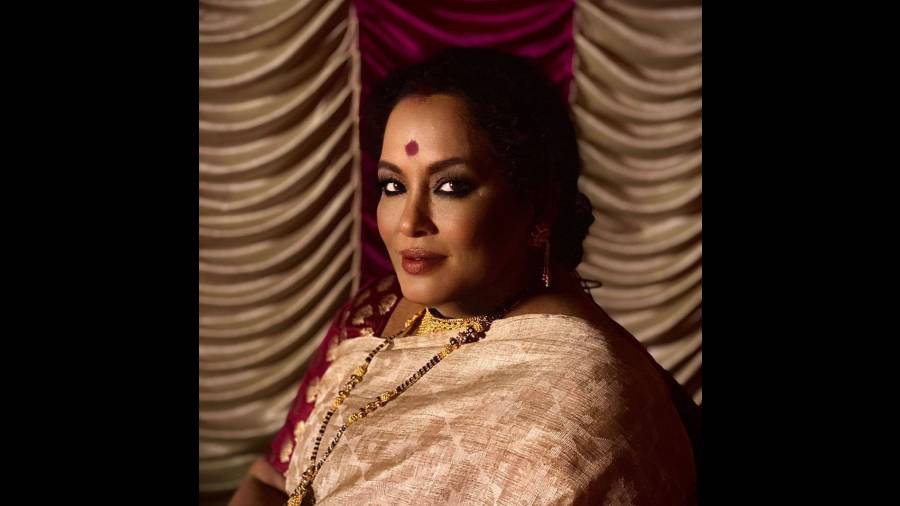 ---
Published 21.11.21, 12:12 AM
|
---
While the story was often called the real hero, the writer was always an anonymous entity in the world of Bengali television serials. Then Leena Gangopadhyay entered the scene. Today, she has five serials on air while the Hindi remakes of some of her work are riding the TRPs.
Indrani Halder, who plays the title role in Gangopadhyay's extremely popular Sreemoyee — the Hindi remake is Anupamaa — made her television debut in Tero Parbon, which aired on Doordarshan in 1987 and made serial-viewing popular. Serials based on classic fiction such as Bibhutibhushan Bandopadhyay's Adorsho Hindu Hotel and Sunil Gangopadhyay's Shei Shomoy followed.
The themes of the current crop of Gangopadhyay's serials range from a mother with grown-up children finally finding love to a girl from the suburbs running away from a forced marriage to complete her studies to a driver who aspires to be a rapper and a girl brought up by a single parent adjusting to life in a joint family. Not quite the forward journey from Gangopadhyay's 2010 serial, Binni Dhaner Khoi, wherein the woman doctor protagonist gave up the love of her life to work in the village.
Gangopadhyay, however, thinks we cannot really call serials progressive or regressive. "Writing for television is very different from writing novels. An author can be selfish but a scriptwriter will always have to keep her audience in mind," she says. Will they relate to this? Can they accept this? These are apparently some of the questions she keeps asking herself.
"You cannot always say what you want to say. Being able to slip in your point of view, saying what you want to say within the formula you follow... that is television writing for me," says the woman who has scripted more than two dozen teleserials in the last decade.
As she sees it, television has to appeal to a cross-section of people, "From doctors and scientists to house helps and daily labourers. So we have different characters, some attract this section, some the other," she says. And, as it turns out, sometimes even politicians. The late Somnath Chatterjee, the former Speaker of Lok Sabha, not only followed her work avidly but also provided regular feedback, she tells me. And rumour has it that chief minister Mamata Banerjee is also a fan.
Earlier, Gangopadhyay would concentrate on writing an entertaining story but these days she chooses her concepts more judiciously. "I decide on an area I want to highlight and I weave the story around it," says the 56-year-old former professor of Bengali.
One of her serials on air, Mohor, for example, is about a young girl from a small town who moves to the city. "A lot of girls from the suburbs come to the city to study, they have to struggle a lot. I have tried to capture that in the serial," says Gangopadhyay. "In each of my stories I like to explore a new area, something I haven't explored before. It keeps me interested. Just think how boring it would be to write about the same things again and again," she explains.
Mohor might feature a student who fights for her rights but it also features a joint family that does not approve of daughters-in-law who pursue a career. "Television is after all a reflection of society. You cannot deny what exists in society. Regressive points of view exist. That is why we have them in television serials," says Gangopadhyay.
"Television is a very strong medium. Don't you think we should use it to show the audience what is happening in society?" she asks.
Has becoming the chairperson of the West Bengal Commission for Women exposed Gangopadhyay to a whole new reality? "I wasn't keen to accept this post," says the woman who swears she will never join a political party, no matter what news the search engine throws up.
"Now I am glad. It has brought me out of my constructed reality and shown me a side of life that I would never have known otherwise."
That life, according to her, is much harder and more regressive than what she shows on television. "Sometimes I wish I could but it is too painful, the audience would not be able to take it," she says.
For her, the despair of hearing about a maid raped and killed at a New Year's party or the plight of an orphaned four-year-old is balanced by all the stories of hope she hears, such as when an acid victim reclaims her life. And she likes to attempt a difference.
"It gives me a deep satisfaction when I can solve the problems of the women who come to the commission for help," she says.
For Gangopadhyay, real life is often more dramatic than the soaps she pens.