No fault in those stars
A group of science enthusiasts took up the task of popularising observational astronomy and make people aware of various pseudo-scientific practices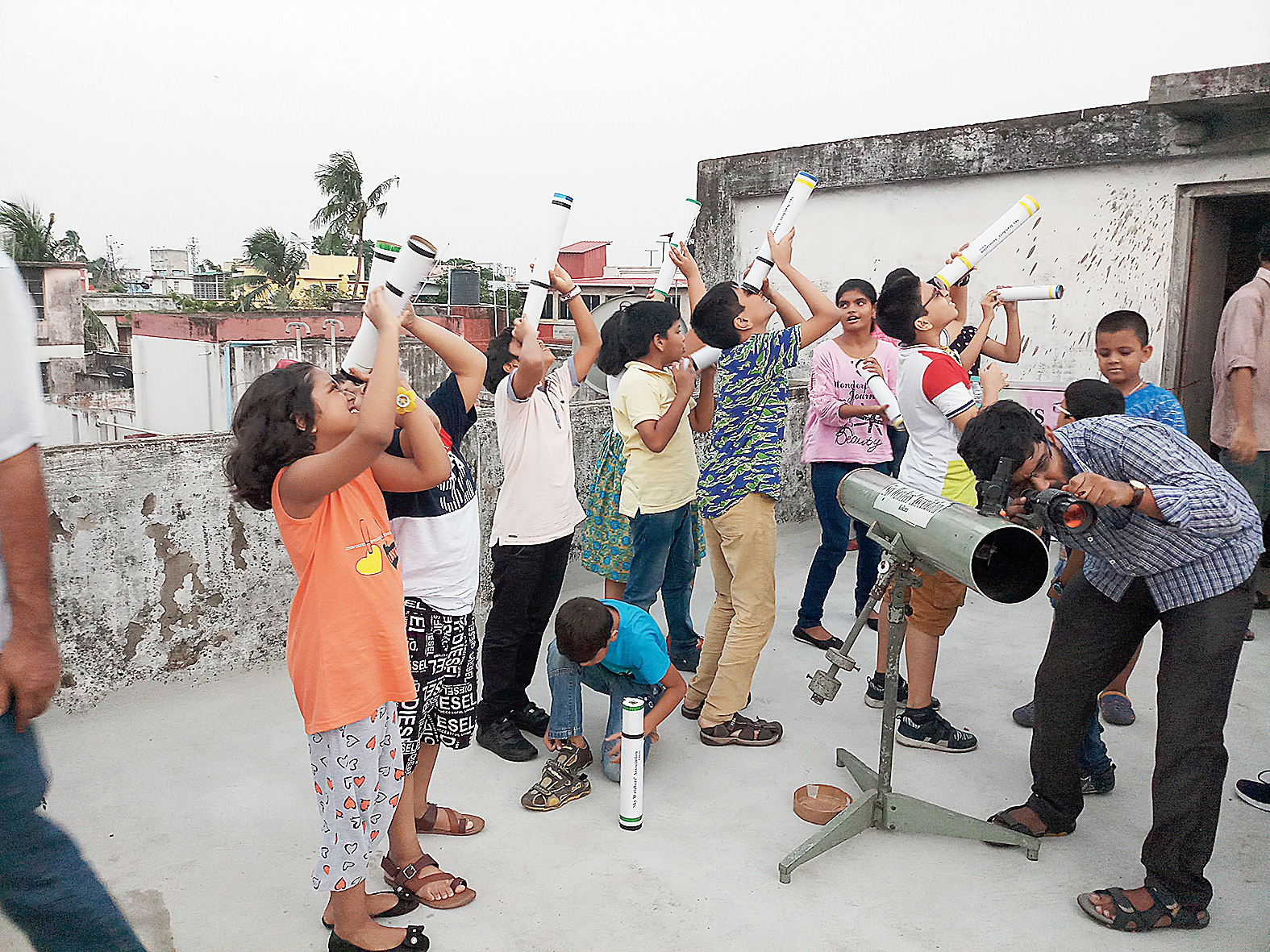 Cosmic connection: Young members of the Sky Watchers' Association
Courtesy, Sky Watchers' Association
---
Published 11.04.20, 10:19 PM
|
---
Had this been a year like any other, Dipankar Dey and gang of Calcutta's Sky Watchers' Association would have been busy organising one observation event after another for schoolchildren on a summer break. After all, there is no better time to spot the Big Dipper in the sky or to observe the Summer Triangle than the early summer months. And with some luck one might also sight planets not visible otherwise. The winter months had been packed with activities ranging from sky watching programmes in schools, college lectures, and overnight camps at places where the sky is clear.
The association is made up of amateur astronomers. Its objective is to popularise astronomy among common people. "We welcome everyone irrespective of age or educational background," says Dey, who is a schoolteacher by chance and a sky watcher by choice. He adds, "The criteria we stipulate are a rational frame of mind, a logical approach and an undeterred love for the skies."
It all started in the late 1970s — a time of a countrywide science movement — when efforts were made to increase public awareness through open science programmes and public lectures.
A group of science enthusiasts took up the task of popularising observational astronomy and make people aware of various pseudo- scientific practices. Says Dey, "The story of the Sky Watchers is really an epic adventure, a story of cosmic curiosity and perseverance."
The first president of the Association was the late Shankar Chakraborty, a man who pioneered the cause of science popularisation in Bengal through his numerous writings, public lectures and demonstrations. He was succeeded by Ashish Mukherjee, a marine engineer, and Gouri Prasad Ghosh, a professor of English Literature. The initiative, however, picked up pace a few years later, with the visit of the Halley's Comet in 1986.
Comets are considered bad omen by many but the science behind them has its own beauty. Halley's Comet is the only comet that is visible to the naked eye and can be seen twice in one's lifetime — it appears every 75 years.
In 1986, Soumen Mukherjee, a self-taught amateur astronomer, conducted public observations from the rooftop of his home in south Calcutta. Says Mukherjee, who is currently the association's vice-president, "We arranged sky watching events in many suburban and rural areas of Bengal, including a camp at Gangasagar." One such was also conducted at Calcutta's Birla Industrial and Technological Museum.
Over the ages, the association has evolved in terms of technology. Once upon a time it took Mukherjee and Rana Khan, another member, several months to prepare the concave mirror for a nine-inch reflecting telescope. Today, it has in its possession five reflecting and one refracting telescope.
Lessons are given on how to operate telescopes and how to handle them. Members and non-members are taught to read sky maps and identify stars, star clusters, galaxies and nebulae on the map and thereafter in the night sky. Lectures on astronomy and astro-photography are given.
The association also brings out books on astronomy, sky watching, history of calendars, and a monthly journal titled Sky Watching Guide. News of recent discoveries in the field of astronomy is reported in this journal.
Akash Dekhar Hatekhori (The ABC of Sky Watching), Akash Dekha (Sky Watching), Calendar Katha (All About Calendars) are the books written by Soumen Mukherjee; Golpe Golpe Akash Chena (Stories to Know the Sky By) is by Basudev Bhattacharya, the association's president, and Mahabiswe Mohakashe (The World of Space) is a popular work by Gouri Prasad Ghosh. The association also has a library.
Says Titas Bhowmick, a bank official and one of the younger members of the association, "Be it information related to naked-eye observations or observations with a telescope, you will find everything necessary and much more here."
And what does she find in the skies that is not there on the ground? The 30-year-old replies, "Order and beauty." And after a pause, "…and the inspiration to labour on."