Musician Lorde isn't chasing hits
She's following the sun with her upcoming album, Solar Power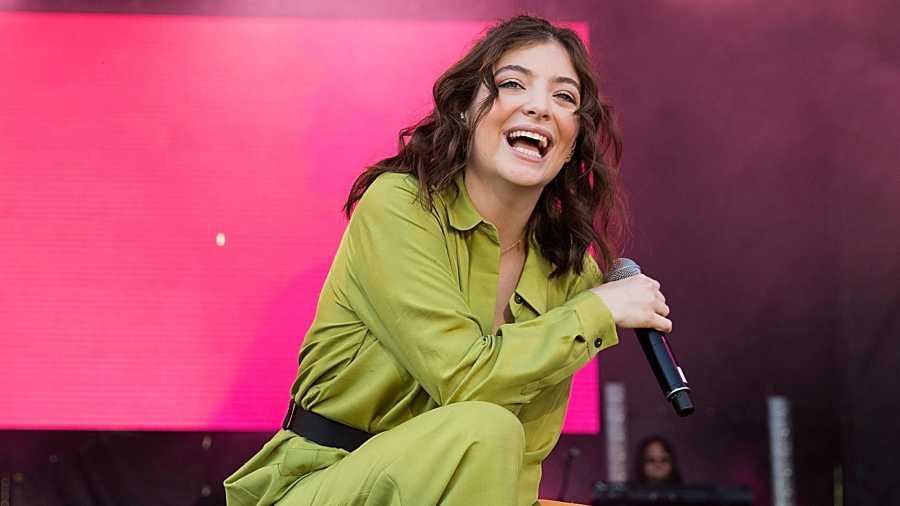 Lorde
Sourced by the correspondent
---
Published 16.08.21, 12:04 AM
|
---
It can be tempting, upon spending any extended amount of time around the musician Lorde, to wonder what is wrong with her.
That is, where exactly does she hide the bad parts, the off-notes, the unflattering bits of any personality that poke out awkwardly, especially after experiencing a trajectory as strange as hers? No one, famous and feted at 16, could possibly be so well-adjusted. Right?
It's not even that the singer and songwriter born Ella Yelich-O'Connor, now 24, presents as especially perfect, or self-assured or immune to criticism. It's not that she doesn't suffer from second-guessing, insecurities, bouts of vanity, impatience or mindless cellphone scrolling.
But Lorde — the human and the artiste — can usually be found one step ahead, intuitively and emotionally, having thought through her reality from most angles: how something felt to her, how she might express that, how it will be received and how she might process how she was interpreted. This is a skill set that many people who become known like she did — as a gifted small-town teenager with an out-of-the-gate smash success — can feign pretty well. But few do it as convincingly.
"I know enough to know that people in my position are symbols and archetypes and where we meet people, in the context of culture and current events, is sort of outside of our control, so I try not to fret too much," Lorde said recently, with characteristic consideration and Zen, ahead of the release of her third album.
"It's a very funny position to be in," she acknowledged. "It's absurd."
But it's this sense of perspective and self-awareness that has kept Lorde going in an often unforgiving industry. In fact, she made an entire album about finding balance.
Helping to usher in a generation Solar Power, out August 20, is what happens when a pop star outwits the system, swerves around its strange demands, stops trying to make hits and decides to whisper to her most devoted followers how she did it. For Lorde, the trick was having a life — a real life — far away from all of this. And also throwing her phone into the ocean. (A therapist didn't hurt either.)
After the reign of Royals, her first single — which spent nine weeks at number one and won two Grammys — and her three-times platinum 2013 debut Pure Heroine, Lorde took four years to release a follow-up. Her second album, Melodrama, in 2017, paled in comparison commercially, but it realigned out-of-whack expectations, establishing the singer as a phenom-turned-auteur, earning her rave reviews and another Grammy nomination, this time for album of the year. Then she hoarded four more years for herself.
Along the way, Lorde became an industry blueprint for a sort of world-building, precocious wallflower singer-songwriter, helping to usher in a generation, including Halsey, Billie Eilish and Olivia Rodrigo. But Lorde hasn't really stuck around to see it.
"I went back to living my life," she said of her recent hiatus, identifying as "a hothouse flower, a delicate person and a massive introvert," drained after a year-plus of promotion and touring for Melodrama. "It's hard for people to understand that."
"The question I've gotten a lot recently is, 'What have you been doing?'" she added. "I'm like, 'Oh, no, no, no — this is a break from my life.' I come back and perform these duties because I believe in the album."
Even now, with the obligations piling up ahead of Solar Power, Lorde scheduled a weeklong beach vacation with friends, and used a scheduled interview as an occasion to multitask, walking to buy a tote bag full of nice cheese for the trip.
Most of the last four years, though, Lorde lived as Ella among the greenery and waterfront splendour where she was raised, in and around Auckland, New Zealand, working to figure out her boundaries.
A friend from home, Francesca Hopkins, said, "That whole Lorde thing doesn't and hasn't really come up. I've probably said the word 'Lorde' maybe like — I can count it on one hand."
The singer also began the process of addressing her Internet addiction, inspired by books like Jenny Odell's How to Do Nothing and Annie Dillard's Pilgrim at Tinker Creek.
"I would see my screen-time go to like, 11 hours and I knew it was just looking at the Daily Mail," Lorde said. "I remember sitting up in bed and realising I could get to the end of my life and have done this every day. And it's up to me to choose, right now. So I just sort of chose."
'I am aware of the way people look at me' It ultimately took more than that: Lorde's phone, set to greyscale, now has no Internet browser; she is locked out of her social-media apps, with others handling the passwords; and a coder friend even made YouTube inaccessible on her laptop.
Instead, she cooked, baked, walked the dog, swam, gardened — chilled, in other words — while she waited to see "if anything else worth writing about happened." But it turned out that it already had, especially when woven in with her current existence.
On The Path, the shimmering opening track of Solar Power that she wrote early on as a sort of thesis statement for the album, Lorde describes herself as "raised in the tall grass," but also a "teen millionaire having nightmares from the camera flash." "If you're looking for a saviour," she warns, "well that's not me." But she offers a heady alternative: the sun.
"I'm aware of the way people look at me," Lorde said. "I can feel the huge amount of love and devotion that people have for me — and for people in my position — and straightaway, I wanted to be like, 'I'm not the one that's worthy of your devotion. I'm essentially like you.'"
She continued: "My kids — my community — they're expecting spiritual transcendence from me, from these works. 'I need Lorde to come back and tell me how to feel, tell me how to process this period in my life!' I was like, oh, man, I don't know if I can help you with that. But what I do know is that if we all look up here, it's going to help you a lot!"
Playing with the role of pop star as messiah, she embraced the character of cult leader in song, proselytizing about the natural world.
But Lorde also knows that these fixes come from a place of privilege, overlapping as they do with some of the more obvious tenets of modern wellness culture (which she also skewers on the album): Go outside. Spend time with your family. Turn off your phone. Hang out with your friends.
What keeps Solar Power from feeling didactic or oversimplified are lyrics in which she satirises her own experiences, grounding it in gossipy bits of detail and cutting lofty takes with humour, like when she interrupts a fragile treatise on aging with the line, "Maybe I'm … just stoned at the nail salon."
The artiste who once sang dismissively and from a distance about celebrity culture now notes her "trunkful of Simone and Celine" and time spent in hotels, at the Met Gala, the Grammys and on jets. "I've got hundreds of gowns, I've got paintings in frames," she sings on The Man With the Axe. "And a throat that fills with panic every festival day/dutifully falling apart for the princess of Norway."
But opting out, Lorde makes clear, just feels better. "Goodbye to all the bottles, all the models, bye to the kids in the lines for the new Supreme," she adds on California, coming full circle back to her Pure Heroine ethos.
Lorde knew she needed a proudly out-of-touch sound to match her subject matter and sense of disconnect. She found the "twinkly" aesthetic for Solar Power by combining '60s and '70s influences like the Mamas and Papas and Bee Gees with often-maligned artists from her youth that represented what she called "turn-of-the-century beachside optimism": All Saints, S Club 7, Natalie Imbruglia, Nelly Furtado.
Once faithful to electronics and allergic to guitars, Lorde employs only a single 808 drum machine on the entirety of the album, in a section meant as a self-referential throwback. "There's definitely not a smash," she declared of her commercial prospects with a cackle. "It makes sense that there wouldn't be a smash, because I don't even know really what the smashes are now."
She vowed to never again reach for the heights of Royals. "What a lost cause," she said. "Can you imagine? I'm under no illusion. That was a moonshot."
But she's found an ally in experimentation and Billboard-agnosticism in the producer and songwriter Jack Antonoff, with whom she also wrote and produced Melodrama.
"You make your first album with an amazing amount of joy because nothing exists," Antonoff said. But he recalled the looming pressure that preceded the second Lorde LP, which resulted in the pair tucking themselves away to avoid the glare and resulted in the intimacy of Melodrama.
Solar Power, he said, came from a renewed sense of freedom. "The third album is a great place to do it — to wake up and be like, 'I really love this work and I'm so lucky to be here.' You just sort of reconnect with it. There was a lot of that."
Lorde agreed. "I felt like I could just chill out and flex a little bit," she said.
'Something that's really digestible' Yet, it's in the context of Antonoff that Lorde expressed the closest thing to angst she could muster. Specifically, she took issue with a growing contingent of fans and critics who lump together the producer's extensive work with other female pop artistes — Taylor Swift, Lana Del Rey and Clairo among them — reducing Lorde to yet another mare in what she refers to, with some edge and more humour, as "Jack's stable."
"I haven't made a Jack Antonoff record," the singer said. "I've made a Lorde record and he's helped me make it and very much deferred to me on production and arrangement. Jack would agree with this. To give him that amount of credit is frankly insulting." She called the narrative — which has also included speculation about the pair's romantic and sexual life — "retro" and "sexist."
"I know that there are certain hallmarks of what Jack does and some of those things I really love and some of them I don't like. And I beat them out of the work that we do together," she added. "I say this with so much love and affection, but I feel like we're doing up a house together and he's like, 'Look at this serviette that I fashioned into the shape of two swans! Look at this set of woven baskets!' And I'm like, 'Great — one per room.'"
At a recent rehearsal for a late-night television performance, Lorde was clearly in charge and attuned to the details. Upon arriving, Antonoff warned that his guitar playing would be "pretty loose."
"How loose?" Lorde responded. Later, she paused singing to listen more closely to the arrangement. "My only thing would be to nail you a little bit more to the recording," Lorde offered, with the bluntness afforded by a seasoned partnership.
"Pretty, though!" she added.
"No one who's in a job that isn't my job has a relationship like the one I have with Jack," Lorde said later. "He's like a partner to me. We're in a relationship. It's not a romantic relationship, but we've been in it for seven years, and it's a really unique thing, so I don't begrudge people maybe not being able to understand it."
She was trying to keep the same mindset for the release of Solar Power, she said, returning to the idea that she was "very, very reconciled and at ease with things like public perception. It's just not rocking my boat these days." "I would almost value people not understanding it at first," she said of the album. "It sort of depresses me when an album comes out and I click through it really fast and I look at the Genius and read all the lyrics in three minutes and I realise I know exactly what it is and it isn't going to grow."
"I think I'm still giving something that's really digestible," Lorde added with a smirk, "but it's my pleasure to confound. I'm down to be that for people."
The New York Times