Muse on the evolution of their music and fan support
Chris Wolstenholme and Dominic Howard of the English rock band get candid about audience support, Kolkata and more…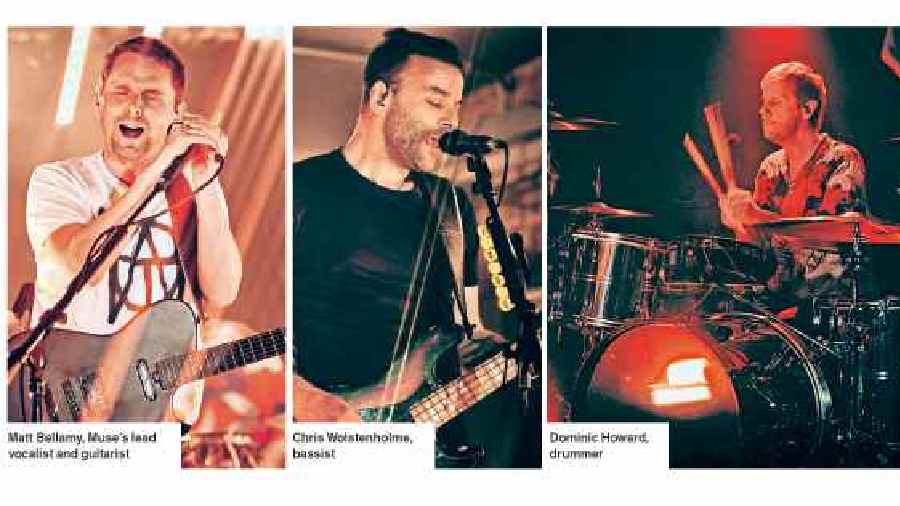 ---
Published 09.08.22, 02:59 AM
|
---
English rock band Muse has always been on the bucket list for many music lovers and it turns out they "desperately" want to visit India. Till that happens, the band walked down memory lane as Jim Beam Welcome Sessions reconnected them to their fans. Starting last month, the campaign kicked off with an intimate Muse hometown concert at The Cavern Club in Exeter, England, hosting the band's loyal community of fans and friends. This was the club where the band had essentially taken off in their college years. After this the band will be part of a 360-degree music campaign designed to connect fans and celebrate the power of live music. The programme will be brought to life throughout summer, featuring live events, an exclusive content series and a first-ever Welcome Sessions Live concert at Jim Beam's Kentucky Distillery. While that happens, here's a chat with Chris Wolstenholme and Dominic Howard of Muse.
What made Muse sign up with Jim Beam Welcome Sessions?
Chris: We really like the idea of a concept within the community and I guess it kind of reflected back on the early days of the band and what the local community meant to us and how that influenced our career... and how it got us started. The kind of people that we were surrounded by in the early days. I guess to some degree those people in that community is what kept us going, what gave us the drive to continue. I think a  band is really lucky enough to have that and we were lucky in the sense that we had a lot of friends and friends of friends who would come watch us play but we were very young. When we played at the The Cavern Club in Exeter, it was actually those things that turned into quite an event. We would play there once a month and I think the first few times we played there, there was just a small handful of people there and over the course of three or four years it kind of grew into this... 200 to 250 people would show up which was great for a band who were children in college (laughs).
Dominic: It feels great to be a part of Jim Beam Welcome Sessions. It's a project that makes a lot of sense to us and something we really relate to. And going back to the Cavern Club where we did our first gig and the gig that Jim Beam filmed... that's where it all started for the band. So the sense of local community was very important to us back in those days when we used to play in that venue. So doing this project makes sense to us because we come from a very small town there's not a lot going on so the musical community for us back in the day was everything.
You did receive a good supporting audience....
Chris: We were lucky to have a good network of people. Close friends, who supported the band during  that time, which is a difficult time for a lot of bands. That stage of being in a band is career defining and you go through some tough times and you go through some periods where you feel no one is interested in what you are doing, no one wants to come see you. And we were lucky that even if we went to other places where no one would come see us we would just go to The Cavern Club where there will be about 300 people.
How important are such platforms to connect you with your fans, especially since we have been locked in for almost two and a half years?
Chris: It is really important. We were kind of lucky as a band, we have been around for a very long time, people know who we are... some people. But particularly for other bands I felt kind of sorry for them, a lot of bands that were sort of on the verge of breaking through when Covid happened. It's such a crucial point of the career for a band. If you're just on the verge of releasing your first record, or first single or going on your first tour... to have that taken away from you... that has to be absolutely devastating. It took us five years of hard work before we got to the stage where we could go on tour or sign a record deal and I guess having social media, it means you can still do something. And also the technology in itself means that bands can still operate and make music together and still be a band if you are not physically together. And that is one thing that a lot of musicians have learned in the last couple of years. If it happened 30 or 40 years ago, it would have been worse and everybody would have felt completely cut off. Are you aware that in Kolkata there is a strong community for live rock music? Have you heard anything about it?
Chris: I haven't really, no! I don't really know about a lot that is going on in India but all I know is that I desperately want to come to India. It would be great to come and play in India; my wife and I have frequently spoken about coming to India anyway. It's just one of the places that is on our list of places where we really want to go. So hopefully one day we will be able to come and play, have a bit of a holiday and check the place out. I am desperate to go to India.
Coming to the band, you have been active since 1994, so all of these years how have you seen the band evolve?
Dominic: The band has grown so much since the mid '90s (chuckles). We used to be really quiet and subdued in our performance on stage but now it's quite overblown and theatrical. Musically, we were quite minimalistic and trashy when we first started. It was a bit more like punk in places, minimalistic instrumentally as well. But now we have opened up so much with different types of musical influence, instrumentation and not being afraid of experimenting musically. That's been a real wild journey so far and I am happy we have done that and not stayed in one style.
Over the course of time would you say you have changed your sound as a band, like many other musicians have too?
Dominic: Yeah, I would say we have changed our sound at times by essentially exploring musical sounds that are different from what we're used to. Our first album was kind of mellow compared to what we actually were because what we actually were was a heavier rock band. The second album became much heavier and rock sounding, I suppose... more riffy. And then more classical, romantic music, piano music, orchestra music started having an influence on the band as did electronic music  and different styles of music. But I don't think we shifted in one way. We just evolved over time and tried out lots of stuff. As a music fan, the bands that do do that are normally my favourite bands... who kind of try anything out.
Your latest song Kill or Be Killed is supposed to be one of your hardest songs yet; it draws inspiration from Paul McCartney's Live and Let Die. How was this conceived?
Dominic: We were just in the early stages of working on our ideas. We were just jamming on that riff in Los Angeles And it was just a fun exciting riff to play straight away. The riff was a bit different though, it was a version of it. Did not have any chord changes in it. It was basically just the riff. So we stayed on that for ages and we're like, "This is fun." (Laughs). That was the first sign that it was going to turn into something because it was enjoyable to play. I just recently got a double bass drum paddle for my drum kit which is something quite new for me and I don't really know how to use it. So I started messing around with that and that gave it a slightly different characteristic to the sound which we haven't done much before. And that's how it started. It sure is one of our heaviest proggy-type tracks we have ever done.
Pictures: Sam Grant