Milletary Rule
The story of a reversal that may yet rescue Indians from being hungry and undernourished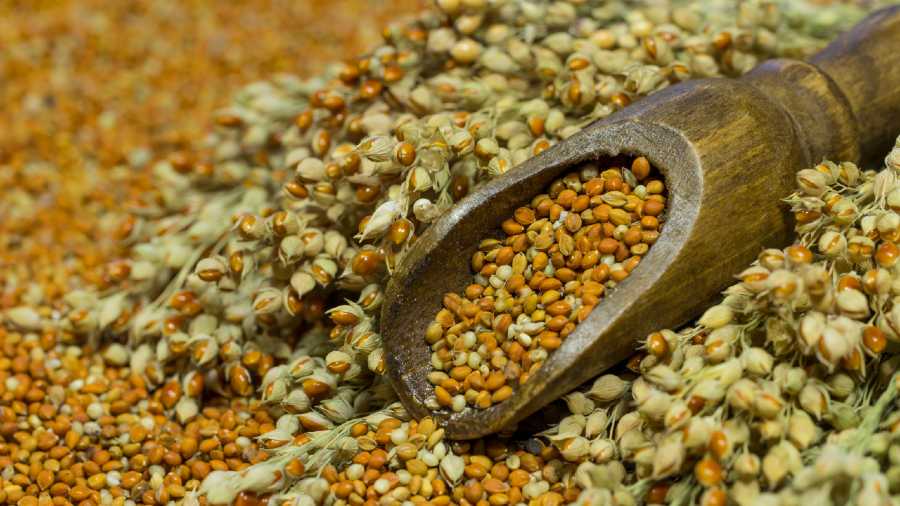 ---
Published 20.03.22, 12:58 AM
|
---
I first tasted kodo, a coarse foodgrain, when I was barely seven. It was at the home of our Adivasi domestic help in Piska, a roadside railway station near Lohardaga in what was then southern Bihar. The porridge she cooked with kodo, jaggery and a bit of salt tasted much better than the gruel I was force-fed for breakfast. When I told her this, she said, "We eat kodo because we can't afford rice or wheat. It's a seed of grass grown in the wild."
Years later, while travelling through Odisha's Balangir forests, I spotted similar stalks of grain strewn out to dry on the metalled road. My fellow traveller, a botanist, told me that those stalks were panicles of cow grass or ditch millet, one of the most ancient foodgrains grown in the tropics and sub-tropics — India, west Africa and east Asia.
That was in 1993. The area was notorious for famines and starvation deaths. I remember being told ditch millet is one of the coarsest foodgrains and grows almost anywhere.
I found mention of ghaser beej  or seeds of grass in Bibhutibhushan Bandyopadhyay's classic, Aranyak, based on his 1928-sojourn in a zamindari estate near Bhagalpur in Bihar. In it, the master storyteller describes his association with the poor villagers of Labtulia, Phulkia, Baihar and so on. He learnt that rice was sheer luxury and they mostly survived on grains of cheena ghaas.
Such seeds of grass apparently constituted the food of rural people during the 1943 famine in Bengal. When I spoke to famine survivors of West Midnapore and the Sunderbans, they corroborated this. They mentioned mylor dana (grain sorghum), bulga (sawa millet) and shyama ghaser beej (seeds of jungle rice).
Travel writer Jagannath Ghosh journeyed extensively across the arid zones of Bengal, Jharkhand and Chhattisgarh between 1970 and 2010. He had seen villagers survive on kutki, kangui and sawa. People in Amlashole, West Midnapore —  where nine people died of starvation in 2004 — lived on marua ghas (finger millet).
I realised much later that these seeds of grass actually belong to a large family of millets. These coarse grains used to be the staple in large swathes of arid India and have for centuries helped people stave off famine or starvation deaths. But from the mid-1970s and after the Green Revolution, the Indian government focused on high-yielding varieties of rice and wheat, cutting down cultivable fields in which the coarse cereals were grown. Year after year, bumper production of rice and wheat, and subsequent distribution of those grains at a highly subsidised rate through public distribution systems (PDS), added the staple of luxury to the diet of even the poorest.
Starvation death rates have come down in the past few decades, but the 2021 Global Hunger Index (GHI) reflects the precarious situation of hunger in India — 101st out of 116 countries. In 2020, it ranked 94th. And yet, India is the world's second largest producer of rice, wheat, groundnut, sugarcane and vegetables. Theoretically, India is self-reliant in the production of major crops and it is also home to the world's largest food safety programme. There is also a National Food Security Act, 2013, which stipulates that up to 75 per cent of the rural population shall receive subsidised food grains via the PDS.
According to the National Sample Survey (2011-12) for consumer expenditure, two-thirds of Indians — 500 million people — are deficient in protein and nutrients such as Vitamin A, iron and zinc.
"This shows that despite the bumper food production and elaborate food safety schemes, large numbers don't have enough food and the food they consume fail to address undernutrition," says researcher and social activist Kumar Rana. The food policy working through the PDS seems to exacerbate nutrient deficiencies by encouraging rice and wheat consumption over coarse cereals.
The obvious solution to the hunger problem is to offer more flexibility and opportunity to poor families to diversify their diets. Some experts had suggested fortification of rice or wheat with nutrients, such as iron or Vitamin A, through genetic modification. But, compared to these, it will be easier to shift people's diet to those ancient "seeds of grass".
Recently, India's ministry of education decided to include millets — such as jowar, bajra and ragi — in mid-day meal schemes in schools to address the "critical levels of malnutrition and anaemia" among children. As per the National Family Health Survey IV, 38 per cent of children around five are stunted and 59 per cent anaemic. That millets are nutrient-rich cereals loaded with proteins, minerals, vitamins and fibres dawned on our policymakers quite late.
In 2018, the Centre decided to distribute a variety of millets in some states via PDS; a National Millet Mission to increase productivity was also launched. Last year, the Niti Aayog entered into an agreement with UN World Food Programme to extend cultivation and distribution of such millets.
Plant scientist Arun Lahiri Majumder at Calcutta's Bose Institute says millets are "orphan crops". They aren't traded internationally, and tend to get less attention in terms of research. Hyderabad's International Crops Research Institute for the Semi-Arid Tropics, he says, has taken up extensive research on millets. In this era of climate change, which has distorted our weather and rainfall patterns, millets are a life-saver for many farmers. A millet plant needs 2.5 times less water than paddy and has a cultivation cycle of 70-100 days, as compared to the 100-180 days needed by rice.
Kumar Rana, who grew up among Adivasis in West Midnapore, loves the taste of kodo kheer cooked during festivals. He says, "It's tastier than rice kheer." Not just Rana, many urban Indians are  re-discovering the virtues of millets as nutraceuticals — low in calories and high in micronutrients that help fight diabetes and high blood pressure.
Struggling against the upstarts — rice, wheat and corn — the ancient grains have eventually survived as the fittest.