Habrapahari is only 100 metres away from two stone quarries that lie on either side of a narrow clay road. According to local folks, the village shivers from time to time from the impact of dynamite blasts in the quarries.
It is the Deocha-Pachami headlines that have brought me here — "Rehabilitation package priority for coal mine project", "Six special initiatives for the benefit of the tribal population" and so on. In June 2018, the Union government had allotted the Mohammed Bazar coal block to the West Bengal Power Development Corporation Limited. Last month, Bengal chief minister Mamata Banerjee announced packages for the rehabilitation of 21,000 people. Once they move, mining activities will begin.
According to the state government, this would mean the displacement of people living in 18 villages across 11 mouzas. "No one can tell the exact numbers of villages that will disappear, but the area has 70-80 villages," says Khokon Mardi, a local activist. Every village has around 350-400 people, which would mean 28,000 to 32,000 people impacted.
As I walk down the clay road barely 10 feet wide, I become aware of the murmurs behind me. I turn back and there are four men. Ten more steps and I glance back and there are 10 of them now. Five steps and a glance back reveal a swarm of villagers, all maskless. (I am told there is no coronavirus here.) An elderly man comes forward and asks: "You have come for the survey from the BLRO (Block Land Records Office) office, right? To ask if we will part with our land? We will die but we will not give up our land."
The murmurs now turn into distinctive voices; they belong to Chumki Mardi, Miru Mardi, Raimat Hansda, Chhitemuni Mardi, Rani Mardi. "We will not leave our homes. We will fight until the end," says Chumki.
The tribals are the first people of the land but most of them do not have papers to prove ownership; some of them have over the years procured pattas or land deeds. At the time of the BLRO survey in 2018, the state government had asked each family to submit papers proving ownership. Says Chhitemoni Mardi, 80, "That was the time when the NRC-CAA issue was raging. Are we refugees? Why do we have to show papers?"
Mohammed Bazar block is made up of 43 per cent Santhals, 15 per cent Muslims and 37 per cent OBC and other Scheduled Castes. "We fear the entire block will be razed," says Khokon. The area has huge reserves of black rock used extensively in real estate. That explains the stone quarries and "cashers" (localese for stone crushers) dotting the area since the 1970s. Says Mongol Hansda, "Those days no one asked us anything when they took over our land. But this time we will not let that happen."
Of the countless stone quarries, 70 per cent is owned by private parties and 30 per cent by the state government.
Actor Parambrata Chatterjee has been anointed head of an advisory committee. He says, "It is primarily an ethics advisory committee that will collect feedback so that no one's interest gets hampered." Recently, this committee met in Nabanna.
Pargana Besra, who we meet on our way to Sagarbandhi, says, "We have a majhi haram (village head), panat (district head) and dishem majhi (country head); the government will have to come here and speak to us in Santhali."
As we — local guides Rocky Das and Mohon Mondal, and I — ride down the highway, we are intercepted by lorries and dumpers. In less than a minute, 10 dumpers go by. "My friends in Lichinpur will have to relocate. I have heard," says Tapan Mondal, a tea-stall owner. But have they been served notice?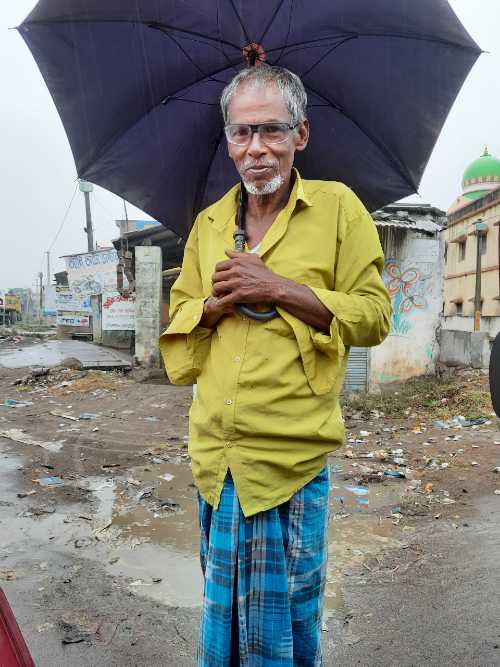 Habidul Sheikh used to work as a labourer in the stone quarry a decade ago. Moumita Chaudhuri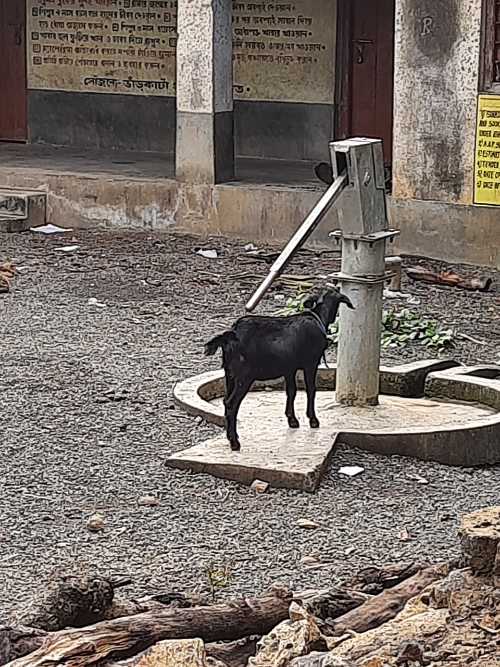 This deep tubewell Jetkapara is the only source of sweet water in villages with at least 120 families. Moumita Chaudhuri Bablo Khan has been working in a stone crusher depot for two decades. He says, "It is raining so the workers have kept aside their auzar or tools and are resting. Or else the crusher runs from 9am to 6pm every day all 365 days. Where is the time to rest?" Moumita Chaudhuri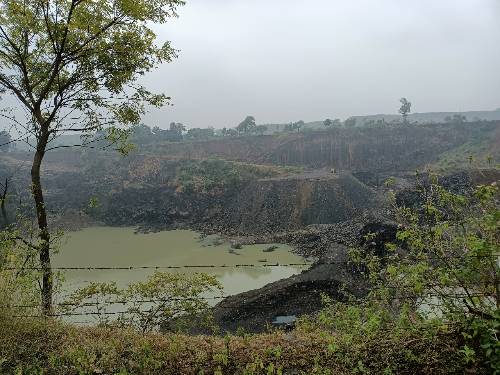 An abandoned stone quarry that has not been filled up after the stone has been extracted. Such abandoned quarries are death traps. Moumita Chaudhuri
Shyam Hazra, a resident of Raipur village, says, "No. We have been hearing about this project for 7-8 years." A local activist who doesn't want to be named says, "Designated messengers from the panchayat go from village to village beating the drum and announcing that people have to vacate soon."
We ride through the Ganpur forest area on a bike. The kutcha road is not motorable. The roads gets worse as we pass Chowbata, Bharkata, Sodpahari, Birijol, School Para, Khadampara, Habrapahari, Jetkapara, Harisingha, Dewanganj, Hirapur, Dhobaghati, Sagarbandhi, Kapasdanga — settlements in the Deocha-Pachami area.
Mohan Mondal, a resident and activist says, "Almost each and every family has land here. They grow paddy once or twice a year. Rest of the year they grow vegetables. If the land is gone, how will they survive?"
Lalu Hansda says, "We have our sacred groves and the graves of our ancestors. The forest is the source of food and fuel. It is our life. You will kill us when you drive us away."
The chief minister has announced a rehabilitation package worth Rs 10,000 crore and a junior constable's job per family. Says Suichanda Hansda, "Almost every Santhal family has 10-12 members. If the government gives a job to one of my sons, what will the others do?" Sukhi Tulu, another resident, says, "There is a water crisis here; neither 300 days' work nor 100 days' work comes our way. When it does, no one pays us. Still, we are happy. Just let us live here." Dharamdhar Patradhar says, "Why don't you go and displace people in Bolpur and Suri? There is coal there too. Just because we are poor and they are influential you are targeting us?"
On this issue, the Opposition support for the people is strangely missing or at best lame. The Telegraph asked the BJP's Subhendu Adhikari about his party stand but he refused to answer. The BJP state vice-president Raju Banerjee has reportedly said, "We are not against the industry but will not allow poor and tribal people to be deprived of their rights." The CPI(M) is more concerned about the environmental impact.
Rural livelihood consultant Kunal Deb says, "As per GOI reports, the coal here is not of very good quality. Also, there is a huge reserve of stone above the coal. The coal mining project will mean closing the stone quarries." According to him, nobody has assessed the impact on the environment. The committee headed by Parambrata is supposed to do this, but to date none of the locals had met him.
Kunal says, "The issue is not the coal mining, I fear it is an effort to get a monopoly over the stone quarries."
We leave the stone quarries behind and as we pass Madrasapara, we meet Habidul Sheikh who is walking back home. He says, "We will have to do what the government will want us to do. We cannot repeat Singur. Shall we give our lives?"