Meet the survivors of the 1943 Bengal Famine
In the 75th anniversary year of the Bengal Famine, Prasun Chaudhuri travels to K-Plot in the Sunderbans to meet survivors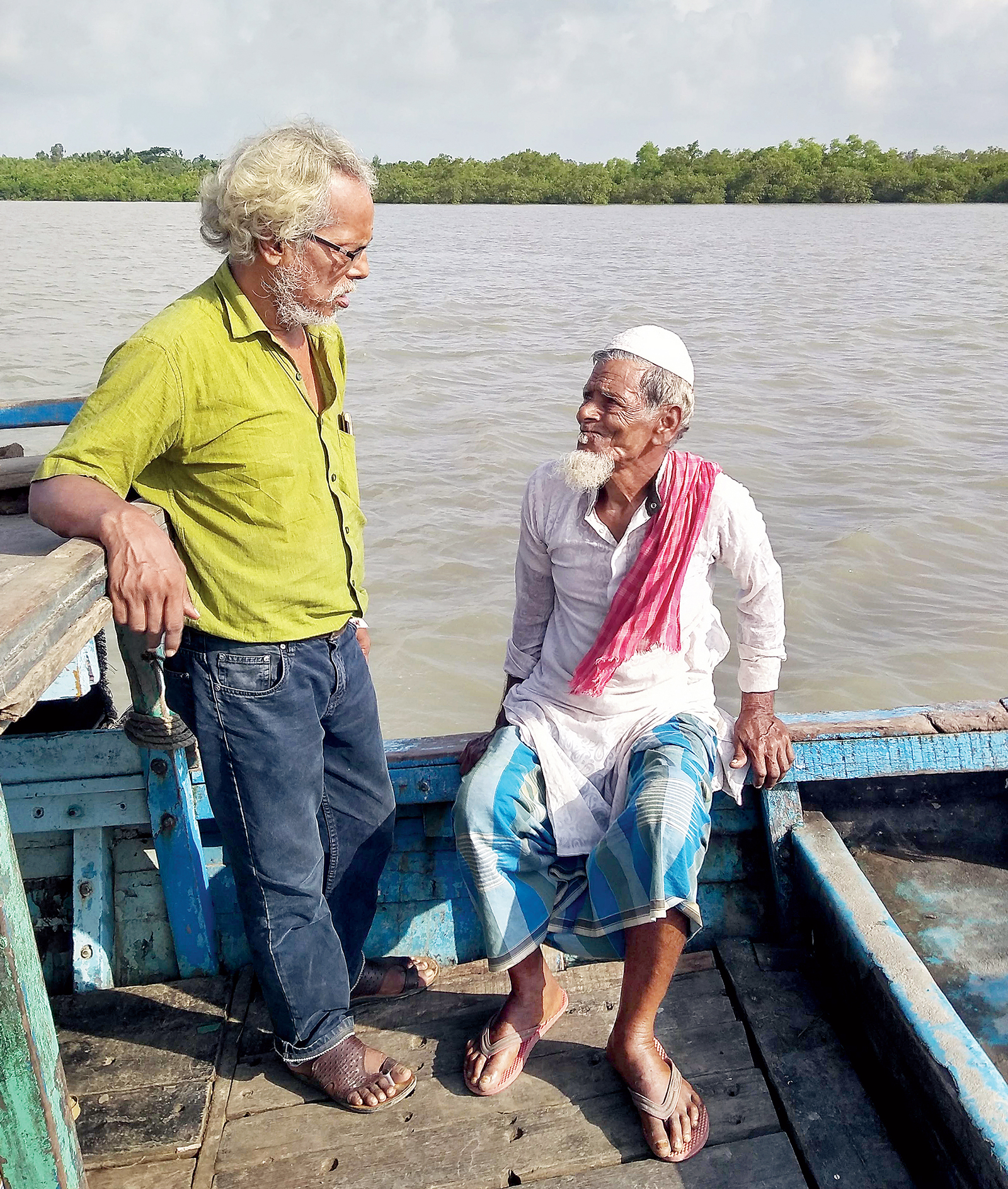 Memory Bank: Writer Sailen Sarkar hears out Khoshain Sheikh, who was 16 when he came to K-Plot
Prasun Chaudhuri
---
Published 08.12.18, 09:04 PM
|
---
The island is called K-Plot. It might be only 130 kilometres south of Calcutta, but it is not easy to access. First, you have to take the Lakshmikantapur-bound local train from Sealdah. Get off at Mathurapur. Pack yourself into a crowded mini-van to reach Raidighi. Get off it and into another shared vehicle that will drop you to the Raidighi ferry ghat. Then board a motorised country boat to Bamunghat in K-Plot. In all, you need about six hours to touch this southern tip of the Sunderbans surrounded by Thakuran river on the east and west, Shibua river on the north and the Bay of Bengal on the south.

The name K-Plot is a British legacy. Successive officials of the East India Company had unimaginatively named these islands after the English alphabet sometime in the late 18th century. These settlements had been conceived by Collector General Claude Russell in 1771, soon after the company got Diwani rights or the permission to collect taxes on behalf of the Mughal emperor. Russell had initiated extensive reclamation of mangrove forests and offered pieces of land ranging from five to 10,000 bighas to businessmen, landlords and government employees based in Calcutta. (In Bengal, the bigha was standardised under colonial rule at 1/3 acre.)
Years later, post the notorious Bengal famine of 1943, which killed an estimated 35 million, many people sought a home in the Sunderbans in general and K-Plot in particular. Most of them were from Midnapore district, which was the worst affected. Turns out many of these famine survivors managed to give both tide and time a slip and are still around to tell their olden tale.
It is late afternoon by the time we reach K-Plot. We meaning, myself and writer Sailen Sarkar. A retired schoolteacher, Sarkar travelled extensively across southern Bengal before he wrote his Bengali book, Durbhikkher Sakkhi or Witness of the Famine.
It is one long walk to famine survivor Bijoykrishna Tripathi's house. On the way Sarkar tells me, "I discovered these survivors by chance during my travels. While chatting with the elders of the islands, it emerged that many farmers have roots in Midnapore and clear recollections of panchasher manwantar (the famine happened in the Bengali calendar year 1350). These conversations opened up for me bits and pieces of oral history of one of the biggest tragedies of modern Indian history."
Sarkar's first interviewee, Sripaticharan Samanta, didn't open up to him at first. Instead, he wept and asked, "Why did you come so late?" Soon after the interview, Samanta died. Says the writer, "That's when I realised the urgency of documenting the oral narratives of famine survivors. I knew we were about to lose pieces of history, the legacy and tales of the indomitable spirit of ordinary human beings."
When we finally find Tripathi, the 108-year-old patriarch is sitting in the courtyard of his home surrounded by six grown-up great-grandsons and some relations from East Midnapore who have come to seek his advice regarding a land dispute. Tripathi stands up to greet us; a tall man, ramrod straight, wearing a dhoti and uttariya, his sacred thread wound around his bare torso.
"Our misery began with a crazy rainstorm," begins Tripathi. "It was Ashtami day of 1942, the year of the Quit India movement." Shortly before the Pujas, an agitating 33-year-old Tripathi had burnt down a police station in East Midnapore's Bhagabanpur village. That night, he recalls, there was a terrible cyclone. It ravaged the farms and turned everything into a wasteland. The next morning, Tripathi says, he saw hundreds of human corpses floating around along with carcasses of cattle.
The widespread devastation was followed by an acute shortage of rice. Says Tripathi, "The price of rice that cost an anna a seer [16 annas make rupee; one seer equals 1.25 kilos] doubled immediately after the cyclone and tripled in a few weeks. There was starvation and then famine."
Some people survived on bulga or soup made from discarded wheat served at community kitchens; most others died like flies. According to Tripathi, many sold their wives and daughters in exchange for sacks of rice. He says, "Women ran away with complete strangers for two square meals a day."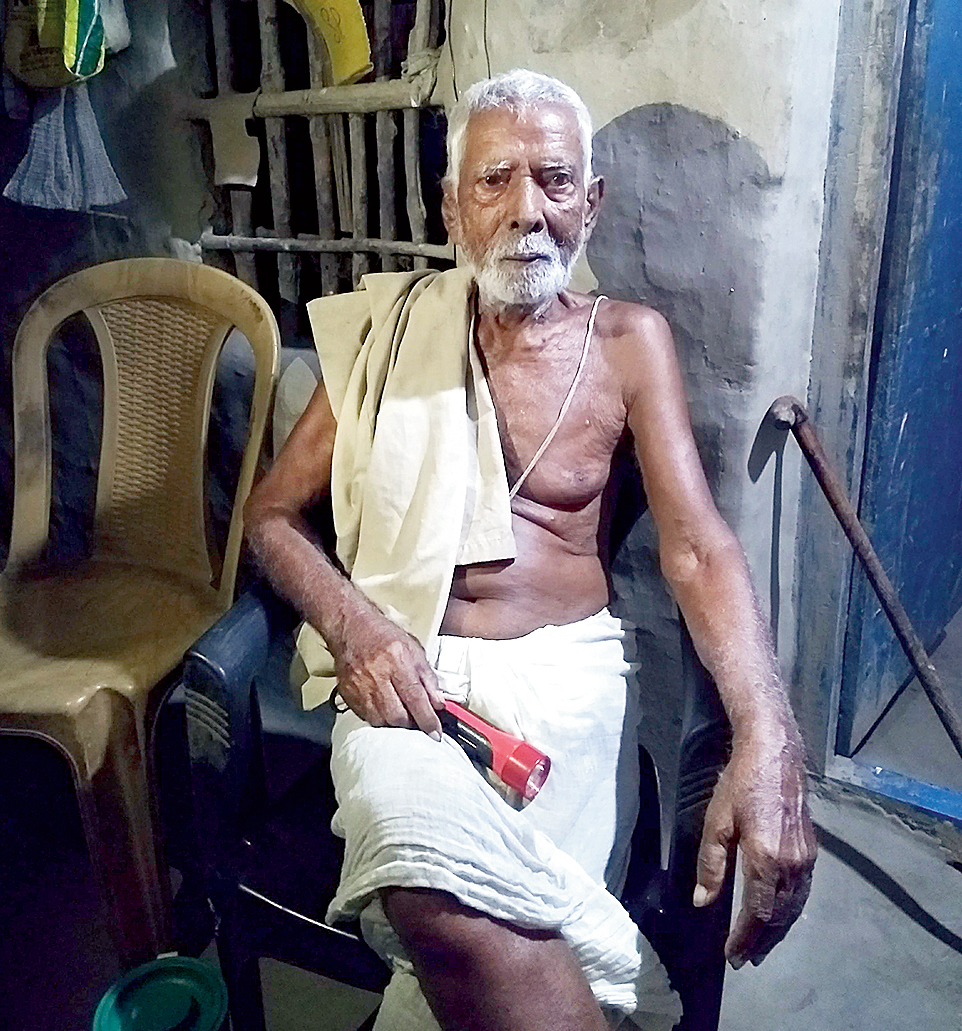 Researcher and writer Madhushree Mukherjee, who interviewed many famine survivors of Bengal, toes the line that the catastrophe was engineered largely by the then British Prime Minister, Winston Churchill. For her 2010 book Churchill's Secret War, she delved into oral accounts of survivors and official documents. She cites documents and exchanges to support the view that Churchill ordered the diversion of food from starving Indians to add to stockpiles of grains in Britain and Europe.
In a more recent research, historian and anthropologist Janam Mukherjee writes, "High colonial policy, of course, usually in the name of the war effort, played an important role, but responsibilities were widespread. Seeking colonial favor, or entrenched in 'opposition', the response to famine by Indian politicians in both Bengal and New Delhi, was also guided, often enough, by political interest rather than public welfare."
By November of 1943, much of the Bengal countryside lay in ruins. Artist and active member of the Communist Party of India, Chittaprosad Bhattacharya, journeyed through the innards of the famine-struck Midnapore district. In page after page of ink drawings, he tried to capture the general predicament. The visuals came lined with annotations, observations. Eventually, all those sketches came to be his book, Hungry Bengal. The book, however, was banned by the British government and thousands of copies were destroyed.
Destruction, epidemic and mass death had people fleeing cityward. A lot many died on the way, those who made it starved on the streets of the city. But there were people like Tripathi who ventured beyond the city, to the marshes of the Sunderbans, in pursuit of food and new life.
Initially they landed up as raiyats or cultivators who farmed on lands held by absentee landlords. The chain of command ran thus: first came chakdars, who further sublet the land to raiyats.
One of the reasons Tripathi chose K-Plot was that he knew a chakdar who was looking for a raiyat to cultivate 50 bighas of land he had taken at lease. "Initially I farmed the land with some labourers and sent half of the harvest to the chakdar. But the chakdar was a kind man. He eventually gifted me a part of the land when I got married."
Khoshain Sheikh is also a resident of K-Plot. When we arrive at his hut on the edge of the island, his younger brother, Qurbat, tells us that he is gone to sow paddy saplings. He takes us to the field and we find the 92-year-old crouched there in knee-deep water. "I have been sowing paddy since I was 12," says the man with a goatee. Then, over a bowl of puffed rice, he tells us his story.
Sheikh was 16 when he arrived here. He says, "The famine actually started before 1943. While foodgrains were fast disappearing into hoarders' godowns, the cyclone dealt a deadly blow to the belly. My father left our village in Bhagabanpur months before the cyclone." The Sheikhs crossed the Hooghly and reached the island via Kakdwip. "It took over 12 hours to get here that day," he reminisces.
All 12 brothers tilled the land, sowed paddy and harvested rich crop within a year. "When we first arrived, we had to deal with wild beasts and snakes. Many of my relatives succumbed to snakebite," says Sheikh. Then adds, "We desalinated the water by boiling tamarind in it. In the initial period, we survived on gimey shaak and other wild herbs." The landless are now land owners. Sheikh shows us around K-Plot. He points to the greenery, new embankments and plantations.
Next, Sarkar takes me to Maipith, a neighbouring island. "Maipith is one of those rare islands where tigers and humans co-exist. There is just an embankment that separates the tiger forest from the villages," he says as we cross two wide rivers.
Pulin Samanta has been living on the edge of Maipith in Nagenabad village since early 1944. He has turned 100 this year. Tigers often enter his paddy fields but he feels these beasts are not as scary as the black-marketeers. "The day we left Jugiberi [Midnapore], the price of rice went up to eight annas per seer, an eight-fold increase in just a year. Only the very rich could buy from hoarders."
The Samantas had to walk for four hours to reach Rasulpur on the banks of the Hooghly. "On the way, we saw starving people lying on the fields and vultures circling them." They crossed the river to reach Kakdwip, where they met a chakdar. He had been looking for able farmers. "We rowed for two days to reach this place," he says. "The first thing the family built was a 'tonger bari' or a tree house to survive the wild beasts at night."
Samanta's great grandson is trying to recharge his smartphone with a solar battery. Pump sets, parts of mechanised boats and a dish antenna on the roof of the double-storey house are obvious signs of prosperity.
Samanta's neighbour, Abedan Bibi, is the last famine survivor we meet. The sun has set by then, LED lamps can be seen all around. Rural electrification has been patchy in the island because people here have always voted against the ruling party, says Asura Khatun, who shows us the way to Abedan's home. The 103-year old woman used to cook her own food and roam the village on her own until she lost her eyesight a few years ago. That night, by the time we reach, she has already finished dinner.
When her granddaughter-in-law informs her that we've come to meet her for an interview about the famine, the frail woman crawls out of the mosquito net. She settles down on a wooden stool. In the faint rays of a solar light, we can barely discern her tiny figure in a white cotton printed sari with a blue border.
She begins, "I had got married a few years before the famine." Her father-in-law, it seems, was an enterprising man who decided to switch his base to the island soon after the cyclone. "He had apprehended the famine as the problem of food shortage had been gradually deepening."
She continues, "The first few weeks were difficult. We survived on boiled gira shaak and shapla — aquatic plants — fished out from ponds. Occasionally, we got some flour sent by the government in flood-relief boats."
Sarkar and I leave the island the next day at the crack of dawn. As our motorised boat sputters across Thakuran river, I try to imagine how the scattered bits of land with its dense mangrove forests would have appeared to boatloads of people trying to escape starvation and death, 75 years ago. Like a green beckon perhaps, who can say.