Lady of the Night
You've most likely passed her by or turned for another look. Who knows? It's not the kind of thing people admit to doing. Nor do these girls — to what they do. Here's her story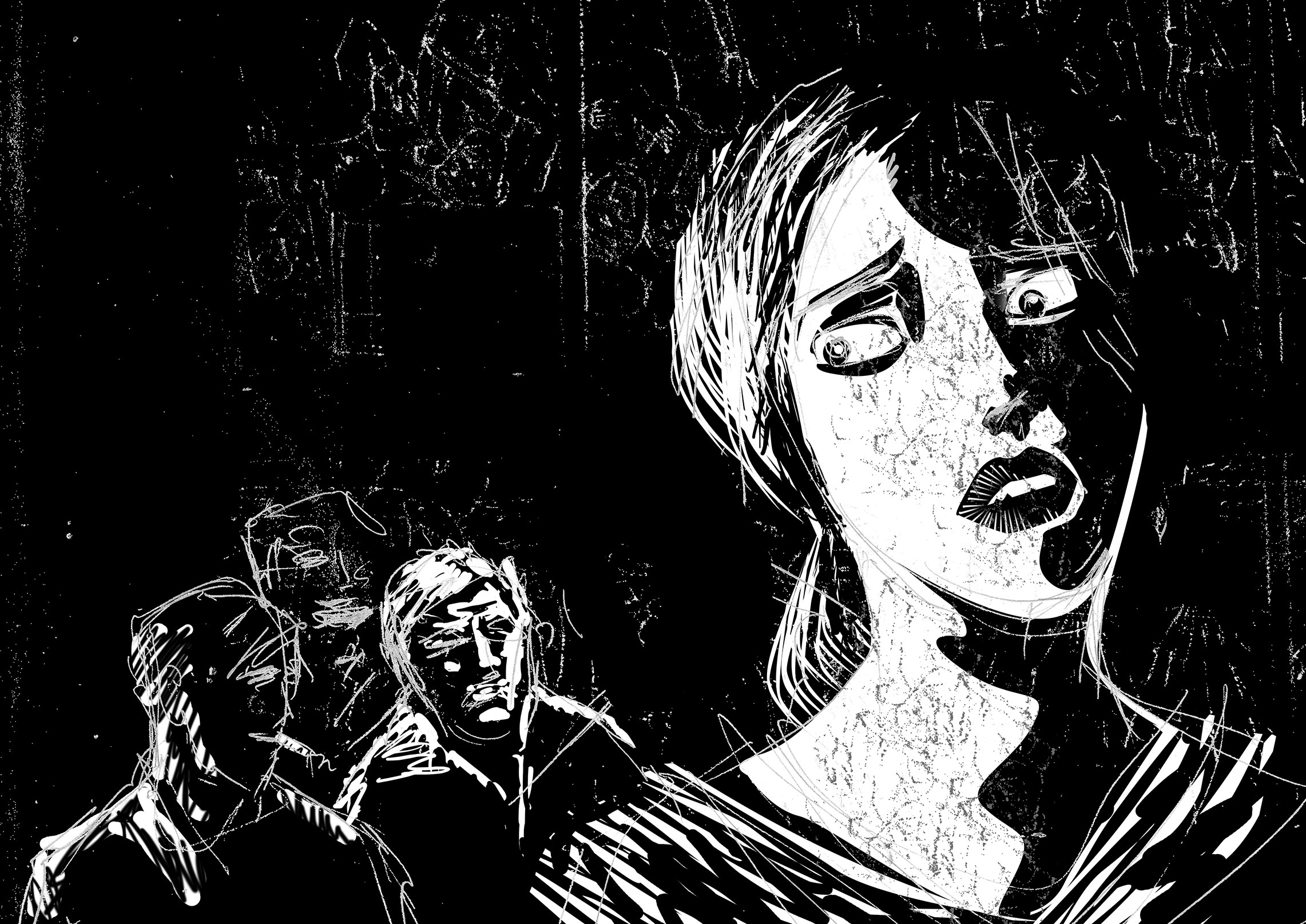 She had to entertain messages and calls and 'coffee outings' beyond duty hours. Had to? Else collections dried up
(Suman Choudhury)
---
Published 07.12.19, 06:37 PM
|
---
The first time I met her, I actually didn't. I was walking down the narrow lane, when she shot out of one of the establishments to my right, gasping and saying to no one in particular, "Woh jo andar aaya, woh mere jijaji hain… That gentleman who just entered, he is married to my sister."
Suddenly two figures emerged from the parking lot to my left and started to console her. It was not very late, and I was in no great hurry, but I didn't stop or even slow down for fear that I might add to her embarrassment. For, you see, in the orange light of the paan shop, where she had sought momentary refuge, I saw not just her, but also her great shame.
Thereafter, I was somewhat more conscious of the "ladies of the night"; at the traffic signal, while buying sweet lime from the man at the corner of the street, inside the Metro… Their faces, heavily, inexpertly made up; their clothes and general bearing mismatched; the men who hovered around them.
I began to toy with the idea of walking up to one of them, tried even, but they have this way of freezing out those of the same sex. It is almost as if I didn't exist.
I met the owner of one of the dance bars in central Calcutta — the area is full of these I am told. He talked about how most of the "girls" were from the suburbs; how it was a legitimate, legal profession; how, whatever unsavoury rapports were struck over performances and pursued after them — outside the bar — were literally not his business and so on. He spoke about the handsome earnings. He said, with a bhadrolok's matter-of-factness, how one of the girls who performed at his bar had an MBA degree but preferred crooning to a corporate job because of the pay.
Could I speak to her? At the mere utterance of my request she dissipated. She had quit months ago. Moved to another city, Bangalore most likely; he didn't have her number, etc. Could I speak to someone else? Just to be able to tell her story, the story of others like her? I recounted what I had witnessed that evening. Such a pity. He could understand. Such things happened all the time. He could check with the "band leader" if someone would be willing to talk.
In most of these dance or music bars, the performers report to the band leader. The proceeds of an evening are split between performers and the establishment hosting the performance. Some weeks later, I caught one such show.
It was 9 in the evening and the place — a music-only bar — was quite full. One end of the mezzanine floor was reserved for the singers. A string of red-and-yellow lights overhead worked like an aerial threshold, separating them from the patrons.
One or two singers would get up at a time, sing three or more numbers one after another. The musicians were the constants. Behind them, sitting on a narrow longish bench, the other singers waited. I had expected more baring attire; more dare, glitter and shimmer, and satin gowns and faux fur. "You must have confused us with those who dance at bars," she told me later with a giggle.
A lot of the women wore saris, most wore salwar suits, and one painfully young person was in a sleeveless denim top and jeans. Their average age would be mid-thirties.
One by one they belted out a mix of Bengali film songs and those from Fifties and Sixties Hindi films. Foot-tapping numbers… Mera naam chin chin chu, Babuji dheere chalna… Every now and then a male crooner joined in. But no amount of percussion or cello or alcohol seemed to be able to lift the spirit of the place. It felt a bit like Baum's Tin Man — you know, no heart.
The patrons were mostly middle-aged men, one at every table, they couldn't seem to take their eyes off their drinks. The groups, if at all, comprised younger men who could scarcely take their eyes off their phones. Once in a while, the occupant of the table right beside the only TV set in the room would erupt, in acknowledgement of a cricket match that was on.
Halfway through the songs, one man — with hair so jet black that it could have only come out of a bottle, and a floral shirt — moved from table to table and then up to the singer and handed over the currency notes or as they would say in bar parlance, her "collection". When someone made a particularly good earning, he would arrange the notes like a Chinese fan and present the arrangement to her with a flourish.
I recognised her the moment she entered. She was wearing a salwar-kameez with mirror work, heavy eye makeup. Her long hair, worn loose, was poker straight, freshly ironed. But it was neither her clothes nor her general appearance that revealed her to me. It was her shame. Unlike the other women, who seemed at ease or at the very least used to the bar environs, she seemed to be acutely aware of it. It was apparent from the way she walked with her head down and shoulders inwards, to the way she kept her jawline firm and gaze stern.
Only when she got up to perform, it became obvious that she had that je ne sais quoi. Her voice was just about good, but the numbers were well-chosen, and she had the moves… When she sang Baahon mei chale aao from Anamika and got to that bit where Sanjeev Kumar shushes Jaya Bhaduri, she was coquetry incarnate. Some of the patrons whispered requests to the band leader. The Chinese fans visibly got bulkier. I too sent up a chit to her and left.
Days later, sitting across her at a neighbourhood restaurant, even before I got to the bit about her story, I asked her why she had agreed to meet me. "Aami shunechhi onek boro artiste-ra amar moto bar-e gaan gaiten. Tarpor playback-e chance paye." She had been told that a lot of the well-known playback singers used to croon at bars and got noticed.
She had a diploma in classical music. There must have been something in my face, because she went to great lengths to assure me that a lot of "bhalo bhalo artistes" performed at these venues. One of them, she said, taught at a college. I understood that she used the word "bhalo" or good interchangeably — as skill and also as a moral certificate.
To get back to her story, she started doing stage shows when she was still in her teens. She had shared stage with Mithun and Bappida. "One time I even got to fly down to Bhubaneswar for a show," she added with unmistakable pride.
It was while doing the stage shows that she met the man who is now her husband. He was a keyboardist. Against her parents' wishes they married and the next thing she knew, she was pregnant and the husband was taking a break from the marriage. "I walked out of the house with my child," she said, as if it were the easiest thing in the world. One of the para dadas suggested crooning and that's how she got into it. Just like that? Did no one advise her against the move? She started checking her phone for the time every other minute. It was 7pm. She had told me she would like to catch the 8pm spot.
I was about to repeat my question, when she said, "That night, I sang mostly film songs. But I have a good range. I get a lot of requests for Shyamasangeet. Perhaps you could come another time." She told a staccato tale. Praise for the establishment she worked for. "At other places girls are forced into all kinds of things." Praise for her colleagues. "Shob bhalo family-r… All respectable women." And the money? "Good. (Pause) Many a time I take a taxi to work now."
At 7.45, she got up with a reassurance that she would make time another day. I thanked her, said our goodbyes. But she had not left. Was it something I had said? Was she offended? "Na na. You had asked about family objection. It's all economics. Even my husband has come back."
It had been many weeks since we last met. She was keeping busy. And then, the week before the Pujas she called. She could spare half an hour, she was in the neighbourhood.
As I waited for her inside the coffee shop, I kept thinking about some of the things she had said last time. How many in her family and social circle had never been told the exact nature of her job. How she had not known when she started out that band leaders could give out mobile numbers to any patron who asked. One unguarded moment she had said that four years into the job, there were times now when she considered giving it up. Why? "Nijeke thik raakha… For self-preservation…," she had not completed the sentence.
This time she was wearing a bubblegum pink tee with ripped jeans. Her hair, which had acquired blond highlights, was tied up in a casual bun. She wore an anklet on one leg, which jingled rather self-consciously. She was more relaxed today, didn't have to go in to work either. But I noticed that her phone buzzed constantly.
Without further ado I asked her how she handled the advances. At first came the cliches — if a girl says no, it holds. Next, she pleaded ignorance. Every crooner had her regular "customers", but nothing happened inside the bar. Then came the urban legends. One didi who had a customer fall in love with her and marry her. Finally, she tired of playing dodge. She had to entertain messages and calls and "coffee outings" beyond duty hours. Had to? Else collections dried up. Then, as an afterthought, "I am a sort of counsellor. Some of the men just want to talk."
Talk or have phone sex? This time she was emphatic. Never. I wanted to know if her husband was aware of all this. She answered in the affirmative. "We have an understanding. I switch off the phone at midnight."
As if on cue the phone rang. It sounded like someone from home, possibly the husband. "I have just got to work," she told the person at the other end, and cast furtive glances at me. I excused myself. When I got back, the call was over but the mood had changed. I had meant to ask her about the first time I had seen her but I changed my mind.
On Ashtami morning I spied her at a traffic signal. She was wearing a pair of tight white pants and a cold-shoulder top. An older man with a goatee was holding her hand. She saw and unsaw me.
By then, however, I had already seen her great shame.