Jostling for a blessing at Ajmer Sharif dargah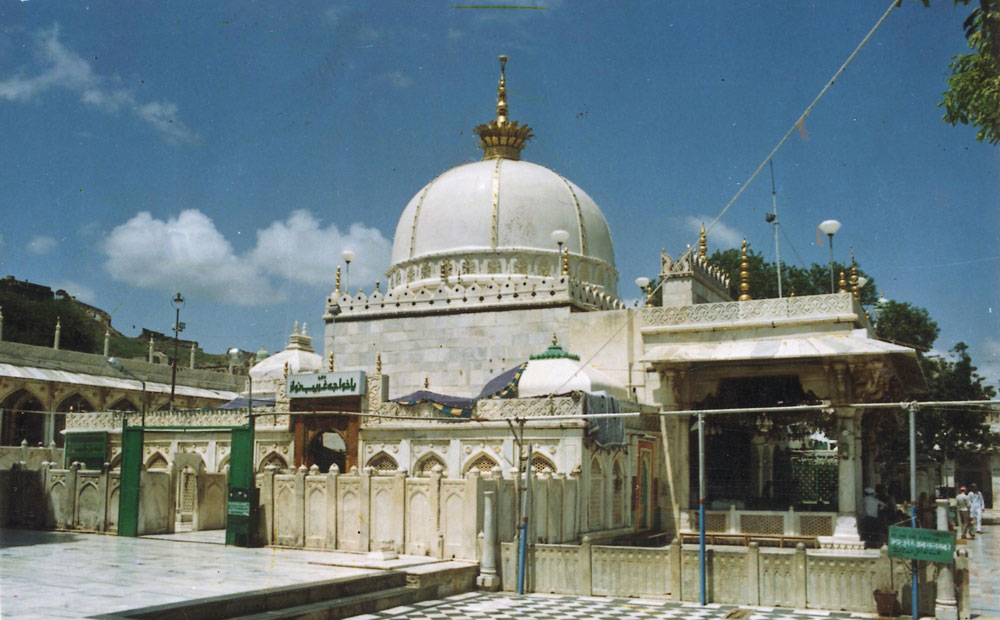 ---
---
A tiny four-fold pouch containing red-and-orange thread, which my friend Nilanju gifted me from Ajmer Sharif dargah way back in 2004, lies in my brown handbag even now. I kept it because it is a form of blessing. And since then I have wanted to visit the tomb of Khwaja Garib Nawaz.
I often go to the Nizamuddin dargah in Delhi, and a visit to Haji Ali is a must whenever I am in Mumbai. I feel a certain connection with these two places, and the serenity at the latter is unbeatable. My introduction to Haji Ali was through the Hrithik Roshan-starrer Bollywood flop, Fiza, where I heard A.R. Rahman's soulful rendition of Piya Haji Ali. Every time I went there, the song played in my mind. I would pray, tie the sacred thread while making a wish, sit long hours looking at the sea. And I would hum, "Piya Haji Ali, Piya Haji Ali, Piya Haji Ali, Piya ho…" You got it right, I am indeed obsessed with Bollywood.
There isn't any Bollywood number I associate with Ajmer Sharif, but when I went there I did expect the same serenity I had experienced at Haji Ali. It was a Sunday morning and the entrance to the dargah was packed. My mother and I took off our shoes and then headed for a shop on campus. A lean man with a long beard exhorted, "You must buy a chadar worth Rs 3,000 to bequeath at the shrine."
My mother and I looked at each other, we didn't speak but our eyes did. I asked for something much less exorbitant, and he handed over a green one worth Rs 300. Our purpose was not pilgrimage. Also, there was nothing to ask for. It was a touristy visit, more like checking the must-do list.
With the chadar and a tokri of rose petals, we moved towards the most revered chamber. There were all kinds of people around us — anxious newlyweds, people taking selfies with the sanctum sanctorum as backdrop and men in white kurta-pyjamas and skull caps, speed walking to the rescue of people like us who looked completely lost. We got hold of one such man who acted as our guide.
We had been warned by a good Samaritan that we should be careful with all valuables. "They take away expensive things," he had said. Wondering who he referred to as "they", we held our bags close to our chest and entered the dargah, supposedly a space brimming with pure unconditional love. Inside, we jostled, elbowed, were elbowed in turn, and gasped for breath. The clerics there reminded me of priests in temples — the kind who demand cash at every point and should you resist or deny outright, curse you unhesitatingly.
Three stainless steel railings divided the clerics standing next to the sanctum sanctorum from the visitors. When I handed over the chadar and tokri to the first man, he asked for money. I said, "This itself is an offering, why do you need cash?" He looked thunderous.
I decided to leave. I looked for my mother and saw she had been grabbed by the arm by one of the clerics and although I immediately freed her, it appeared that he was trying to bang her head against the steel railing. After my initial indignation, I realised that he was trying to get her to bow before the sanctum sanctorum — every time one bowed before it, it was customary to pay these men.
And then the inevitable happened; he asked me for cash. I screamed, "What have you made of this place? You people want money at each step!" This irked the man. I saw the rage in his eyes. He shouted back saying, "Niklo, niklo... Get out, get out." But it was easier said than done. The chamber was chock-a-block. It was claustrophobic. But my visits to temples have taught me the art of manoeuvring through crowds. We managed to breath some fresh air, finally.
Soon after this visit, I happened to meet the head of the Chisty Foundation, Syed Salman Chisty, at a conference in Delhi. He spoke about Sufism and Ajmer Sharif. "It is a celebration of love, joy and happiness in our Ajmer Sharif," he said. I walked up to him and told him about the man-made chaos at Ajmer Sharif. As I shared my experience of encountering the greedy clerics asking for money, he clearly denied. The men asking for money could not have been clerics, he said. "So many people visit the place, I don't know who asked money from you," he added.
I must have been mistaken, I told myself. After all, how could the custodian of the shrine, who travels across the world carrying the message of love, kindness, truth and selfless service, be wrong?