When traditional art of carpet-making meets cosmos curiosity
Jaipur Rugs has collaborated with architect and interior designer Ashiesh Shah to bring forth Brahmaand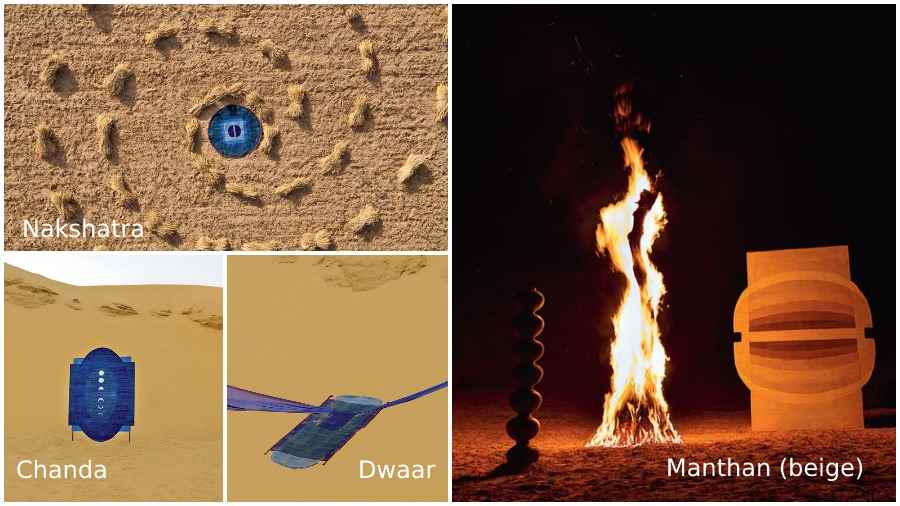 ---
Published 14.06.22, 02:33 AM
|
---
Fusing the ancient sciences of the sky that capture mankind's relentless curiosity about the cosmos and the endearing, traditional craft of carpet-making, Jaipur Rugs has collaborated with architect and interior designer Ashiesh Shah to bring forth Brahmaand. Said to be inspired by a series of watercolours by Ashiesh, the collection strives to capture the "mysteries of starlit night skies through its gradients and textures", while the indigo hue, in itself steeped in culture and history of the subcontinent, pays homage to craft traditions. Ashiesh, who is known for his craft-first approach to things, has always tried to champion the cause of India's vast repertoire of traditional craft heritage, which also finds place in the making of these luxurious, hand-knotted carpets, woven by artisans in Rajasthan. The collection featuring four rugs designed by Ashiesh — Nakshatra, Manthan, Dwaar and Chanda — were recently launched at Milan's Salone del Mobile 2022. In a candid chat, Ashiesh and Yogesh Chaudhary, director, Jaipur Rugs, tell us more about "bringing the universe to our feet" with Brahmaand.
Ashiesh Shah, architect and interior designer How did you conceive this collection? What was your mood board like?
The cosmos has always been an integral part of my philosophy as a designer. Our identity at the atelier strongly resonates with the 'golden womb', poetically translated as the universal germ, the source of creation of the cosmos. The Brahmaand collection embodies the essence of the cosmos, serving as a physical manifestation of elements from the universe. Capturing the mysteries of starlit night skies through its soft silhouettes, these contemporary rugs draw inspiration from ancient Indian science and mysticism. The forms of the rugs are rather organic, inspired by the ancient geometry of India, the cosmos and the architecture of the Jantar Mantar.
What were the challenges of translating a theme as wide as the cosmos and ancient Indian practices vis-a-vis constellations onto something as tangible and structured as rugs?
After two years of intense research and brainstorming, we endeavoured to infuse silhouettes of elements such as the stars and moon from the universe into this collection. We were very deliberate about its overarching colour palette in hues of indigo that paint the sky and earthy tones of beige representing the planet finding its way through the entirety of the collection.
Tell us about the making process. What's the USP of this collection, as per you?
The rugs are a result of an elaborate and meticulous series of processes skilfully crafted to perfection by the artisans from Rajasthan. From its picking, hand-carding and spinning of wool into fine yarn to a series of extensive finishing processes, they exemplify this transient craft of weaving through its unparalleled artisanship. Precise gultarashi moulds the rug pile like troughs and crests of space-time, while timeless motifs and constellations crafted with intricate weaving and zardozi embroidery illustrate discourses of being and non-being, illusion and reality, while beckoning to a world far out of our reach. The rugs are handmade in India — a true celebration of fine craftsmanship.
You have always been vocal about pushing India to the fore in your work. Where does this collection fit in, in that scheme of things?
Drawing from the idea of Swadeshi, this collection is handwoven by artisans from Rajasthan. Culturally, we've always had a strong relationship with the cosmos, stars and other celestial elements featured in this collection. We have sought their guidance on cosmic geometry that has driven Indian architecture for generations together. Additionally, realised in hues of indigo, the collection pays homage to the craft of indigo dying that was once deeply rooted in Indian history.
Yogesh Chaudhary, director, Jaipur Rugs What triggered this collaboration? Why Ashiesh Shah?
Ashiesh Shah is one of India's most sought-after interior designers and we are proud to be part of this collaboration. Ashiesh has an unerring ability of going artisanal and we have been an artisan-first company since 1978. The amalgamation between the two powerhouses of the design industry was unbeatable and we decided to collaborate on this one-of-a-kind collection aptly named 'Brahmaand'. His work has always been an epitome of sublimity and simplicity and a pure example of an elaborate and meticulous series of processes that connect art, architecture and design. We can proudly say that he is the one who is capable of bringing illusion to reality.
How does the theme of this collection tie into Jaipur Rugs's ethos?
For a collection that is shooting for the stars, its execution is deep-rooted in India's rich craftsmanship traditions. Throughout history, India is known for its novelty and craftsmanship and the artisans have preserved India's centuries-old traditions. Especially the design and craftsmanship in the nearby vicinity of Jaipur have always had a special place for all its customers. It is to be noted that Jaipur Rugs is a social entrepreneurship forum that demonstrates rich practices and promotes rural craftsmanship using 200-year-old traditional and unique art forms. This platform has created and provided employment and livelihood to not just the artisans but to their entire families. With this model and the platform, there are a huge number of beneficiaries who are contributing to these age-old traditions.
The collection, while beckoning the world, also inspires the artisans living in remote parts of the country to reach out with their design community on the international platform to showcase their vivid imagination and art. In fact, we can call it vocal for local and the integration of the local items at the global level. The ideology that Jaipur Rugs works on is to give the artisans a universe of design and craft to showcase their talent and work in the global arena and shine like the galaxy in their universe.
What was the response to the launch of this collection in Milan?
The response to this new collection in Milan was stupendous. The whole setup of Jaipur Rugs was beautifully showcased at the event and especially this unique collection gathered huge traction as it was conceptualised distinctively. The whole concept behind this collection was very well delivered and it was appreciated by the visitors and Jaipur Rugs as a brand was acknowledged for its diverse and unique collections globally.
Pictures: Courtesy of Jaipur Rugs