Israeli electronic duo Y Do I on creating new sounds
A chat with Calfon during his recent gig at Techno Therapy presents The Carnival in association with The Telegraph that was held at JW Marriott Kolkata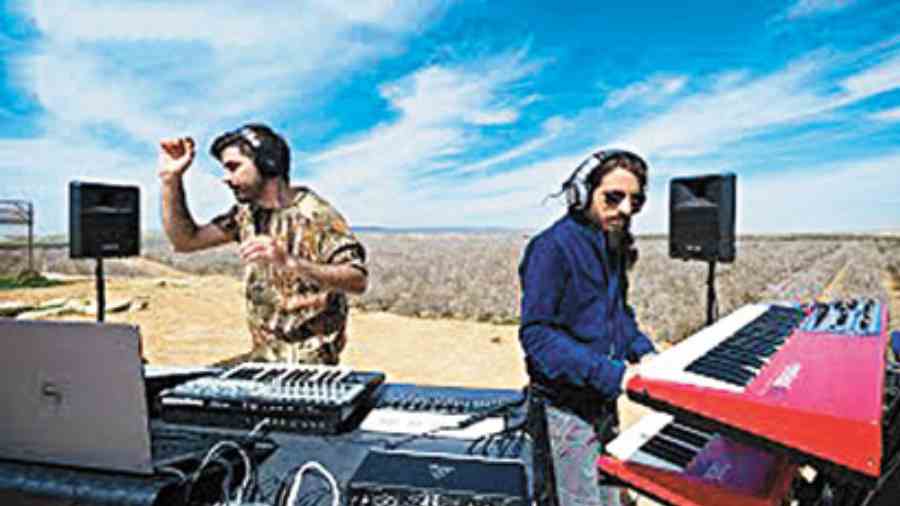 David Semo and Amos Calfon of Y Do I
---
Published 22.11.22, 05:34 AM
|
---
At the height of the pandemic, a lot of musicians were faced with a lull as live shows were on halt. During this phase, minimal techno artistes David Semo and Amos Calfon came together to start a new project called Y Do I. While David already has another hitech project called Technical Hitch, Calfon has been playing musical instruments since he was 10 years old. Now they are touring the world and already have 47 releases. A chat with Calfon during his recent gig at Techno Therapy presents The Carnival in association with t2 that was held at JW Marriott Kolkata.
Y Do I is a familiar face with Calcutta now. How has your experience been with the audience here?
This is the third time we are in Calcutta and that too in a short span of time. The crowd here is a little different for electronic music. And then there are guys who are bringing in something new, or new ingredients to the techno scene.
Y Do I is a unique name.
It's actually very simple because David and I have been friends for a very long time... since childhood... when we were about 10 years old and we have spent our lives together. So the name is, 'Y', which is for Yarin, who is David's son, and 'I' is for Ilai, who is my son, and this project is basically what we do for them. Hence it is Y Do I.
This baby of yours started in 2019 . Could you tell us how it all started?
My partner David has another project called Technical Hitch (a hitech project). Mixing-mastering and future (driven) sound production are things David can do and no one does it better than him. I too come from a music-focussed world where I have been playing instruments ever since I was 10 years old. Then at the end of 2018 I came to David and told him that this is a good time start a project with 125 BPM and not go crazy. That's how the idea was conceived.
You launched this during lockdown, which was such an uncertain time. What was the plan then?
It was actually quite fun because we had just finished an album right before Covid and we launched the first video in the middle of February and then in the beginning of March the announcement (that a pandemic is here) came in. So during Covid we had some struggles when it came to taking care of the kids; they couldn't go to school. But it gave us a lot of time to be in the studio. We have released 47 tracks already and the best is yet to come.
Can you tell us about your latest EP, Off The Grid?
To cut a long story short, there were basically many tracks that we did during Covid, many types of tracks. The power that we have on Off The Grid is melody-driven strong electronic music but all of them have a bassline that moves people.
Upcoming endeavours?
On December 31 there will be a new single. The new release will be something experimental and very minimal compared to what we do now. It is an independent single, it is an EP with no other tracks on it and then we will see how the crowd reacts.
Compared to melodic techno, minimal is something the crowd is slowly getting the hang of.
I believe that once you put some kind of minimal textures or create a track that needs to be... not simple but something that will make the crowd move to your fusion of music, it will be easier to get them to understand the kick bass or what is the strong master and mixer we have arranged inside the tracks.