Is there turkey on your Christmas menu?
Find out where is comes from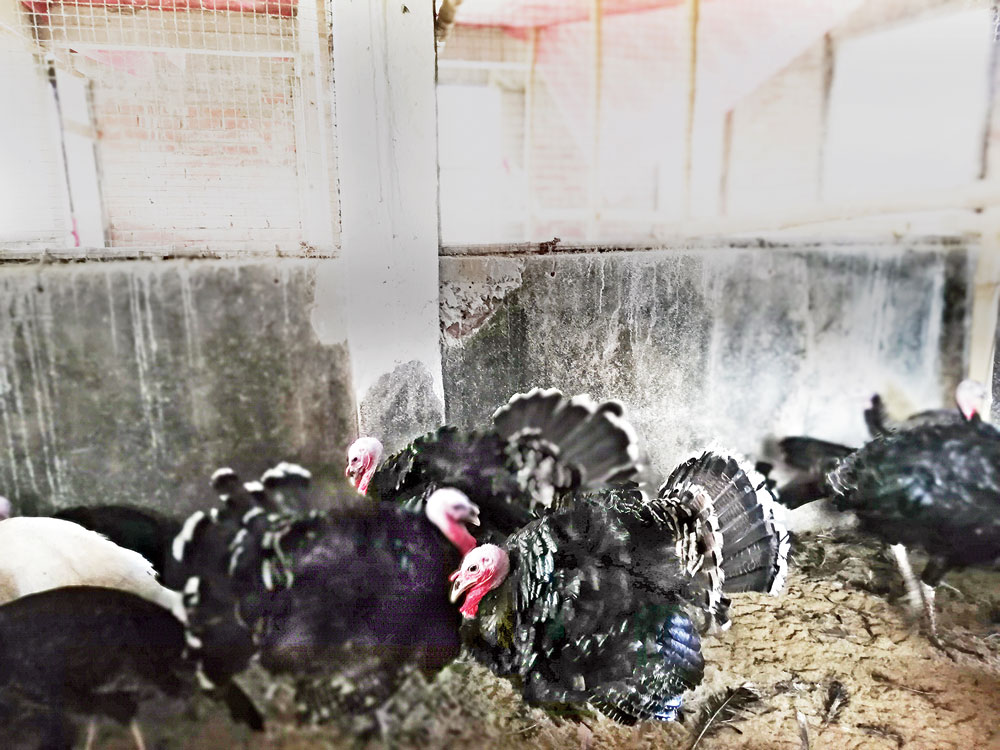 Early birds: Turkey chicks at Mondal's farm in Sodepur, 20 km north of Calcutta
Source: Moumita Chaudhuri
---
Published 22.12.18, 07:27 PM
|
---
Sanjit Mondal is mixing something in a plastic tub. "Soyabean, bhutta (corn) rice flour, shutki machh or Bombay Duck (a kind of dried fish), seed meal, a mineral and vitamin powder," he rattles off the ingredients' list. This is turkey feed and we are at Mondal's turkey farm in Sodepur, 20 kilometres north of Calcutta.
He continues, "This I have to feed them four times a day. They grow very fast; attain maturity by six-and-a-half months and can lay eggs anytime after that."
Mondal has been rearing turkey in his four-storey house the past three years. I find him after a spot of reverse investigation. The starting point, a shopping mall advertisement about pre-ordering Christmas meats.
Indeed, it is Christmas season and our man is very busy. The turkey is a relatively new entrant to the season's menu but one that is gaining in popularity. Mondal has just got an order for 100 birds from Siliguri. Some of the other places from where he gets regular orders are Coochbehar, Calcutta, Malda and North Dinajpur.
People seem to think this meat is healthy, at least that is what Mondal has gathered. He says, "The market in West Bengal is still premature. The demand is low and prices are high." And that perhaps explains the presence of the shy quails, the robust desi roosters, jet black Kadaknath roosters and plump ducks on his farm.
The longish hall on the first floor is partitioned into several netted enclosures. One enclosure is chock-a-block with 50 turkeys — there are two more enclosures on the second floor, I am told. The gaggle of birds are most odd-looking. Pale pink head, somewhat like a bald pate, a long neck — part pink, the rest black — and body covered with jet black plumes with white trimmings.
There is one of the flock that stands out though. A handsome bird that struts and swaggers from one corner of the enclosure to the other, occasionally stopping to preen. It is quite obvious that he is upset with the advent of inquisitive strangers into what is his private space. He rolls his eyes and the pink of his neck and chin appears flushed — from displeasure, most likely. Mondal cannot say if it is a gobbler (male) or a hen. "It is difficult to tell them apart till the birds are about six months old. These birds are younger."
Mondal, who has been into livestock farming for many years now, bought his first batch of turkeys only three years ago. "I got 55 birds at Rs 600 each from Midnapore. But after that I decided I would breed eggs on my own, rear birds and sell them myself. That way, it is more cost-effective." Today, he also manufactures and sells the breeding apparatus.
He talks excitedly, quite knowledgeably — clearly no one has had a turkey conversation with him before. No, he cannot say what triggered the turkey farming trend. The bird is not native to India; there are two breeds available here — one from Holland and another from the US.
But Mondal holds forth confidently on other specifics — how a turkey is not banquet-fit, in terms of size as well as taste, unless it is at least eight months old. That is when it weighs eight to 10 kilos. More facts: by the time a bird is two years old, it is full-grown and weighs about 20 kilos, the average lifespan of a turkey is 13 years, and so on and so forth.
Mondal says a female bird lays about 100 eggs a year but makes an impatient mother-to-be; won't warm the eggs diligently, leading to a lot of wasted eggs.
The birds are also apparently most quarrelsome, especially the male of the species. Says Mondal, "During breeding season, when we put both the sexes in the same enclosure, the gobblers are forever pecking at each other. We have to be careful. It is not easy to prise them apart. I have lost a couple of birds this way."
And has he ever cooked turkey meat himself? Mondal's expression relaxes for the first time. Smiling and a tad shy, he says, "Yes. Once during Vishwakarma Puja. We cooked it just like we cook chicken kasha (a dry dish). But later someone who lives in the US told me this is not the way to cook a turkey." And then very swiftly his expression changes and he says earnestly, "But you know, it didn't taste bad this way either. It was quite good, in fact. In India, curry works."