How the Kiwi flies
The Telegraph looks into the reasons why New Zealand have tip-toed their way from Tasman remoteness to cricket's unfussy world beaters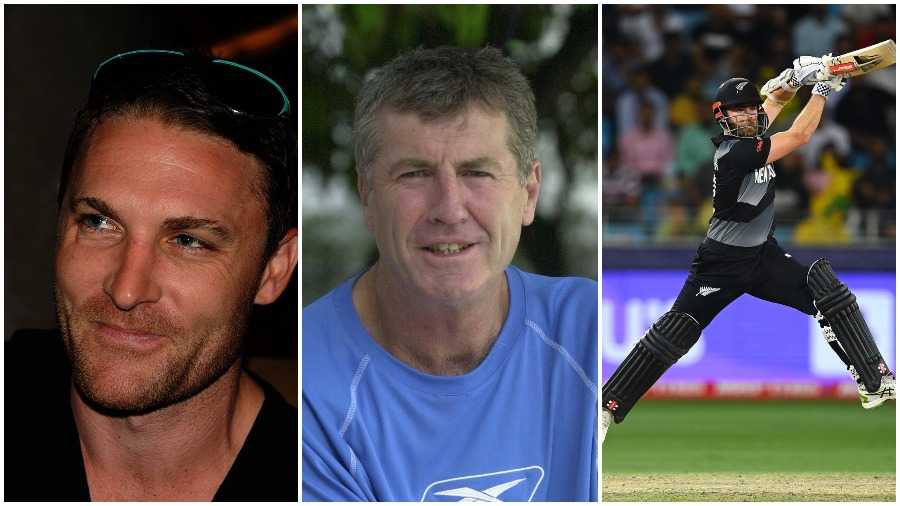 (L-R) Brendon McCullum; John Wright; Kane Williamson
Brendon McCullum: Santosh Ghosh; John Wright: Santosh Ghosh; Kane Williamson: Alex Davidson/Getty Images
---
Published 21.11.21, 12:14 AM
|
---
Just what makes the All Blacks, the men's national rugby team of New Zealand, so successful remains a fascinating aspect of sport. Since winning the Rugby World Cup in 2015, their third triumph, New Zealand have achieved an 80 per cent win record, the highest for any professional team in the world.
How do they sustain this level of invincibility? In his book Legacy, What The All Blacks Can Teach Us About The Business Of Life, James Kerr talks about the team's principle of "Sweeping the Shed", a tradition on team culture which stresses that no individual is bigger than the game. That everyone needs to contribute on and off the field and is responsible for the smallest detail.
Richie McCaw might be a rugby legend but he and other players are just "one of the boys who clean the sheds (changing rooms)" after every game. Staying grounded and Sweeping the Shed is your job no matter who you are has been the essence of the All Blacks.
The New Zealand cricket team's recent spate of successes — the 2021 World Test champions, besides finishing runners-up in the 2015 and 2019 ODI World Cups and the 2021 T20 World Cup — has been based on the principles of their rugby team.
Former cricket captain Brendon McCullum, who led the team to their first World Cup final in 2015, has credited the All Blacks as being one of the stimulants for the Black Caps' success. Much like his style of play, McCullum imbibed his fearless attitude and made it known that the All Blacks approach to the game is something he cherished.
He believed it was important for New Zealand's national teams to embody the morality of the people they represent. "New Zealanders are very humble and hard working. We are a country of four and a half million people, and if you start shouting yourself around too much, someone is going to pull you back into line. You've got to be a representation of the people who support you. Once you are authentic to that, it becomes easy to go out there and play the game you love rather than be someone you're not," McCullum said.
Their current cricket captain, Kane Williamson, has carried this legacy forward and his follow-me style of captaincy has earned innumerable plaudits. The virtues of humility, determination, style and grace represents the sort of depth the All Blacks so regularly enjoy. A team which plays with character and self-belief and not a whiff of arrogance.
"There was a lot of heart shown, always nice to get to the big dance... Some high hopes coming in, some good cricket played, so we're feeling it a bit," Williamson was modest after the loss to Australia in the Dubai T20I World Cup final. No harsh words, only respect for the opposition.
Having won 14 of their last 16 series, they rightfully earned a spot in the World Test Championship final against India at the Ageas Bowl, UK, in June. Since June 2013, New Zealand have an overall success rate of 54 per cent — won 35 of their 65 Tests, lost 17 while 13 ended in a draw.
New Zealand's transition started back in January 2013 when McCullum built the side after a heart-wrenching 45 all out in the Cape Town Test.
He had just taken over the mantle of captaincy from Ross Taylor after a bitter feud.
McCullum's aggressive style rubbed off on a young team as he focused on building a potent pace attack. Tim Southee, Trent Boult, Adam Milne, Neil Wagner, Matt Henry, Mitchell McClenaghan and Kyle Mills all contributed towards their rising stocks in Tests and limited overs cricket.
The coaching staff also made a huge difference. A much younger Mike Hesson took over from Andy Moles and John Wright and was assisted with a support staff comprising batting coach Craig McMillan and bowling coach Shane Bond.
New Zealand's evolution as a cricketing power is also a tribute to their system, wherein they are reaping the benefits of meticulous planning with the sparsest player pool. The annual revenue of New Zealand Cricket (NZC) is Rs 279 crore, probably as much as a state association in India, while their domestic cricket comprises just six teams.
The hard work has resulted in their reaching the final of every world champion-
ship since 2019. Not just peaking as a group, they also have an envious bench strength in all positions to fill in for vacant slots. Since 2016-17, NZC has depended on a strong "A" team culture, like India, to address their shortcomings.
In Williamson they have a calm mind and a tactical captain besides, of course, a great batsman. The ability to not dwell on the
past has opened fresh opportunities before Williamson and coach Gary Stead. There is no point wasting time on something you cannot control — has been the motto.
Their phlegmatic attitude has been well documented in the manner Williamson and his teammates have been reluctant to open up about the super over and the ridiculous boundary countback rule that cost them a World Cup at Lord's in 2019. Williamson has always brushed it aside with the caveat that "it's all part and parcel of sport". Imagine something similar happening with Virat Kohli's team!
"I was able to add an element of aggression and confidence, but I was never going to add that level of consistency. Under Kane's captaincy they've been able to have that," McCullum said.
If McCullum started the turnaround in 2013, the structural seeds were sown five years ago. NZC instituted the move to recruit independent directors and set up high-performance hubs with trailblazing indoor facilities in each of the six state associations — Northern Districts, Auckland, Wellington, Canterbury, Central Districts and Otago — to streamline talent to the national team. It brought about professionalism and a fundamental change in the set-up as all independent directors were recruited on merit and didn't represent the state associations.
This system ensured a steady flow of cricketers. The surge in South African expatriates like B.J. Watling, Neil Wagner, Grant Elliott and Devon Conway also contributed to the development.
The Black Caps' emergence has provided them with an opportunity to undo the past where they had been an object of ridicule. Dreadful officiating had often resulted in teams venting their frustration on the umpires. Bhagwat Chandrasekhar gently inquiring with the umpire, "I know he is bowled, but is he out?", after he clean bowled Ken Wadsworth in the 1976-77 Eden Park Test is now part of cricketing folklore. Or Michael Holding kicking the stumps in disgust after the umpire turned down a caught behind appeal in Dunedin, New Zealand, in 1980.
Granted Test status in 1930, New Zealand had to wait 26 years and 45 Tests for their first victory and success was sporadic thereafter. They were never short on talent though. John Wright, Richard Hadlee, Martin Crowe, Chris Cairns or Stephen Fleming always guaranteed individual brilliance but there was little to show apart from their making the semifinals in World Cup 1992 or the ICC Knockout triumph in 2000.
New Zealand's ascent to the top in all forms of the game has been a long time in the making. Williamson now enjoys a McCaw-like figure in their sporting history. His Black Caps have now followed the All Blacks to attain a near-indomitable status.