With hotels reopening today, delve deep into the new hospitality experience
From new lobby rules, safety and security measures, banqueting guidelines to offers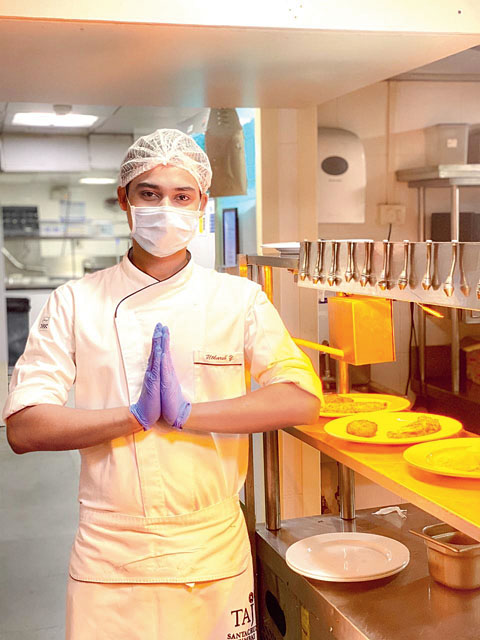 ---
Published 07.06.20, 03:54 PM
|
---
Restaurants
Appropriate distance between tables, minimal contact between servers and guests, QR code menu, QR code payment facilities and hygiene at all levels have been planned. "Safety, hygiene and social distancing norms will be followed throughout the hotel. Various training sessions have been conducted for the teams. Restaurant seating has been reduced and rearranged. Technology and thorough planning before every meal period will play an important role," said Sumit Joshi.
Buffet services at The Oberoi Grand, ITC Sonar, ITC Royal Bengal, Taj Bengal, Hyatt Regency Kolkata, JW Marriott Kolkata, The Westin Kolkata Rajarhat and The Park have been temporarily discontinued.
While most hotels will be opening their restaurants today, at JW Marriott it would be a gradual process. "We will first open with JW Kitchen, where we will also serve some of the fave dishes from Vintage Asia. Then gradually we will open Vintage Asia in phases. JW Kitchen would be operational from 6.30am to 10.30am for breakfast, 12.30pm to 3pm for lunch and 6.30pm to 8.15pm for the time being as per government rules," said Gaurav Singh.
You can drop in at Taj Bengal's Cal 27 that will also serve faves from Chinoiserie and Sonargaon. "Restaurants aside, our Hospitality @ Home, the takeaway and delivery initiative of the Taj, is doing very well and has gained substantial popularity maintaining all hygiene standards very strictly," added Manish.
Delivery services by the hotels like The Park, The Astor, Hyatt Regency Kolkata, ITC Hotels would be on as usual. "With the changing environment, diners have taken a strong liking for our takeaway menus serving the best from ITC Hotel kitchens. Crafted with care and handled with utmost hygiene to ensure well-being, the mindfully curated menus ensure unique food experiences with local love using fresh seasonal and local ingredients offering our discerning guests celebrated preparations from ITC Hotels home delivered through Swiggy, following a contactless service," said a spokesperson for ITC Hotels.
The food delivery menu of JW Marriott Kolkata will be more elaborate with healthy portions too, while they will also start with JW Bakery deliveries.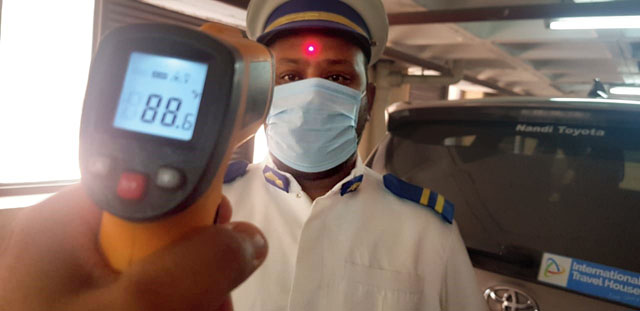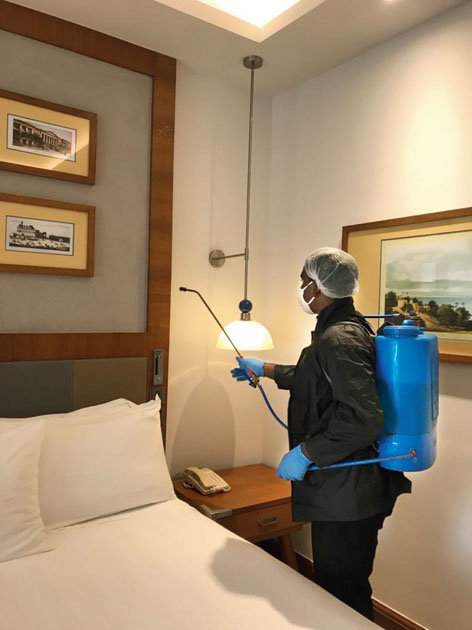 Gone are those days when you would get out of your car, shove your bags in the scanner, pick up your bag and walk straight into the hotel lobby. The present scenario has a few measures that could be a little time consuming but are quite necessary. At JW Marriott Kolkata, the guest's luggage will first be disinfected before being placed in the scanner. The valet staff will be wearing masks, gloves and regularly follow sanitising norms. The guest's temperature check is to be done at the entrance, which is mandatory at other hotels too, such as The Park, Taj Bengal, The Astor, Hyatt Regency Kolkata and The Oberoi Grand. "The very familiar welcome at The Oberoi Grand with a tika, garland and petal shower will be replaced by namaste and guests staying at the property will have to get their temperature checked daily via contactless thermometer during their stay period," said Sumit Joshi, general manager, The Oberoi Grand, Kolkata.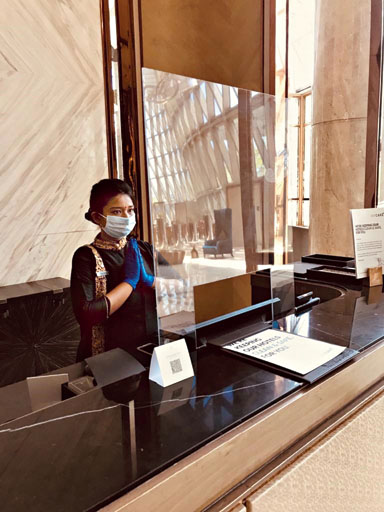 Other Services
Other important room services like laundry and housekeeping are seeing some new measures too. ITC Hotels has introduced a "responsible laundry service" called Lavanderia that allows customers to hand over the items at a designated point in the hotel. The laundry would be ready for pick up by the customer within 24 hours. The customer would be intimated via a message which would include a payment link to enable contactless payment. The entire process remains contact light with safe distancing at every point.
At Marriott International hotels in the city, the laundry bins will be kept outside the rooms and one is expected to dump their soiled clothes in them.
"Hygiene, health and safety will remain our primary focus. Housekeeping is integral to our hygiene protocols. Our 'WeAssure' is a holistic programme that addresses all facets of hotel operations, from revised protocols for back-of-the-house activities at the receiving store, back offices, laundry to the public areas with heightened sanitisation measures," said an ITC Hotels spokesperson.
ITC Sonar and ITC Royal Bengal will be offering only limited salon services. Guests staying at Taj Bengal can access the salon and barber shop at the property. While at The Park Kolkata and JW Marriott Kolkata facilities like spa, fitness centre, swimming pool and salon will remain closed till further notice from the government authorities. The guests are provided with digital newspapers daily at most hotels.
Lobby rules
For most, a visit to their fave hotel is incomplete without taking a picture in the lobby. Be it in front of the mirror at The Park, the velvet sofa at JW Marriott Kolkata or on the stairs at ITC Royal Bengal, the hotel lobby is always brimming with people. But due to the present pandemic situation, there are social distancing norms at the lobby too. "We are marking steps for the guests at desired intervals to maintain physical distance," said Pramode Bhandari of The Park.
At Marriott International hotels, guest elevators will operate for a maximum capacity of four guests per elevator and markings on the floor of the elevator will be used to indicate standing positions.
"All associates are to maintain a minimum distance of one metre at all points for social distancing and surface areas to be sanitised regularly. Guests are also encouraged to download the Arogya Setu app and we will ensure there are enough sanitisation stations for our guests to sanitise," said Gaurav Singh.
Seating arrangements at Hyatt Regency Kolkata have been reworked to meet social distancing guidelines. "We have signage to guide our guests toward all utility points and we are constantly reminding our guests to be as contactless as possible, especially while stepping into the elevator," said Manish Gupta of Taj Bengal.
Check-in
Overcrowding is to be avoided as much as possible at the front desk counters. While The Park and The Astor plan to check travel history of the guest prior to booking, JW Marriott is keeping the safety of its staff and social distancing in mind, too, with protective shields at the front desk. For guests walking in without any protection gear, the staff at The Park are offering masks and gloves. One can find a medical kit at the front desk at The Oberoi Grand that includes masks, disposable gloves, goggles, personal protection equipment and bio disposable garbage bag. As a part of their S.H.I.E.L.D programme, The Park has introduced immunity booster shots stored in mini coolers that are offered to guests during check-in.
Most hotels are encouraging mobile check-in and check-out to minimise physical contact as much as possible. Marriott International hotels will be encouraging mobile keys (an app that Marriott Bonvoy members will have; it can be downloaded on the phone and the person can enter his room without using any key) for rooms too. The Park has arranged for check-in cards that are UV treated every time before handing over to the guest and emergency contact numbers are provided on the guest's WhatsApp before checking in. The Oberoi Grand is handing out medical history forms to walk-in guests that need to be filled on arrival. "We have the guest's key card sanitised through UV rays before handing over and will also keep alcoholic wipes, which guests can use to sanitise and clean their phone or credit cards. We ensure markings on the floor at the reception to maintain social distancing and will also have queue manager with demarcations," said Kaushik Sengupta, general manager, The Astor.
Taj hotels, which has been rated number one on the list of "strongest Indian brands" by Brand Finance, is trying to "instil a sense of positivity and sense of confidence by being proactive". "After mandatory temperature checks, check-in and check-out formalities will be processed digitally as far as possible in order to have minimum contact. In common and high-touch areas of the entrance like cars, lobbies and elevators we are using industrial-strength disinfectants as part of an escalated cleanliness routine," said Manish Gupta, general manager and area director East, Taj Bengal.
Entertainment & banquets
Nightclubs and live performing spots inside hotel premises like Roxy, Tantra, Someplace Else, Gold, The Brass Room, 31/32 and Phoenix will remain shut for now. Deck 88 at The Astor would be operational from June 8 from 4pm to 8.30pm and they would also open their banquets for social events with up to 50 people.
JW Marriott Kolkata, which changed the banqueting space in the hotel industry in the city and thrives on it, will open their banquets for weddings with only 50 people as per government guidelines but with precautions. Crowd management for the buffet will be done at all times — a distance of minimum 3feet is to be maintained at the food counters — and associates will wear mask and gloves while serving. There will be automatic coffee dispensing machines and hotel associates will be around for assistance. There will be several clearance tables placed at strategic points at Marriott International hotels in the city and guests are encouraged to directly place their used plates and cutlery on them.
Promotional offers
To woo guests back to the hotels, the star addresses have come up with lucrative offers and deals. One can book a stay at JW Marriott at a 50 per cent discount by this month end, and can avail unlimited date change until June 2021. The same offer is available for The Westin Kolkata Rajarhat and Fairfield by Marriott, but with 30 per cent off on room rates.
Hyatt Regency has a special staycation offer. "Hyatt Regency is welcoming back guests to the world of travel and experiences. Our staycation package will include guest room and meals for family. The offer entails a complimentary room for two children (upto 12 years), 20 per cent off on dining, 50 per cent off on an upgrade to a Club room or suite, daily breakfast, one meal per day of the guests' choice, interesting welcome amenities and Rs 500 salon credit points of the hotel," said Kumar Shobhan. The Park's steal deal package offers deluxe room package for Rs 3,999 that includes privileges like two free breakfasts, one main meal for two people, 20 per cent off on laundry and F&B.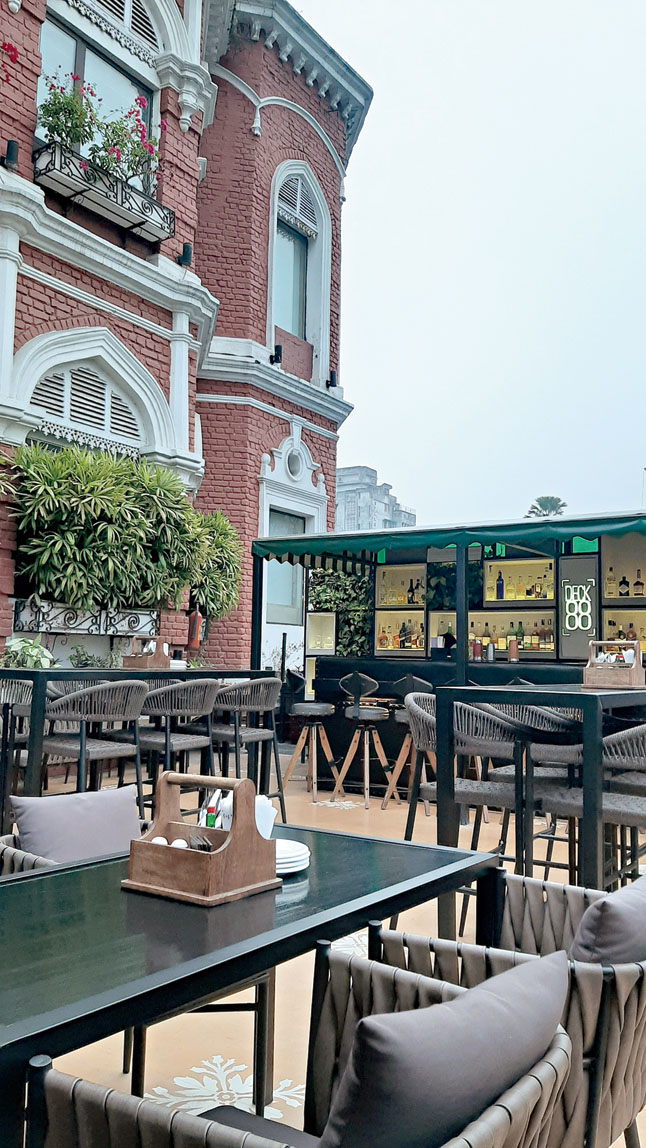 Rooms
Sanitisation is the thumb rule everywhere. Besides disinfecting, cleaning and fumigation of hotel rooms, the 'We Care' programme of Marriott International hotels in India will also have disinfecting wipes and sanitisers in the rooms and all guest rooms will be held for 24 hours post check-out before releasing it to another guest. The Park will hold up a room for 72 hours before letting another guest stay in the same room. "All the guest rooms are being thoroughly cleaned and sanitised using electrostatic gun sprayers and Virex fumigation. Identified high-touch points like door knobs, remote tables are disinfected with Virex/Oxivir. The team members will be wearing appropriate safety kits at all times while interacting with the guests too," said Pramode Bhandari, area general manager, The Park Kolkata. Besides regular cleaning of surfaces in the room, extra attention is being paid to upholstery. "All our bed linen are washed with a complete enhanced wash cycle using an anti-bacterial solution," said Kaushik of The Astor.
Room service
Good news is, guests can call for in-room dining but with slight alterations and use of technology. QR-based menus are the new normal. "To limit contact, rooms are equipped with digital menus. The in-room dining order taker will check with the guest if they would like the server to enter the guest room with the trolley or would prefer to have it placed outside the room, to suit their convenience and comfort," said Gaurav Singh, multi property vice president East India & Bangladesh and general manager JW Marriott Kolkata. Guests at the star properties are encouraged to place their order beforehand to avoid long waiting time. Online payment is being encouraged.
If you are iffy about using cutlery, go for disposable ones at Hyatt Regency Kolkata. "We are giving an option to our guests to dine using disposable containers, crockery, cutlery, which shall be delivered to the guest, outside their room," said Kumar Shobhan, general manager, Hyatt Regency Kolkata.