Wild Gujarat is a collector's edition for those who love to explore the wild
Catch a glimpse of a different side of Gujarat before you plan your next wildlife trip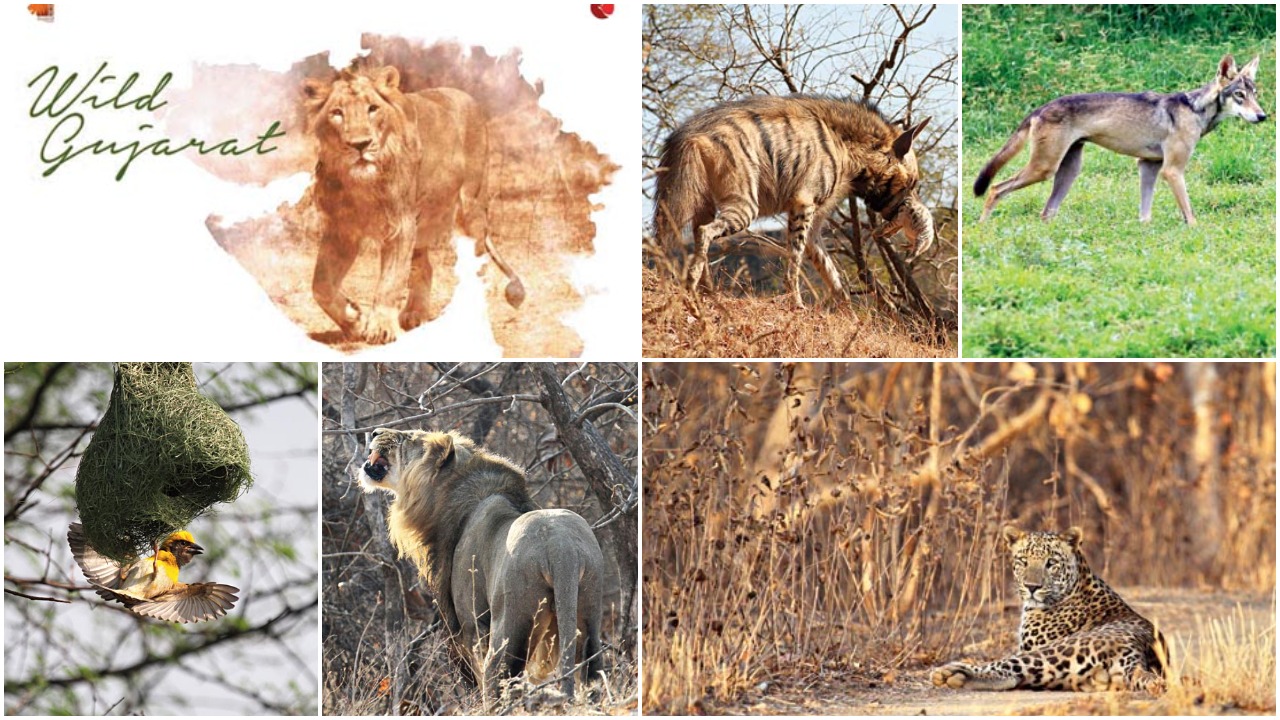 ---
Published 12.01.21, 03:04 AM
|
---
Gujarat tourism is synonymous to the Gir National Park and now, there are two wildlife enthusiasts who want to change your mind about this. Home to some of the rarest of wildlife and plethora of flora and fauna, the state of Gujarat is the hotbed of activities for those who want to explore. To highlight this fact, the government of Gujarat decided to put together a coffee table book to explore the other national parks that include Blackbuck National Park, Little Rann Kutch, Nalsarovar Bird Sanctuary, Marine National Park, Khijdiya Bird Sanctuary, and Jessore Sloth Bear Sanctuary. These are home to almost 2,758 species of animals and also the last home for Asiatic Lion and Asiatic Wild Ass.
This biodiversity is so unique and rare that you can expect to find endangered species like Great Indian Bustard, Macqueen's Bustard, Houbara Bustard, Lesser Florican and Demoiselle Crane. The book, aptly titled Wild Gujarat (Rupa; Rs 1,495) is a collector's edition for those who love to explore the wild, with support from Gujarat tourism. Created by Biswajit Roy Chowdhury and Shiladitya Chaudhury, expect to find a gorgeous collection of pictures by the authors who have painstakingly spent time and effort to capture the best moments from this diverse land. Speaking to one of the co-authors, Shiladitya Chaudhary, we found some fascinating facets to tourism in Gujarat. "We wanted people to know that there are places other than Gir where one can go and explore wildlife in Gujarat. One would need to do separate trips for each national park in the state to actually explore it," he said.
He spoke of the plethora of migratory birds that travel to this state, making it a sort of paradise for bird-watchers. "The very rare short-eared owl can also be seen in this state and we are so glad that birds don't care about the political connotations of geographical boundaries to chart their travel path," he spoke of these birds that travel from Pakistan! He also spoke of flamingoes who flock to the state and turn the water pink with their abundance.
We asked him about the hospitality of the state and he couldn't wax eloquent about the warmth that it has to offer. "Most, if not all, tourist services in Gujarat are offered by the state government to private organisations for smooth processing. They encourage entrepreneurs to come and build so much so that Gir National park has three safaris in a day, as opposed to the traditional route of two safaris in a day," said Chaudhury. "People should know the wildlife of Gujarat beyond Gir and Rann of Kutch and that is the sole purpose of this book," he finished. We brought you a few glimpses of this place some of which are not even part of this book. Take a look!