When you rise like a Phoenix
On 'International Day of Disabled persons', the author writes about an important reading List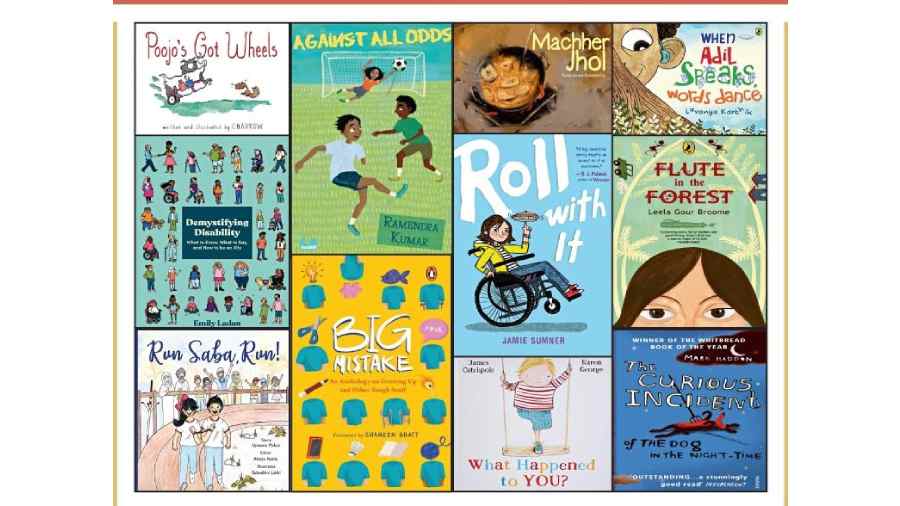 ---
Published 03.12.21, 01:45 AM
|
---
In August 2020, a new documentary on the Paralympic Movement hit a prominent OTT platform. Rising Phoenix is an hour-and-a-half-long non-fiction docu-drama that introduces you to a motley crew of characters from the para-sport world, and the 2016 Rio Games.
"This is how I am, Merry Christmas!" quips Matthew Stutzman, an American archer and two-time Paralympic medallist. We're suddenly in Australia with Ryley Batt, crashing into wheelchairs while a rugby game is on. "When you're hitting someone head-on, it's like a small car crash" casually adds Batt. In faraway France, Beatrice Vio who is the darling of the show, screams and yells her way to (now) two consecutive Paralympic Golds in fencing. Heady stuff.
Closer home, the Indian contingent that made the Tokyo trip brought back 19 medals from five disciplines to finish 24th in the standings, not to mention Vinod Kumar losing out his bronze to a classification issue and the near misses of others. Since they first participated in the competition at the 1986 Summer Games in Tel Aviv, Israel, this is their highest haul of medals.
The Paralympics are supposed to be the shop window of the worldwide disability movement. It's quite possibly the largest gathering of PwD (Person with Disabilities) this side of the Special Olympics or Deaflympics.
To mark International Day of Persons with Disabilities, here are some children's books that come to mind. These are some resources that can start the conversation around disabilities both at home and at school. It is worth noting that how we explain and understand disability matters.
As a PwD, a common question we are always asked is "What happened to you?" James Catchpole's picture book of the same title tells us the story of Joe who is a pirate fighting crocs and sharks. "Not this time, Senor Sharkface!" says our young protagonist. Sharks are easy, the problem was kids that hadn't met Joe yet. The questions fly thick and fast, "You've only got only leg" proclaims one. "Was it a burglar?', This is a trick, isn't it? You're hiding it!" say the others. Joe doesn't feel like talking about it, and says a big NO, going back to his game of hunting in the seas.
Eventually, the kids come back and introduce themselves to Joe. Simone, Yuto, Caspar, Mainie, and Ibrahim all join him to fight in the choppy seas, searching for sharks — the bane of every make-believe pirate. More than anything, when Joe flips the switch and asks Simone if they still needed to know what happened, her answer was an emphatic NO.
This book teaches us a lesson I wish I knew when I was younger. It's okay to be curious about someone's disability, but everyone has their own way of dealing with it. It's not polite to ask PwD personal questions.
Durga Puja is always a special time in Calcutta. Meet young Gopu who is blind, and needs Baba to take him around the city. He does know Robi Kaku's shop which is 742 steps away from the house, but that's the furthest he's been on his own. On this Sunday morning, Baba is unwell and falls asleep. Gopu knows it is his chance. "The footsteps, the jostle, the commotion" — Gopu follows the city's song, despite it rattling him. He's on his way to the market, and to meet his Dida.
Why is he out on his own, especially during the busiest time of the year?
This is the story of a young boy who wants to surprise his father with the best homemade "machher jhol". Richa Jha's story and Sumanta Dey's illustrations are enough to make you think that it's that time of the year when Ma Durga comes home.
Continuing with the picture book theme, Poojo's Got Wheels is a delightful story of a dog born without his hind legs. This is a good story to explain to children the difference between being born with a disability, and having an acquired one. Poojo's wheels help ferry him around. He's extremely fast around the dog park and is friends with everyone. It's the week of the annual costume parade, and suddenly Poojo gets a flat tire! Does his creative nature help him out of the conundrum? Read on to find out.
As a person with hearing disability who wears hearing aids, I resonated with When Adil Speaks Words Dance. This is the story of Adil who is a schoolboy with hearing impairment. "He runs like the wind, He swims like a fish. He talks with his fingers, He listens with his eyes." A classmate wants to be his friend, but can't hear the music that Adil speaks with. Perhaps their fingers would dance together? The illustrations take the cake in this book, dancing you through the world of a young boy. Special mention to author Lavanya Karthik for ending the book with an appropriate introduction to Indian Sign Language (ISL). I could have done with this book as a child.
Another picture book worthy of mention is Run Saba Run. Born out of a conversation between Upasana Makati, Ahalya Naidu, and Subodhini Lakhi, this is the story of Saba who is a school-going visually impaired child. Sports day is coming, and she is keen to participate. She wants to volunteer, maybe make the jingle for the sports day? Her brother Sahil has other ideas, and wants her to run the 100m. Kabir, her friend, is called in as a "guide runner" and they begin training together. She falls a few times but gets back right up. What happens come sports day? The intersection of sport and disability is an important tool for inclusion.
In the junior and middle-grade category, a number of books come to mind. Begin with the now famous Demystifying Disability: What to know, What to Say, and How to be an Ally. Emily Ladau's book has been the topic of conversation on Disability Twitter for a while now. A guide for the uninitiated. Hear all about the history of the Disability movement in the United States, understand ableism and accessibility. Introduce yourself to disability etiquette and culture. This is a must-have for school libraries across the nation.
Roll with It by Jamie Sumner is the story of Ellie, a young girl on a wheelchair who wants to become a professional baker. She writes to her favourite celeb chefs and diligently practices their recipes. The story takes a turn when she has to move with her mother and look after her Grandpa who has dementia. New friends, new trailer park on the wrong side of town. How does she cope? Does she make new friends? This YA novel is a delightful breeze that can be finished in practically one sitting.
One more sport title comes to mind in this category. Ramendra Kumar has written Against All Odds — the story of Kartik, an young boy who loves his football. He was born without a left arm. Most days Kartik is in front of the television supporting his beloved Arsenal and Ozil. One day, his father announces that the family would move to the steel town of Rourkela from Calcutta. In the latter, no one paid much attention to the fact that he was one-armed. However, Rourkela isn't so kind. He is treated poorly for his disability, and the football coach doesn't let him play on the team. A myriad scenarios lie in front of him now. Friendships, acceptance, football, and more. Does he succeed? Only one way to find out — read the book!
Atiya Sardare headlines in Leela Gour Broome's novel Flute in the Forest, the story of a forest officer's daughter who finds solace in the jungle. Atiya has no siblings and is inflicted by polio. One day she hears the haunting notes of a flute, which gives her goosebumps and wants to learn the instrument much against her father's wishes. Thus begins an enthralling story of Atiya who is introduced to the old grouchy anthropologist Orge Uncle and his Kurumba tribal daughter Mishora. Along the way, she must transform her father's view, and help calm a rouge elephant named Rangappa. Author Broome's real-life experiences have contributed to this must-read book.
In the anthology Big Mistake, which includes well-known authors, Nu Misra from Storyteller Bookstore makes her writing debut. The Crip Gang is the coming together of many things. Navigating a new city as a young disabled woman and the intersectionality that comes with it. Breakthrough non-disabled mandates of sexuality, self-expression, romance and more as they play out in Indian metro cities. How does a young disabled woman survive in an able-bodied world with able-bodied structures of independence, productivity, self-care and love? This is only the beginning of a million untold stories.
Finally, meet 15-year-old Christopher Boone, the protagonist of The Curious Incident of the Dog in the Night-time. Growing up, I must confess that Mark Haddon's portrayal of a young boy with Asperger's Syndrome was one of my favourites as a child. Christopher knows a lot about math and is way ahead of class. He loves lists, patterns and telling the truth. His neighbour Mrs Shears' dog Wellington is murdered and this sets off a chain of unlikely events in his life. "The world is full of obvious things which nobody by any chance ever observes." quips Chrisopher. Let that thought guide your reading recommendations on this day of diversity and awareness.
Aman Misra is a freelance journalist and runs the independently owned Storyteller Bookstore in Calcutta