When Karunanidhi starred in the anti-Hindi agitation
An excerpt from Vaasanthi's book, Karunanidhi: The Definitive Biography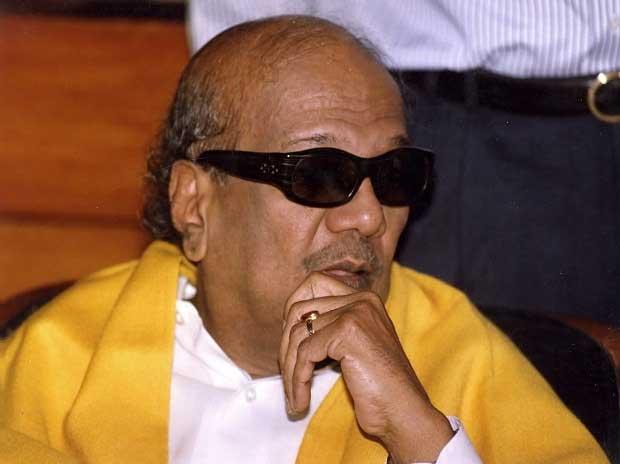 ---
Published 03.06.20, 04:41 PM
|
---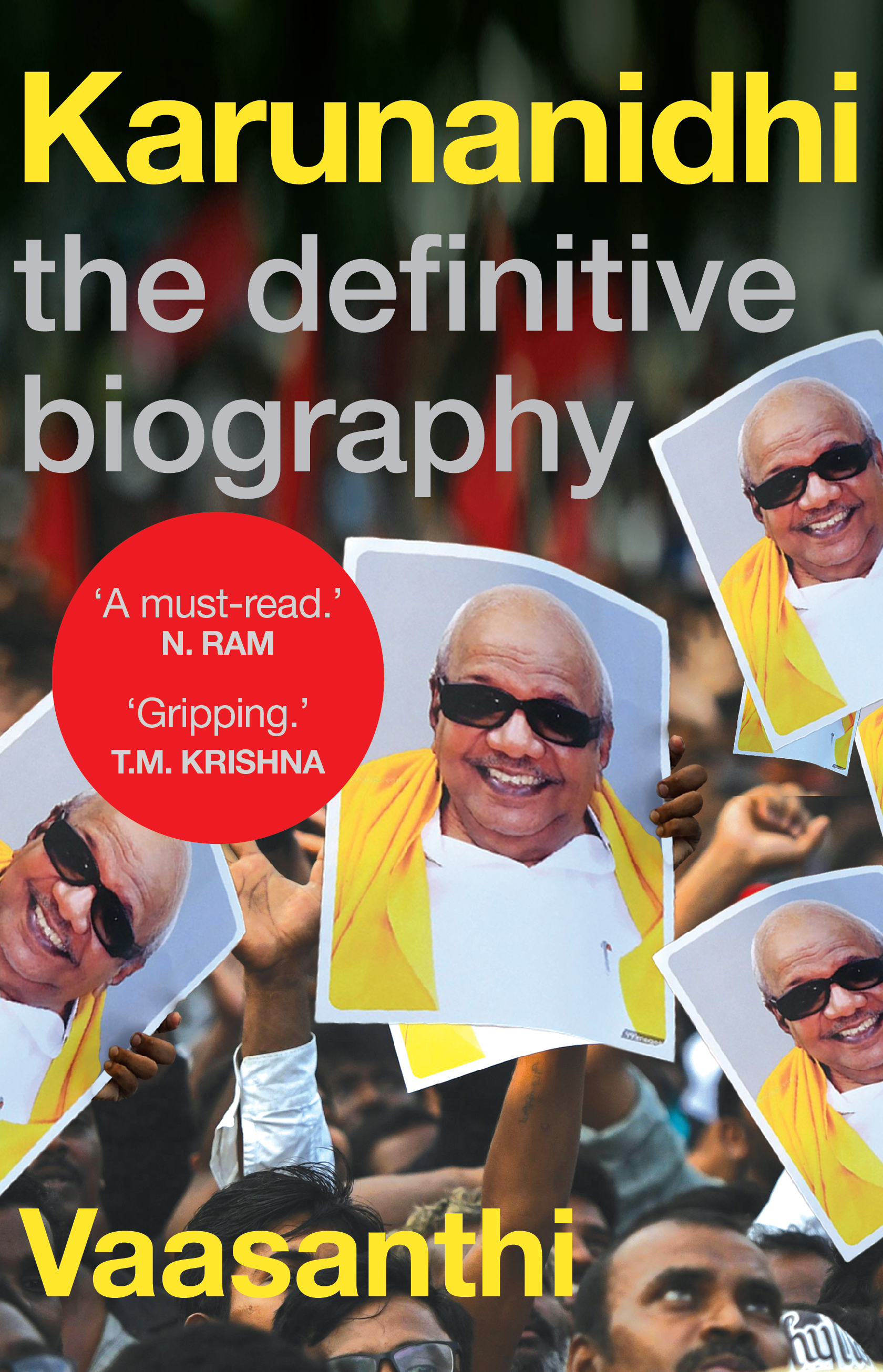 The DMK also protested against 'Nehru's Delhi Sultanate' which had dismissed the Tamils' protests as 'nonsense'.
Another important protest was against the name of a small town in Trichi district, Dalmiyapuram, named after the Marwari industrialist Ramkrishna Dalmia. The DMK demanded that it be changed to its original Tamil name, Kallakudi, because they viewed the north Indian name as a sign of the north's economic oppression.
Karunanidhi geared up for this campaign with a dramatic plan and on 15 June 1953 led a group of twenty-five DMK members to the railway station. There they pasted the name Kallakudi on the station signboards, undeterred by the presence of armed policemen. The police did not try to stop them. Around ten in the morning, a train approached the station. Karunanidhi and four others lay down on the tracks, shouting, 'Tamil vazhga!' Long live Tamil! The police asked them to get up but they refused. Karunanidhi writes in Nenjukku Needhi that the train came very close before stopping and they were in real danger of being crushed under its wheels. The police pulled them off the tracks and detained them. Other DMK men then took turns lying on the tracks until they were lathi-charged a couple of hours later. Karunanidhi was sentenced to two months in jail and slapped with a fine of Rs 35. He went to jail but did not pay the fine.
Karunanidhi was hailed by DMK cadres as 'Kallakudi veerar', Kallakkudi's hero, and he must have felt like a real hero after the high drama of that day. But he writes that Annadurai was very annoyed with him for going beyond his brief and did not speak to him for days.
After he came out of prison Karunanidhi once again immersed himself in party work, constantly travelling and meeting members across the state. During one such journey, returning from a public meeting late at night, he met with a car accident. Perhaps the driver fell asleep; the car hit a milestone and overturned. Karunanidhi sustained a severe blow to his nose, which started bleeding. His right eye was hurt and his whole face began to swell. He proceeded to the next meeting but the pain was unbearable. His friends took him to Vellore Hospital. He was treated and advised not to read, write or attend public meetings for six months. But Karunanidhi could not abide by this for more than two months. There was a deadline to finish a play and he started writing again, which worsened the pain. He was again admitted to hospital and underwent no less than eight surgeries in the eye. The vision in that eye was almost 75 per cent gone.
To conceal that eye and also to protect it from the glare, he started wearing dark glasses. The north Indian media always made fun of the Dravidian leader with his trademark dark glasses, not aware of his medical problem. MGR – the matinee-idol-turned politician – also started wearing dark glasses to hide his wrinkles, but Karunanidhi was singled out as the 'wily' Karunanidhi hiding his expression and his thoughts behind those impenetrable black lenses. 
Former Tamil Nadu Chief Minister M. Karunanidhi was one of the giants of Indian politics whose career stretched all the way from the 1950s till he died two years ago. Over the decades, he was in and out of power and had to share the Tamil Nadu stage with other political stars like M. G. Ramachandran and J. Jayalalithaa but he always bounced back from every adversity. Karunanidhi The Definitive Biography tells the story of how the politician, inspired by leaders like E. V. Ramasamy (Periyar) and C. N. Annadurai, rose to be a permanent fixture on the state and country's political scene. An excerpt:
In 1959 the DMK emerged as the single largest party in the Madras Municipal Corporation elections, winning forty-five seats, and A.P. Arasu became the first DMK mayor of Madras. Karunanidhi writes in his memoirs: 'When he heard that forty five DMK men had won, Anna looked at me and said, "But I have lost to you!"' The story was that Anna was not convinced when Karunanidhi, who was in charge of the selection of candidates, had said that the DMK would win forty-five seats. Karunanidhi challenged him: 'What if I prove what I say? What will you give me?'
'Anna smiled and said, "I will give you a sovereign worth of a gold ring." As promised, he presented me with a gold ring.'
Karunanidhi never removed that ring from his finger. It was still there on his finger when he died and was buried along with him.
But his detractors spun quite a few stories around that ring. Many in the party, less versatile and less hardworking, were extremely jealous of Karunanidhi's rise and also of the proximity he enjoyed to Anna. E.V.K. Sampath and Kannadasan had already accused him of diverting party funds to produce films. They felt that they had worked for the corporation elections as much as he had, and yet were not rewarded by the leader. Kannadasan writes in his book Vanavasam that when he complained to Anna that he was partial to Karunanidhi (by gifting him the ring), Anna said, 'Why don't you also buy a gold ring and bring it to me, I will present it to you!'
Karunanidhi's enemies believed Kannadasan's words.
But the truth now lies buried in the sands of Marina in Chennai, inside the casket where the man in dark glasses and yellow shawl rests.
When Karunanidhi's eye was badly damaged, the doctors advised him to travel by car with well-cushioned seats to prevent sudden jerks that could harm the eye. Karunanidhi, famous scriptwriter now, could afford to buy an expensive car. Sampath and Kannadasan said that he had bought it out of the party's funds. They also said that he was poisoning Annadurai's mind against them. Annadurai countered their charges as false and tried to bring them round but Sampath and Kannadasan left the party in 1961.
It was during those days of internal factions and rivalry that Murasoli became a daily. Karunanidhi felt the need to have a daily dialogue with the party cadres. He started writing a letter every day to the party brethren whom he called udanpirappukal (his blood brothers) – a practice he continued for fifty years. It was a strategy to make every DMK supporter feel that the DMK was a family, all born of the same womb, and sharing the responsibility for maintaining the family's honour and prestige. It was an emotional bond that he forged with the members, who came to regard him as the ultimate patriarch. The anti-Hindi agitation, in which he played such a dramatic and effective role, further cemented his bond with DMK members, and hugely enhanced his stature among the people of Tamil Nadu.
Excerpted from Karunanidhi: A Definitive Biography by Vaasanthi, with permission from Juggernaut Books