The making of Angoor: Sanjeev Kumar was a late latif
Sathya Saran's book Gulzar's Angoor traces the evolution of the iconic comedy, adapted and directed by Gulzar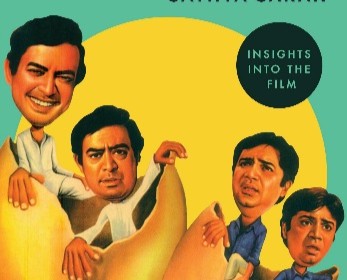 ---
---
Gulzar admits to problems with Deepti. 'Her presence was very good, and she made the perfect contrast to Moushumi, but she was too academic. She would want to script out the dialogues and how to say them and work out movements … It was not my way of working.'
Deepti speaks with admiration of just this quality in Gulzar. 'Gulzar is a writer of precision. He had a metre in mind, the rhythm of a sentence in his brain. He knew exactly how a dialogue should be delivered, whether it would end on a high note or a low one. He was strict about it and the only person who could improvise on it was Sanjeev Kumar, who would do so but without changing the inherent structure and rhythm of the line.' According to her, 'Gulzar would read a scene, then communicate the general essence of what he wants from you. As he read, one could understand the timing of it and how to interpret it.' Perhaps because they had not worked before, Gulzar would explain to Deepti in detail. Deepti remembers one particular moment in his directing her. 'He wanted me to drop my jaw in surprise. When I did it, it was so typically an American movement that of course it did not work. He was too self-conscious to demonstrate what it was he wanted, told me "an open jaw look will do" and continued to make me redo it till he was satisfied.'
Gulzar worked hard on the little gestures that would typify and personalize his characters, making them real. He admits having had to work doubly hard with Deepti on these little gestures. 'I wanted her glasses to slip down her nose and for her to push them up with a wrinkle of her nose … People who wear glasses typically do that. But it was very difficult to get her to get it right. Finally, she did but it was still not as perfect as I wanted it.'
Deepti gives her director full marks for adding natural touches to scenes. She mentions the scene where Moushumi is washing her eyes in an eyeglass as she continues her conversation as an example. 'It is so natural and adds a realism to the scene without any effort. The film reveals itself and its characters through such scenes, and everyone joins in the enjoyment.'
Gulzar was very clear even as he was writing Angoor that his 'two anchors' Hari (Sanjeev Kumar) and Pancham would be an intrinsic part of the film. There was no scope for music but the film could not be done without Pancham. And when HMV demanded three songs that they hoped to combine with the dialogues into an album, Pancham's presence was justified.
Talking about his favourite music director, Gulzar goes back into memories of their good times together. 'I met Pancham for the first time when I was doing 'Mora gora ang laile'. He was a chubby boy in knickers and would come carrying his dagga under his arm and give rhythm at the sittings.' Somehow, despite their age difference, a friendship grew between the two. Gulzar 'used to meet him at Jet. It was a building at the end of a long, empty road. Those days, there was nothing except a football ground between National College and his house.
Every time I would meet him, he would say, "Go upstairs and meet Baba," meaning his father, S.D. Burman. I would dutifully do so. I do not know why he said that. Perhaps, in his mind, he did not like me being pushed out of the film (Bandini) after that one song. I think he liked my song and thought I deserved to write more lyrics for his father.
'Over the years, the friendship grew into a creative partnership. He was spontaneous. He would come with a thali with five or six bowls of phirni, which he had made, placed on them like a puja offering and say, "Chalo, let us go." And we would go to Filmalaya, where he had a recording. Sometimes we just drove around. I think we never really had a formal sitting to make songs. His songs would happen while we were chatting between his recordings or driving. My best work was done with him.
'He had tunes, so many of them; they rose spontaneously to his mind. And he had visions. He would say, "I can see Didi's face. She must sing this song." Or it would be Asha, or Kishore. Sometimes he would say, "Gulzar, this is yours, tera thobda samne aajata hai. Your face is coming in front of my eyes."
'And often, after a recording, when Asha was also in the studio, he would say, "Chal yaar, yeh faltu kaam tere ghar pe ja ke kartein hain." That is how Dil Padosi Hai happened. To fit in the songs that have no place in films … Films don't give you enough scope to write. Like the song "Raat Christmas ki " in Dil Padosi Hai. It is about two people at a Christmas party, both already committed but attracted to each other. Working together on such tunes and songs was what our friendship was about. It transcended work.' Gulzar still owns the harmonium that his friend used to play on to compose his tunes or work on them.
Excerpted with permission from Gulzar's Angoor, by Sathya Saran, HarperCollins India
'Gulzar works very quietly on his scripts. He does not tomtom them but when it is ready, he produces it and presents it.' Deepti Naval has vivid memories of Angoor. 'He read the complete script to us, two or three of us were present, and we were all charged by the whole idea.'
Gulzar was very clear about his cast. 'I was signed up along with Haribhai Jariwala (Sanjeev Kumar),' Moushumi remembers. 'I was close to him. I was perhaps the only one who called him Zari and he would laugh at that. He called me one evening and said, "Gulzar will come to you for his next film, ask your terms. No one can do it except you."'
Moushumi knew Gulzar, 'He used to come home to teach my mother-in-law Urdu. He spoke to my husband and dropped in. I knew it was a big budget film and said yes at once.' Moushumi had also interacted with the director when he had worked with Hemant Kumar, her father-in-law, in Khamoshi, for which he wrote the songs. Moushumi remembers that it was a lot of fun doing the film. 'Haribhai told Gulzar, "She has understood the role," so Gulzar said very little to me about how to interpret it.'
Gulzar is very clear on why he took on Moushumi for the role. 'She is so bubbly even in real life. I had been watching her from her first film, Balika Badhu (1967) in Bangla. She would come from school and go straight for rehearsal. And she was full of mischief, even then. I liked her spontaneity and thought it would work wonderfully for the role of Sudha in Angoor.'
Moushumi also talks about her approach to the role. 'I would do it spontaneously and sit back. I was a one-take actress. Ask me to redo it for a second take and I would get self-conscious. I would give my take and say, "Chalo, ho gaya." Gulzar called me "the laziest actress" he had worked with but he trusted me. He knew me since the time I used to wear frocks.' Gulzar had one problem to cope with while working with Moushumi on Angoor: the actress was pregnant with her second daughter. 'We had to take many long, long shots, as I was visibly pregnant,' Moushumi remembers. Otherwise, her director had no issues. 'She is an actress who becomes the role. I don't think there is any role in which she has failed. She never took her career seriously or she would have gone really far,' is his reading of Moushumi.
Moushumi also has happy memories of working with Deepti Naval, a 'very sweet girl'. She remembers that Gulzar was very upset with her and said something sharp, which made her cry. 'They did not dare tell me anything,' she says of her directors, including Gulzar. 'I would give it back saying either you convince me or let me do it my way. I concentrate on what I am doing. Moushumi knew everyone in the film. Deven Verma was 'half Bengali' and a friend, and all the production people knew her, including the cameraman, so 'despite the tight schedules, it was a fun film to do.'
Equally certain that his film needed Sanjeev Kumar in the lead double role, Gulzar wrote the film with the actor in mind. The relationship between them stretches back to before either of them had entered the world of films. 'I was with IPTA (Indian People's Theatre Association); he was with INT (Indian National Theatre). We used to meet at rehearsals at Bhulabhai. He was keen on entering films and was taking acting lessons from P.D. Shenoy, who was head of the acting school which Leela Chitnis' son and Joy Mukherjee also attended, among others. P.D. was also a director. I knew him.'
Gulzar remembers an incident from that time. 'They were rehearsing a play and I ran into Hari standing outside, looking very happy. Obviously, some Gujarati woman had said, "Joy sarika dikhta hai; he looks like Joy." He was delighted and told me this, adding, "Apna bhi chance to hai". To him, it translated as a chance to get a break in films.'
Gulzar worked with Sanjeev Kumar for the first time in Sunghursh. Abrar Alvi had left the film, so Gulzar was called in. 'The film was based on the short story "Layli Asmaner Ayna" by Mahasweta Devi. They felt "Bengali aadmi hai and story Bengali hai. Gulzar can do it." The script was in a huge mess when I got in. Dilip sahib had written in large portions, he used to do that, and the novel itself was so huge that only portions of it could be used. There were a lot of discussions before we could finalize the script and structure. Sanjeev had been taken for the film.'
Gulzar remembers the first scene Sanjeev shot. It was a game of shatranj (chess). 'He had a dialogue, "Chaal to hum chal chuke" (I have already made my moves), and I remember Dilip sahib's reaction to it. He was clearly impressed. He asked Rawail, the producer, "Where did you find this actor?" And Rawail replied, "In theatre."'
If in Angoor, Sanjeev plays a man close to his real age, it was a rare departure from the roles Gulzar assigned him in his other films. 'Once, I told him, "Bus kar, stop playing old men in films," and he said, "Look who's talking." True enough, I did age him in most of my films and the younger bits came only in flashbacks.' Perhaps Gulzar was subconsciously influenced in this by the fact that he had seen a twenty-three-year-old Sanjeev Kumar playing the father in the Hindi version of All My Sons (1947), with Manavendra Chitnis, who was about the same age, playing one of his sons. The acting had been so real; the actor had copied the mannerisms of the aged so exactly and recreated the persona on the stage so effectively that even Prithviraj Kapoor, who was in the audience, was impressed enough to ask who had played the role.' He asked Sanjeev this question, not realizing that it was he who had played the part on stage,' Gulzar recollects. 'Yes, that image stuck with me. I knew he was one actor who could carry both old and young roles in the same film convincingly. It is not at all easy.'
For such an actor, a double role with quiet nuances to tell the difference between the two was, of course, easy.
Sanjeev Kumar starred in most of Gulzar's films, from Parichay (1972) and Koshish (1972) to Angoor and beyond, and Gulzar's friendship with him was a close one. 'Hari loved food. He loved eating non-vegetarian food and would tell my sister, who lived with me those days, "I will come to have chicken." To me, he would say, "I will come anytime. I need Black Label. If you cannot afford it, I will leave a bottle here with you." And, sure enough, he would drop in any time after a shoot, often without warning. And I would wake my sister up so she could cook something for him.'
On the sets, Sanjeev endeared himself with his natural sense of humour. 'He was a natural; perfect for a comic role,' according to Gulzar. 'He was a favourite with the girls too. They laughed at his dress sense. He would wear a bright yellow tie [and] they would help him dress better; get things for him to wear. Yet his late-coming would irk everyone. I remember, on the sets of Namkeen (1982), Sharmila, Shabana and Waheeda ganged up on him over his constant late-coming. "We get stale by the time he comes, so we have decided not to talk to him," they told me. When Hari came, he sensed immediately [that] something was wrong. I pretended not to have noticed and set up his shot. Once the shot was over, the anger vanished. They hugged him and told him they had decided not to talk to him, but his acting was too good and they could not stay angry with him.'
With Sanjeev Kumar, Gulzar would read the entire scene, rehearse it once and start shooting it. Then he would leave it open for him to take it to the next level. 'He had the ability to take simple lines and add so much humour into them with a pause, or an inflection, that I needed to say nothing more to him. The scene would be perfect.'
Talking about a scene from an earlier film Parichay, Gulzar recollects how he shot the song 'Beeti na bitaiyi raina'. 'It was a one-shot take and he joins in the song in the middle of a line. He comes down the steps and takes up the song, and does it so naturally … I don't know many other actors who could do this so effortlessly. I was so impressed, I told him, "Ask what you want, jo mango doonga." He said, "Will you? For sure?" I thought what (sic) he want? He and Sharmila made plans often to watch films after schedule and I thought he might want chhutti. But he said, "Paan chod do." I enjoyed paan, liked a bit of kimam now and then, and had never guessed he hated the habit. I gave up paan from that day. Such was our friendship.
'He was a true friend and, whether we were working together or not, we kept connected.'
Sanjeev Kumar left memories with others in Angoor too. 'Haribhai was a foodie and he would insist I get food on the sets,' Moushumi recounts. 'Often, he would call to say, "Cook ko bol do, main khana khake jaoonga aur non-veg khana."'
He was a habitual late-latif, Moushumi remembers, and would say, 'Unless I am prepared, I won't leave the makeup room.' And he disregarded all her scoldings. 'He would come at 12 for a 9 a.m. shift, unlike Jeetendra, who would come early. I, too, would be at the studio at 6 and get my make-up done araam se, drinking tea in the meantime. I hated going to the sets all made-up,' Moushumi adds. Also sharp in her memory is the fact that Sanjeev and Deven Verma made a loveable duo, the 'blessed duo' had a 'good rishta' which vibed wonderfully through the film and the scenes between them 'sparkled'.
Deepti Naval says of Deven Verma that he was a natural and that his humour was sophisticated, adding that he was her mother's 'favourite actor'. But Gulzar has the best description for the actor who won the Filmfare Award for his roles in Angoor. 'He was a humourist who excelled at comedy.'
At the end of a discussion on some aspects of how he conceived the salient points of Angoor as a director comes this typical Gulzar gem. 'I decided to name the characters in Angoor on the stars of Bhranti Bilash. Thus, Tanu and Sudha, and so on.'