The House Next to the Factory is a debut definitely worth diving into
The country is in the tumultuous hands of the insurgency as Indira Gandhi breathes her last , the local tutor's Sikh friend's store shutters are down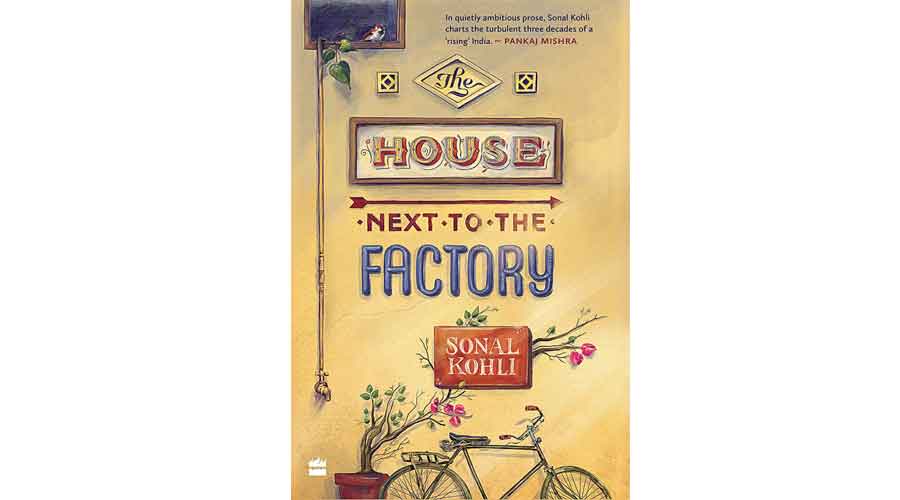 The House Next to the Factory by Sonal Kohli (HarperCollins India; Rs 499)
Telegraph picture
---
Published 29.10.21, 11:53 PM
|
---
There is a story being woven out of the lives of every person you encounter at every waking moment of your life and author Sonal Kohli's debut is a startling grasp on those stories that are perhaps waiting for the glance of attention. Revolving around the lives of the inhabitants of and around the house next to the factory, these lives are best described as 'ordinary'.
The country is in the tumultuous hands of the insurgency as Indira Gandhi breathes her last. The local tutor's Sikh friend's store shutters are down. It is around 1980 that the stories are mostly set in, travelling all the way to 2010. A string of nine short stories are strung together in The House Next to the Factory. There is no special anticlimax to the stories –– just a page from their very ordinary lives held up for the reader's scrutiny. As Mr Lamba, the tutor, leaves the house at the end of his session with the two young sons of the house in the story One Hour, Three Times a Week, the matriarch of the family is overheard telling him, "There are still five minutes left", and he mumbles about making up for it in the next class. Middle-class mundanity seeps through the short sentences that comprise the book whose poignancy is hidden in the well-meaning struggle of survival.
Kohli is a master storyteller and her style is beautifully justified through these seemingly disconnected stories at the centre of which lies the house beside the factory. The imageries in the book are reminiscent of a warm, winter afternoon when the sun shines so bright in your eyes that a lulling sleep becomes unavoidable –– the scooter, the measuring tape of the local tailor, the purple sequin sari from a cousin's chest of clothes, a sip of evening chai. The language of the book is just as simple as the lives they document. Kohli, who has a BA in economics from Shri Ram College of Commerce and an MA in creative writing from the University of East Anglia, has the uncanny knack of evoking age-old emotions with the urgency of a late-night phone call.
The protagonist of the tale, Kavya, whose house is the foundation of the novel, sets out to search for Sister Celina in The Outing and later finds herself in Paris in 2010 at 30, in Inside a Chekov Play, wondering about her life's trajectory. The people in and around Kavya's life create a universe that feels uncannily familiar in an effortless manner. These nine short stories strip the reader's sense of being to its bare minimum with enviable vigour. Sonal Kohli's The House Next to the Factory is a must-read this festive season.