The healing power of forgiveness
Forgiveness breaks with the past and holds out hope for a different future for everyone involved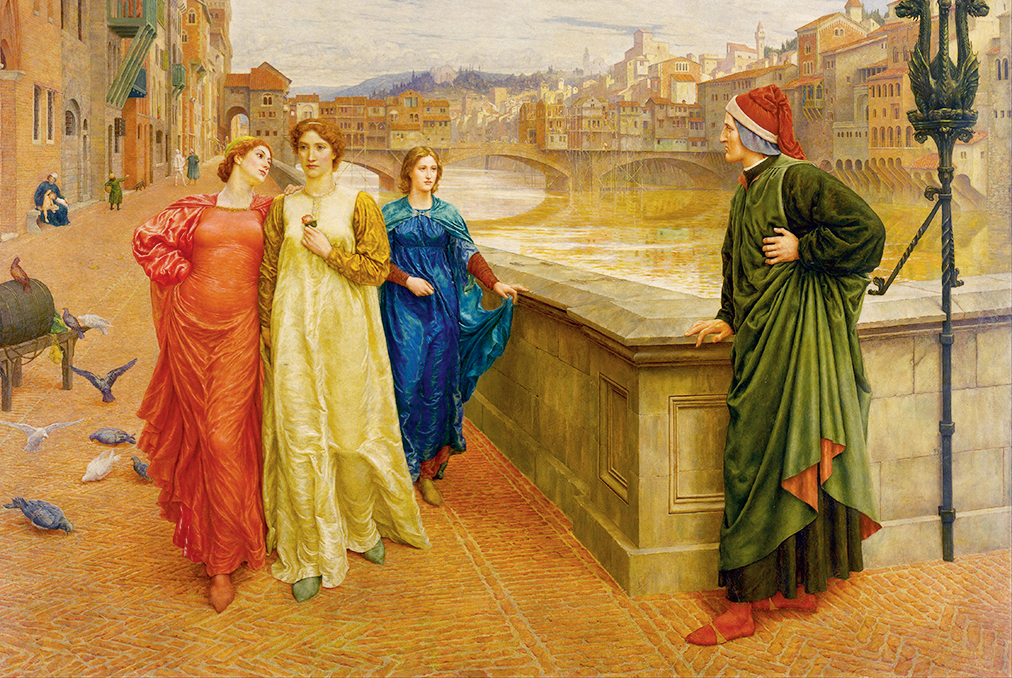 Dante and Beatrice by Henry Holiday, circa 1883
Picture source: Wikimedia Commons
---
Published 02.08.19, 10:52 AM
|
---
Back in 1711, when Alexander Pope wrote, "To err is human, to forgive divine," International Forgiveness Day did not exist. It would come into being centuries later, and be celebrated on the first Sunday of every August to promote the healing power of forgiveness. This is just as well, for rarely before has the world been a place where constructive dialogue across religious, political, class, and other lines is so rare, where ideological opponents stay so mired in anger and resentment.
Few depicted this resentment as definitively as William Shakespeare. The agony in his tragedies goes beyond a mere sense of feeling wronged. Hamlet, for instance, feels not just furious at his father's murder but extremely lonely and abandoned, given that his mother does not seem to understand his pain and outrage. When she asks him why grief "seems... so particular" with him, Hamlet feels betrayed by her lack of sympathy. He thus assumes that his actions and words cannot be understood by others. Forgiveness — either asking for it or granting it — is a possibility that Hamlet and Shakespeare's other tragic heroes reject. For the prospect of forgiveness puts them face to face with the possibility of change.
In other words, forgiveness breaks with the past and holds out hope for a different future for everyone involved. Charles Dickens's childhood, for example, was marked by abuse and neglect: his parents sent him to work in a blacking factory when he was 12. He harboured bitterness towards his father, using it as fuel for the character of Scrooge. But writing A Christmas Carol was a cathartic exercise, as it helped him deal with his feelings. Forgiveness is also a theme in Great Expectations: witnessing Pip's misery after he realizes that Estella was never meant to be his, Miss Havisham sees a reflection of what she felt after she was betrayed. Remorseful at having manipulated Pip, she begs him for forgiveness: "Until you spoke to [Estella] the other day, and until I saw in you a looking-glass that showed me what I once felt myself, I did not know what I had done. What have I done!" She asks Pip to write the words, "I forgive her."
In the last poem of the Four Quartets, called "Little Gidding", T.S. Eliot wrote, "With the drawing of this Love and the voice of this Calling/ We shall not cease from exploration/ And the end of all our exploring/ Will be to arrive where we started/ And know the place for the first time." We are reminded of Dante's dramatic reconciliation scene with Beatrice in Purgatorio, in which she rebukes Dante for being tempted by 'others' after her death. Thus, before ascending to paradise, Dante has to confront his actions and accept that he needs Beatrice's forgiveness and love. In "Little Gidding", Dante, whom we assume has gone to paradise, warns Eliot that he must also face "the rending pain of re-enactment/ Of all that you have done, and been; the shame/ Of motives late revealed, and the awareness/ Of things ill done and done to others' harm/ Which once you took for exercise of virtue".
Our memories are much like Beatrice's rebuke and Dante's warning, reminding us of regrettable actions committed both when we did not know better, and when we did. Ought we to ignore these memories? Is not the past always present? (Eliot did write, "After such knowledge, what forgiveness?") But neither Eliot nor Dante implies that the past should lead to constant guilt. Rather, if we can "arrive where we started/ And know the place for the first time", we might finally believe that, in spite of our shortcomings and actions, we can be forgiven. ("All shall be well and/All manner of thing shall be well".)